Introducing Falun Dafa at King's College London
October 03, 2016
|
By Tang Xiuming, Minghui correspondent in London
(Minghui.org) The Falun Dafa Society at King's College London (KCL) introduced Falun Dafa to new students at the KCL Welcome Fair on September 23-24, 2016. More than 300 student organizations participated in the fair. Thousands of college students from different parts of the world, including China, had a chance to learn about the practice.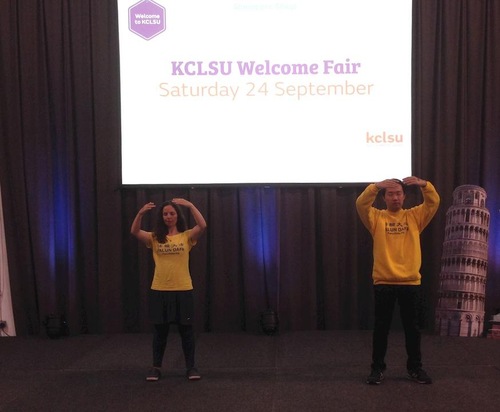 Falun Dafa practitioners demonstrate the exercises on a central stage at KCL Welcome Fair on September 24.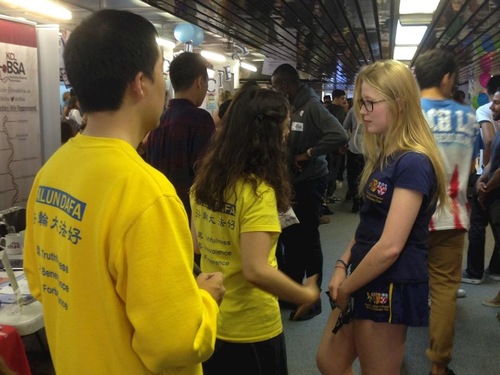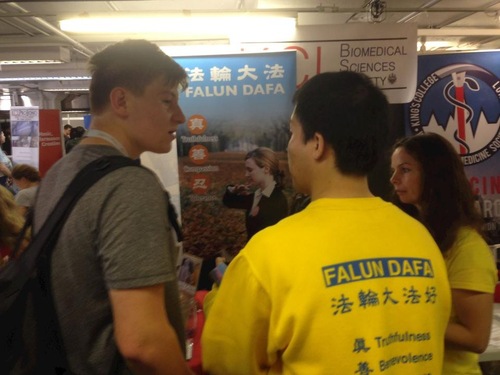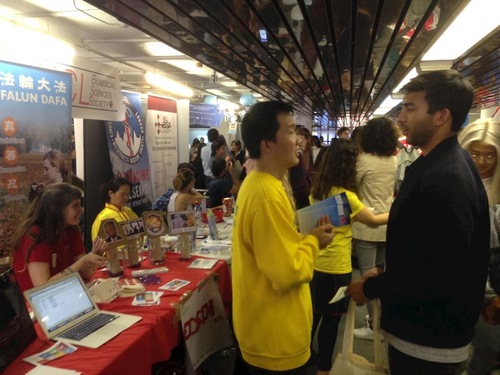 Practitioners introduce Falun Dafa to students.
Students Fascinated by Eastern Meditation
Falun Dafa practitioners distributed flyers and provided information about their student organization. They also demonstrated Falun Dafa exercises on the central stage. A hush came across the exhibition hall as soon as the exercise music started. Students seemed fascinated by the exercises. Dozens of students signed up to join the upcoming free exercise class on campus.
Clearing Up a Misconception
Soon after the exercise demo on the afternoon of September 24, a Chinese graduate student approached a Falun Dafa practitioner at the booth. She wondered what was behind the "Self-Immolation on Tiananmen Square" incident in 2001.
The practitioner explained how the whole thing was proven by western journalists to have been a hoax, and how Jiang's regime had tried to frame Falun Dafa with this lie.
The student told the practitioner that one of her family members used to practice Falun Dafa before the persecution, but gave up out of fear. She felt it was a pity. The student said she was now interested in learning the practice herself.
Students Join Falun Dafa Club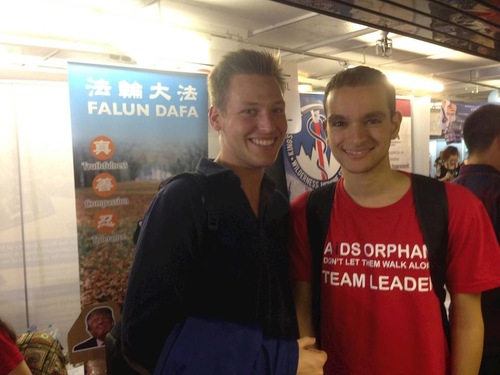 Alegsandro (left) and his friend Samy join the Falun Dafa Society hoping to bring relaxation and peace to their busy lives.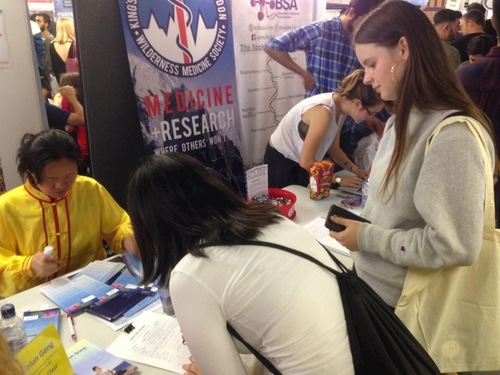 Connie (middle) and Jasmine (right) were interested in joining the Falun Dafa club after hearing about the benefits of the practice.