Georgetown, Texas: Documentary on Forced Organ Harvesting in China Kindles Heated Response
June 17, 2017
|
By a Falun Dafa practitioner in Texas
(Minghui.org) "Texas for Truth," an organization based in Georgetown, Texas, invited Falun Gong practitioners to present information about the persecution of Falun Gong at its weekly meeting on June 10.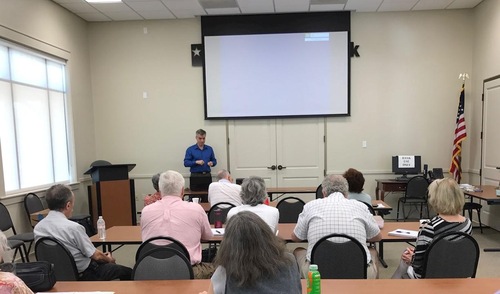 Falun Gong practitioners were invited to a meeting of "Texas for Truth" on June 10, 2017.
Two short documentaries—one an introduction to Falun Gong and the other about the state-sanctioned forced organ harvesting from jailed Falun Gong practitioners in China—were screened.
Appalled to learn of this "unprecedented crime" of state-sanctioned forced organ harvesting, every person in the audience wanted to know more.
Among the questions they asked were: "Why is the Chinese Communist Party persecuting Falun Gong." "Do any Americans go to China for organ transplants?" and "What has the American government done to stop the crime of forced organ harvesting in China?"
Some of those in attendance had seen the documentary "Free China" at a previous event, but they learned more about the persecution at Saturday's meeting.
Afterward, they were interested in the printed information the practitioners had brought. Some took copies for other members who couldn't make the event.
The practitioners declined to accept any donations. "We don't take donations. We just hope you will tell more people the truth about the persecution of Falun Gong," one practitioner said.
Some members of the organization suggested channels and opportunities to clarify the truth to the government and other organizations.