St. Louis, Missouri: Learning the Falun Gong Exercises at "Life Outside" Festival
June 17, 2017
|
By a Falun Gong practitioner in St. Louis
(Minghui.org) June is the time for outdoor activities in St. Louis, a Midwestern city that has many public parks. To encourage more residents to get out of their homes and be close to nature, Great Rivers Greenway organized an annual "Life Outside" Festival at Creve Coeur Lake Memorial Park. This year it was held on June 10th.
Event-goers could participate in all kinds of different outdoor activities, including rock climbing, kayaking, biking, bird watching, gardening, and beach volleyball.
Falun Gong practitioners of St. Louis set up a tent to demonstrate and teach Falun Gong (also called Falun Dafa) for the second year in a row.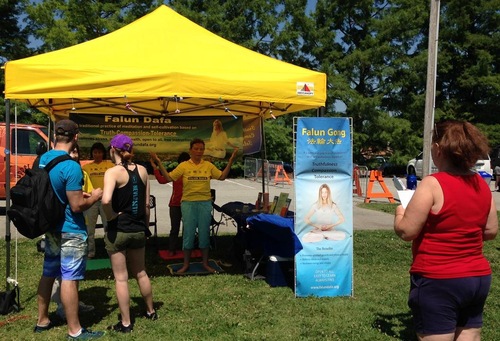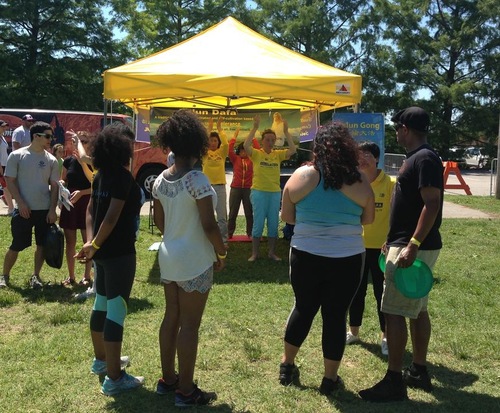 Festival visitors watching the Falun Gong exercise demonstration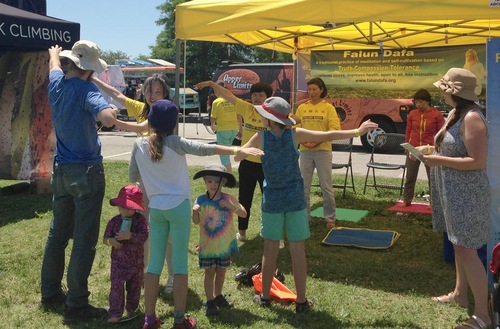 Learning the Falun Gong exercises
Throughout the day, many people stopped at the Falun Gong pavilion to watch the exercises being demonstrated and started to learn them.
Some said that just observing the exercises gave them a sense of peace and calm. Those who started to learn the exercises said they felt very relaxed afterward.
Many people who didn't have time to learn the exercises that day took a flyer.
Ms. Kim said she had many ailments and took a handful of pills, including painkillers, every day. She knew the painkillers had strong side effects and were harmful, so she had been looking for a natural healing method. She liked the idea of learning Falun Gong and the meditation.
A gentleman invited Falun Gong practitioners to participate in another outdoor festival a friend of his was planning.
A teacher of special needs students seemed very interested in Falun Gong. She thought teaching Truthfulness-Compassion-Forbearance would be helpful to her students. She left her contact information and invited the practitioners to teach Falun Gong to her class.