Symposium on Organ Harvesting and Black Markets Held at University of Pennsylvania
April 29, 2018
|
By a practitioner from Pennsylvania
(Minghui.org) A symposium on organ harvesting and global organ black markets was held on the campus of University of Pennsylvania on April 18. David Matas, a well-known Canadian human rights lawyer and researcher of organ transplant abuse in China, gave a keynote speech at the event.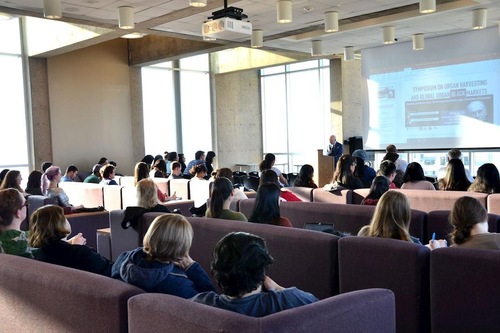 Symposium on organ harvesting and global organ black markets held at the University of Pennsylvania
Together with former Canadian parliamentarian and diplomat David Kilgour, Matas has collected a considerable amount of evidence on the state-sanctioned organ harvesting from living Falun Gong practitioners and published books on this topic.
With a speech titled "Global organ black markets: The case of China," Matas told the nearly 100 attendees about what Falun Gong is, why the Chinese Communist Party persecutes the spiritual discipline, and the details of the killing of Falun Gong practitioners for organs.
He said, "In China, organs of prisoners of conscience are sold in every year in the tens of thousands. These prisoners are killed for their organs and their bodies cremated.
"The prisoners of conscience most commonly killed for their organs are practitioners of the spiritually based set of exercises Falun Gong, a Chinese equivalent of yoga. Also targeted, in smaller numbers, are Uighurs, Tibetans and house Christians. The primary target among the house Christians is Eastern Lightning."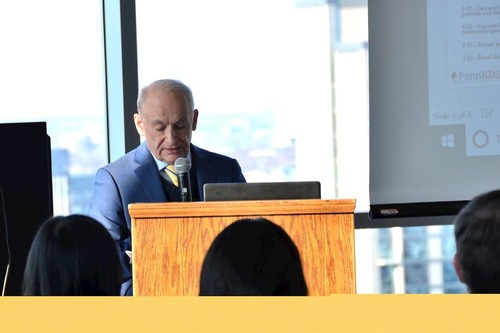 Matas speaks about the state-sanctioned killing of prisoners of conscience for organs in China.
He listed twelve kinds of evidence to support his conclusion, including the short waiting time for organ transplants in China, testimony from prisoners who had been detained and have left China, posted prices for organs and advertisements by Chinese hospitals, phone conversations with Chinese hospital staff, among others.
Matas also discussed the threats he and Kilgour have received from the Chinese regime for their research and speaking activities.
He concluded that "Chinese Communist Party misrepresentation about organ harvesting is far from its first exercise in dishonesty. However, there is a form of dishonesty with organ harvesting which is new to the Party.
"… the Party cares very much what the global transplantation profession thinks. The reason is that they care what their own transplantation profession thinks, and their own transplantation profession does not want to be ostracized by the global transplantation community."
He said, "The violations continue. There is no transparency. There is no accountability. For the victims, nothing changes. The only substantive change is the end or lessening of the ostracization of the Chinese transplantation profession."
He gave suggestions on what the international community can do to help stop the crime, including filing lawsuits against the murderers involved in the forced organ harvesting, banning them from coming to other countries, and forbidding transplant tourism to China.
Matas said he is happy that more and more people have started to pay attention to this crime and to spread the information.
Professor Roy Bloom also gave a speech on the global shortage of kidneys, waiting times for kidney transplants, and how to recruit donors.
In response to audience questions, Professor Bloom said academic journals should have Chinese researchers sign declarations with their manuscripts that the organs used in their research were not from death-row prisoners.
"This may help reduce the illegal organ transplants in China," he said.
The symposium was sponsored by Penn Kidney Disease Screening and Awareness Program (PennKDSAP), Penn Bioethics Journal, Penn Timmy Global Health, Penn Transplant, and the Renal Division of the Perelman School of Medicine.