Report: Dominion Machines "Intentionally and Purposefully Designed With Inherent Errors"
Dec. 16, 2020 | By Minghui correspondent Li Yanbai
(Minghui.org) Editor's note: Humanity is at a historic moment. In the face of the fast changing and complicated worldly affairs, it is morality and conscience that can help people understand what has been going on and take the correct actions. It is the most basic of all. Conscience is bestowed by heaven and an innate trait everyone has. One doesn't need a degree or use any scientific method to develop conscience, which also has nothing to do with one's race, wealth or social status. We are born with conscience. But if one's conscience falls asleep, then one is lost, something very serious. When disaster strikes, conscience is what saves a person, as long as one's conscience stays awake.
In a 23-page report released on December 14, 2020 after auditing 22 Dominion voting machines in Michigan, a cybersecurity company concluded that the "Dominion Voting System is intentionally and purposefully designed with inherent errors to create systemic fraud and influence election results."
"Based on the preliminary results, we conclude that the errors are so significant that they call into question the integrity and legitimacy of the results in the Antrim County 2020 election to the point that the results are not certifiable. Because the same machines and software are used in 48 other counties in Michigan, this casts doubt on the integrity of the entire election in the state of Michigan." said the report by Allied Security Operations Group.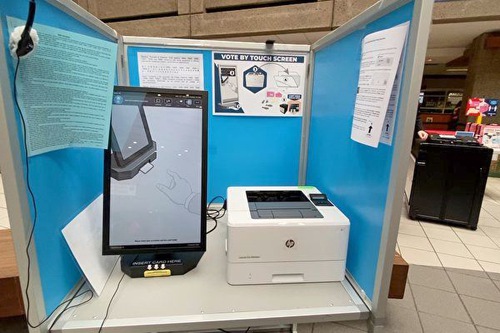 A Dominion touchscreen voting machine
Significant and Fatal Error
The report noted that by the Federal Election Commission guidelines, the allowable election error rate established was of 1 in 250,000 ballots (.0008%). But they "observed an error rate of 68.05%. This demonstrated a significant and fatal error in security and election integrity."
The report also found that a staggering number of votes required adjudication, which is something new in this 2020 election. The report said such an issue was caused by "intentional errors in the system" that "lead to bulk adjudication of ballots with no oversight, no transparency or audit trail."
"The systemic errors are intentionally designed to create errors in order to push a high volume of ballots to bulk adjudication." the report said.
Missing Files
The report also noted that the computer system kept vote adjudication logs for prior years; but all adjudication log entries for the 2020 election cycle were missing.
"The lack of records prevents any form of audit accountability, and their conspicuous absence is extremely suspicious since the files exist for previous years using the same software."
"Removal of these files violates state law and prevents a meaningful audit, even if the Secretary wanted to conduct an audit. We must conclude that the 2020 election cycle records have been manually removed." the report said.
Additionally, the report also found that all security logs prior to 11:03 p.m. on November 4, 2020 were also gone, but other server logs before that were still present; "therefore, there is no reasonable explanation for the security logs to be missing."
Two Different Programs
The report discovered two different ballot counting programs were used during the election cycle.
It said, "The Election Event Designer Log shows that Dominion ImageCast Precinct Cards were programmed with new ballot programming on 10/23/2020 and then again after the election on 11/05/2020. These system changes affect how ballots are read and tabulated, and our examination demonstrated a significant change in voter results using the two different programs."
They also found that "the Central Lake Township tabulator tape totals were significantly altered by utilizing two different program versions (10/23/2020 and 11/05/2020), both of which were software changes during an election which violates election law, and not just human error associated with the Dominion Election Management System."
National Security Imperative
The report described Dominion's involvement in the elections as a "national security imperative" and they "recommend that an independent group should be empaneled to determine the extent of the adjudication errors throughout the State of Michigan."
This wasn't the first time that people raised concerns about into the security implication of the Dominion system.
President Trump tweeted on November 12, referring to an OANN report: "REPORT: DOMINION DELETED 2.7 MILLION TRUMP VOTES NATIONWIDE. DATA ANALYSIS FINDS 221,000 PENNSYLVANIA VOTES SWITCHED FROM PRESIDENT TRUMP TO BIDEN. 941,000 TRUMP VOTES DELETED. STATES USING DOMINION VOTING SYSTEMS SWITCHED 435,000 VOTES FROM TRUMP TO BIDEN."
Lawyer Sidney Powell said during an interview with Fox News that Texas refused three times to use the Dominion system, because it has inherent defects "built in for a reason," as well as "Chinese software and other components."
In the 2020 election, the software was used in 33 states, including all contested swing states.
Background
In early December, Judge Kevin Elsenheimer ordered the audits of 22 Dominion voting machines in Antrim County, Michigan, which have been found of switching 6,000 votes from Trump to Biden. So the plaintiff, William Bailey, hired Russell Ramsland of Allied Security Operations Group (ASOG) and his team to inspect the machines.
Ramsland's team performed forensic duplication on the county's election management server, which was running Dominion Democracy Suite 5.5.3-002 software, and also inspected compact flash cards used by local precincts in their Dominion ImageCast system, USB memory sticks used by Dominion Voter Assist Terminals, and USB memory sticks used for the poll book.
Ramsland worked at the National Aeronautics and Space Administration (NASA) under President Reagan and the Massachusetts Institute of Technology (MIT), as well as serving on technical government panels, before joining ASOG.
Other members working at ASOG included professionals coming from various disciplines such as Department of Defense, Secret Service, Department of Homeland Security, and the Central Intelligence Agency. The company has a particular emphasis on cyber security, open source investigation and penetration testing of networks.