(Clearwisdom.net) On October 5, 2006, regarding the CCP's practice of harvesting organs from living Falun Gong practitioners in China, Foster City council member John Kiramis indicated that local governments should take a position, condemn the genocide of innocent people, and help to stop the atrocity.
(Clearwisdom.net) On July 20, 2006, the best-selling Turkish newspaper in the UK,
AVRUPA,
published an article entitled "A Turkish Falun Gong Practitioner Exposes the CCP's Atrocity in London."
A protestor holding a photo of a Falun Gong practitioner who was persecuted to death in China
(Clearwisdom.net) On October 14, Falun Gong practitioners from various places in the north of England gathered at Dortmund Square in Leeds to spend the day introducing Falun Gong to local people and informing them about the persecution. Some Falun Gong practitioners practiced the exercises while others collected signatures, handed out leaflets and spoke to people about the situation in China.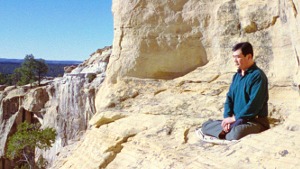 Master Li quietly watching the world from amidst the mountains after leaving New York following July 20th, 1999. (Published January 19, 2000)