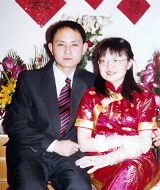 Cao Dong and His Wife Yang Xiaojing
(Clearwisdom.net)
At around 6:00 on the evening of May 26, 2006, five men and one woman from the National Security Bureau, along with another woman from the local residential committee, opened the door of Mr. Cao Dong's home (Rm. 704, Unit 3, Zhuzi Hutong, Zhaojialou, Beijing) with a master key. Without showing any search warrant, they ordered practitioner Gao Fengqiang, who at that time was staying in Cao Dong's home, to squat in a corner, and then began ransacking the home. They confiscated some Dafa books, a hard drive, an MP3 player, some identification cards, and photos. They also body searched Gao Fengqiang and confiscated everything he had with him.
(Clearwisdom.net) Falun Dafa practitioner Mr. Shao Mingzhu lived in Beibo Village in Liangcheng Township, Weishan County, Jining City, Shandong Province. He was sent to one year of forced labor in 2002 because he passed out truth clarifying materials. He was sent to the Shandong Province First Men's Labor Camp located in Wangcun, Zibo City. In 2004, he was sentenced to another two years of forced labor and a one month extension. During this term, he was so brutally tortured that he became very emaciated, and he could not take care of his daily needs. Finally, his lungs became severely infected, and his family picked him up in mid March 2006.
(Clearwisdom.net) It was just learned that practitioner Liang Zhenxing, who was involved the "March 5, 2002" TV truth broadcasting incident is in critical condition from persecution in the Siping Prison, Jilin Province.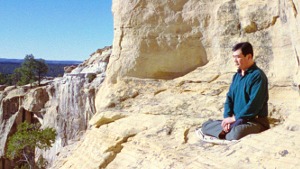 Master Li quietly watching the world from amidst the mountains after leaving New York following July 20th, 1999. (Published January 19, 2000)