(Clearwisdom.net) A costumer with the Seattle Opera described the Shen Yun Performing Arts show she attended on Saturday afternoon at Seattle's Paramount Theatre as "absolutely fabulous."
"So colorful. I love the message--you know, it's like certain things should be allowed to flourish because they promote beauty and peace," said Ms. Wetherill.
(Clearwisdom.net) Bringing its audience to a resounding standing ovation Saturday afternoon, Shen Yun Performing Arts delighted a packed house at the Paramount Theatre for the second and final performance of its Spring Tour 2009 in Seattle.
(Clearwisdom.net) Portland, Oregon -- the "City of Roses" -- welcomed back the Shen Yun Performing Arts for its Spring Tour 2009, at the Keller Auditorium on May 19.
Opera Singer: "It Opened An Unknown Page in Art and History"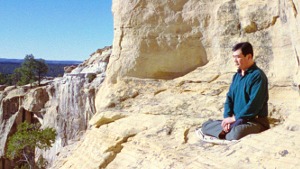 Master Li quietly watching the world from amidst the mountains after leaving New York following July 20th, 1999. (Published January 19, 2000)