Relentless Persecution: Mr. Xu Huaquan Sentenced to Prison Again
(Minghui.org) Mr. Xu Huaquan (徐化全) was the last practitioner to be released from Beijing's Xin'an Forced Labor Camp when China's labor camp system was shut down in 2013 due to international pressure. Now he has been unlawfully sentenced to another four and a half years in prison.
Mr. Xu, 50 years old, has spent 11 of the past 15 years locked up for his belief in Falun Gong. He suffered brutal torture during two forced labor camp sentences and eight years of imprisonment.
His family has kept this a secret from his aged mother, who has believed him to be living in the US all these years.
Before the onset of the persecution, Mr. Xu had worked for the Beijing Development and Reform Commission, and as a manager for a Japanese company. He holds a Master's degree from Beijing University.
Tortured with Cigarette Lighters
He was arrested the first time in 2001 and sentenced to one year of forced labor. At Haidian Police Station, several police officers pinned him down and burned his chest with cigarette lighters. The torture left a palm-sized scar and one of his nipples was completely burned off.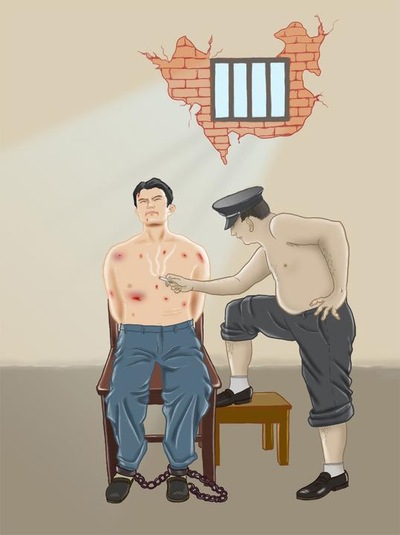 Torture re-enactment: Burning with a cigarette
Electric Shock Torture
While being detained at Tuanhe Forced Labor Camp, Mr. Xu was subjected to all kinds of torture. He was forced to stand naked under the scorching sun for long periods of time until his body was covered with blisters.
Police officer Zhou of Team 2 shocked him with three electric batons. He then tied Mr. Xu to a bed for 24 hours, and ordered the inmates not to allow him to sleep and to force him to write "self-criticism reports." The inmates shot him in the eyes and face with rubber bands to keep him awake.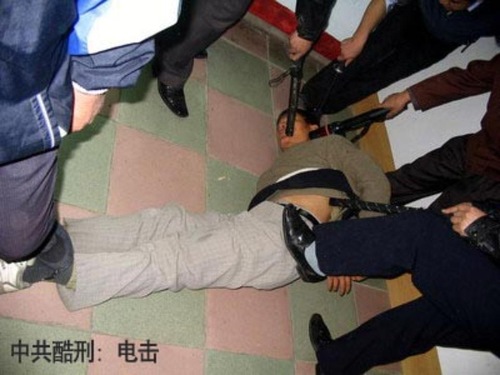 Torture re-enactment: Electric shock
Sentenced to 8 Years in Prison, Wife Driven to Divorce Him
Officers from Taiyanggong Police Station broke into his house on November 7, 2002, and arrested him, his wife, and their son. They were taken to the Chaoyang Detention Center. With no one at home, the police confiscated 5,000 yuan in cash, postage stamps worth around 150 yuan, his computer and printer, and other items.
Mr. Xu was unlawfully sentenced to 8 years in prison. Unable to bear the pressure and harassment by the authorities, his wife divorced him.
Locked in "Small Cell" for Refusing to Renounce Falun Gong
Mr. Xu was detained in Ward 12 at Beijing Qianjin Prison. Police officer Chen tried to trick him into renouncing Falun Gong. When he failed, he locked Mr. Xu in a "small cell" to torture him.
In January 2006, Mr. Xu made a simple comment about disagreeing with the claims in an article he read in the newspaper. He was reported by inmates, and was put under "strict control."
Arrested and Sentenced to Forced Labor Again
Mr. Xu was released from prison on November 6, 2010. He had no income or place to live. In the beginning of March 2011, Mr. Xu was once again arrested and sentenced to forced labor. At Xin'an Forced Labor Camp in Beijing, he was locked in solitary confinement for a long time. In 2013, China began closing down its forced labor camps. Mr. Xu was finally released in August 8, 2013, the last Falun Gong practitioner to be released by the camp.
Sentenced to Another Four and a Half Years in Prison
According to the latest reports, Mr. Xu has been arrested again and unlawfully sentenced to another four and a half years in prison. He is currently detained in Beijing Xicheng District Detention Center. The weather in Beijing has turned cold, but he is still wearing thin clothes and is forced to wear handcuffs and shackles.