Woman Returns Home with Memory Loss, Severe Health Problems
November 22, 2014 | By a Minghui correspondent in Jilin Province, China
(Minghui.org) Although Ms. Yang Shumei (杨淑梅) still recognizes old acquaintances, she has trouble remembering basic daily occurrences. Her thoughts are incoherent, and her speech is slurred. She is slow to respond and often forgets what she is told.
One thing she does remember is being tied down to a bed, spread-eagle, and injected with unknown substances over and over. She remembers having to relieve herself still tied to the bed. During this time, she was never allowed to shower. She knows that, on October 2, 2014, she was finally released.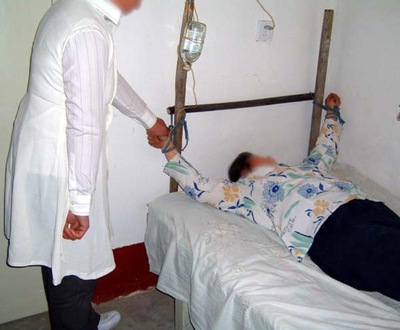 Torture re-enactment: Injected with an unknown drug
Ms. Yang was sentenced to four years after she was arrested at home on March 2, 2011. Her "crime" was practicing Falun Gong, a self-cultivation system persecuted by the Chinese Communist Party (CCP).
From being bound to a bed in prison for so long, she now needs support to even stand up or walk around.
Ms. Yang's parents-in-law used to have trouble seeing eye to eye with her, but they were happy when she turned into a one-of-a-kind daughter-in-law after she took up Falun Gong. After her most recent arrest, her in-laws went from one agency to another to seek her release. However, they, along with the rest of the family, were only met with police intimidation and brutality.
Latest Arrest, Torture
Ms. Yang is a 49-year-old Falun Gong practitioner from Yangshulin Township, Nong'an County, Jilin Province. She was at home on March 2, 2011, when police broke in and arrested her.
The officers from the Domestic Security Division of the Nong'an County Police Bureau and the Yangshulin Township Police Station did not even allow her to put on her shoes before dragging her away.
She was sentenced, without due process, to four years and transferred to the Jilin Women's Prison, where she was relentlessly tortured. She was almost paralyzed, and her memory began to fade.
Because she refused to give up her belief in Falun Gong, she was forced to sit on a small stool for extended hours, often from 5:00 a.m. until midnight. Her legs and feet became swollen. Almost every Falun Gong practitioner who refused to give up his or her belief was made to endure such a torture.
Toward the end of her term, the guards made a habit of tying her to a bed for long periods of time. They would inject her with unknown drugs that ruined her ability to think straight.
Family Threatened for Seeking Her Release
On March 4, 2011, Ms. Yang's 80-year-old mother-in-law and 5 of her grandchildren went to the police station to inquire about the arrest. When she identified one of the officers who ransacked Ms. Yang's home, she went over to him and asked him where her daughter-in-law was.
She demanded to know why they were arresting innocent citizens and treating them so poorly. The policeman responded by threatening her and her family: "If you continue arguing, we will arrest your son, too."
On March 7, 2011, 14 of Ms. Yang's relatives went to the Nong'an County Police Station and finally managed to meet with Tang Ke (唐克), commander of the Domestic Security Division. However, he refused to admit he had done anything wrong by arresting Ms. Yang.
Then Zhang Xingliang, deputy chief of the police bureau, met with them. He tried to deceive them by quoting Article 300 of the Criminal Law: "Using a cult organization to undermine law enforcement," routinely used by the communist regime to arbitrarily arrest and imprison practitioners as part of its campaign to eradicate Falun Gong.
Ms.Yang's relatives pointed out that the article never mentions "Falun Gong" and that arresting people on the grounds of their belief is illegal. Zhang shut them up by threatening them: "If you continue acting like this, we'll arrest you all—including the teenagers."
During another attempt to meet with Ms. Yang later that month, guards indeed dragged three of the grandchildren into an interrogation room and beat them. Two were later detained for 10 days.
A few months later in May, Ms. Yang's family went to the police station again to request a meeting with her. After one of her nephews tried to defend Ms. Yang's right to practice Falun Gong, the police threatened him.
Three police officers dragged him into a room, where five other officers began to beat him. They also threatened the rest of the family: "If you keep on coming, we will arrest all of you."
Ms. Yang was illegally sentenced to a four-year prison term on March 2, 2011, and taken to the Jilin Province Women's Prison. When Ms. Yang's family requested a confirmation of the verdict, Guo Qingxi (郭庆玺), deputy judge of the criminal court, refused the request, saying that the county had no precedence of providing family members a copy of the verdict.
Ms. Yang was brutally tortured in the prison's brainwashing center. When her family went to meet with her, they were surprised to see her pushing a walker to support herself and accompanied by two other inmates. Ms. Yang's family also discovered that she was mentally disoriented and had lost much of her memory.
More recently, right after the 2014 Chinese New Year, Tang Ke (唐克), commander of the Domestic Security Division, the Nong'an County Police Bureau, and Shi Qingguo (师庆国), village security director for the Yangshulin Township Police Station, took dozens of plainclothes police officers to Ms. Yang's home.
They tricked Ms. Yang's mother-in-law into opening the door, charged in, and sought out Ms. Yang's husband and daughter. Only Ms. Yang's parents-in-law were at home, and her ill father-in-law was in bed.
Since they could not find Ms. Yang's husband and daughter, they ransacked the home and confiscated several items.
Face Severely Disfigured in the Forced Labor Camp
The CCP began the persecution in July 1999. Two months later, Ms. Yang went to Beijing to stand up for her right to practice Falun Gong. She was arrested and taken to the Nong'an County Detention Center, where she was detained for 38 days. Police extorted 1,000 yuan from her family before releasing her.
In October 1999, Ms. Yang went to Beijing for a second time, but she was arrested again and taken back to Nong'an County. Without following any legal procedure, Nong'an officials sent her to the Changchun Heizuizi Women's Forced Labor Camp, where she was tortured for a year.
In particular, her face was severely disfigured, and she was barely recognizable.
Ms. Yang once carefully made her way through the camp and managed to come upon Fan (范所长), the chief. She told Fan about being tortured in the camp. Fan replied coldly, "No one is allowed to practice Falun Gong here. You will be shocked with electric batons if you refuse to give it up. We are wearing the CCP's clothes and earning CCP money, so we will shock you if you practice Falun Gong."
Tied to Death Bed for 12 Days
Commander Zhang Guimei used a piece of bamboo to hit Ms. Yang on her head and slap her face. Guards Ma Tianshu (马天舒) and Yu Bo (于波) tied her to a bed with rubber cords and also hung her up.
They later tied her to the death bed, with her four limbs bound to each corner of the bed. She was thus forced to eat and relieve herself in the same bed for 12 consecutive days. Family visits were suspended during this period, and no one was allowed to wash her face, brush her teeth, or clean her in any way.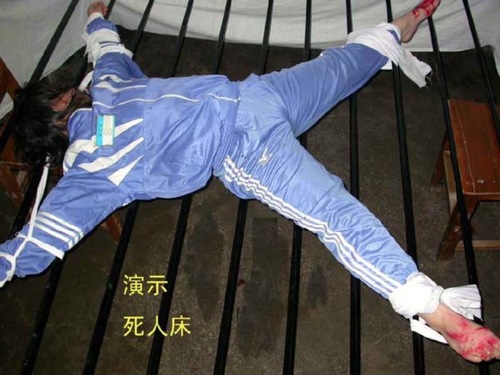 Torture re-enactment: Death bed
Hung Up, Shocked with Electric Batons
Ms. Yang retained her faith in Falun Gong while in the labor camp. Her dedication infuriated guard Ma, who used electric batons to shock Ms. Yang's head and face. Guard Yu kicked and beat her when Ma shocked her. Ms. Yang's body jerked in every direction, and her body hit the wall again and again. In the end, even Ma was fatigued from the abuse.
Commander Liu Lianying (刘连英) and guard Yu continued to shock Ms. Yang with two electric batons. From her head to her neck, face, breasts, armpits, hands, and feet, no part of her body was left untouched.
They even had to get another electric baton when one ran out of batteries. They did not let up until their shifts were over. At that point, Ms. Yang's flesh was scorched all over. During the torture, one could hear the guards' shouting, the buzz of their electric batons, and Ms. Yang's screams.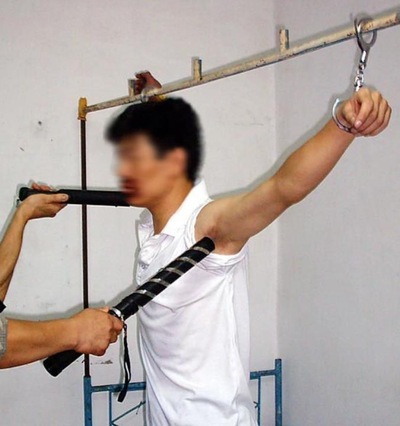 Torture re-enactment: Hung up and shocked with electric batons
Ms. Yang's face was severely disfigured. She could not close her mouth. She was bleeding everywhere, and her eyes were filled with tears. Her face was swollen with yellow blisters. Other Falun Gong practitioners could not even recognize her. All they could do was hold her and cry with her.
The following day, two officials, Lian Guangri (廉光日) and Yue Jun (岳军), saw Ms. Yang and asked about her face. Liu Lianying said she had AIDS, and they all laughed together loudly. Commander Ren Feng kept watch over the practitioners and ordered them not to speak.
After witnessing Ms. Yang's condition, many of the practitioners detained there started a hunger strike and wrote letters in hopes of exposing the officials' abuse of human rights. Since the officials were afraid that their evil deeds would be exposed, they suspended all family visits.
Homeless for 6 Years to Escape Persecution
After Ms. Yang was released from the labor camp, she told more people about the Falun Gong of persecution through her own experience.
At the end of September 2001, villagers who were deceived by the CCP reported Ms. Yang and other practitioners to the police. She and another practitioner were arrested and taken to the Yangshulin Township Police Station.
The next day, Wang Mingzhang (deceased) (王明章) and Jiang Xingzhou cuffed Ms. Yang's hands and ankles and beat and cursed her. Several drunk officers started to beat her. They then dragged her around by the hair, picked her up by the hair, and continued beating her. Ren Wanxi (deceased) (任万玺) said, "I'm telling you: It's all right no matter what we do to you." Ms. Yang's face was swollen and her eyes were bleeding. Later, they took her to the Nong'an Detention Center.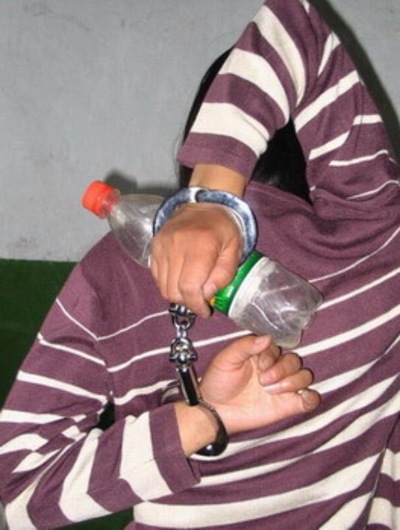 Torture re-enactment: Hands cuffed behind the back
Ms. Yang then went on a hunger strike to protest the persecution. Eight days later, she escaped during a transfer to the forced labor camp. She then began six years of being homeless, until she went back home in 2007 to care for her aging parents-in-law after her brother-in-law, Mr. Wang Qibo, was tortured to death in Jilin Prison for refusing to give up his belief in Falun Gong.