Heilongjiang Man Secretly Sentenced At Makeshift Courtroom in Detention Center
December 30, 2014 | By a Minghui correspondent in Heilongjiang Province, China
(Minghui.org) When the family of a 41-year-old man from Hailin City, Heilongjiang Province finally heard from him, they learned that he is now serving three and a half years in Tailai Prison for practicing Falun Gong, a self-cultivation system being persecuted by the Chinese Communist Party.
Mr. Fu Pengchong (付鹏翀) was arrested on June 6, 2013, but the local procuratorate dismissed his case in July citing insufficient evidence. The police, however, held him for nine additional months before fabricating more evidence for him to be tried during March this year.
The Hailin City Court held Mr. Fu's hearing at the detention center without notifying his lawyer or family.
Detention and Sentence
Following his arrest in June of last year, Mr. Fu was ordered to perform forced labor during the day and was interrogated by the police at night.
The procuratorate dismissed Mr. Fu's case after a month, so the police department took over and began working hard to construct more evidence against him.
Mr. Fu's mother and wife went to the procuratorate and the court to inquire about his case and ask for his release, but officials passed them back and forth between the two agencies. Both claimed they didn't know anything about Mr. Fu's situation.
A closed-door hearing was secretly held in the detention center in March, but by the time his family learned about Mr. Fu's situation, Mr. Fu had already been found guilty of trumped up charges.
The Arrest
Mr. Fu was arrested at his home on June 9, 2013, by officers Ding Yuhua and Wang Wei of Hailin City Police Department and Domestic Security Division. Numerous personal items such as his laptop, tablet, Falun Gong books, and passbook were taken away.
Mr. Fu's mother was at home when the arrest took place. Having witnessed the arrest, her unstable mental state triggered a convulsion; she could not move. But the police still took Mr. Fu away and left his mother at home without calling for help.
That night, Mr. Fu's family went to the police department to look for him. Officer Ding simply pushed them out of the office.
Mr. Fu was previously arrested and imprisoned for about five years (from 2002 to 2007) at the Mudanjiang prison. There, he was subjected to tortures such as "tied up with thin ropes" and "flying an airplane."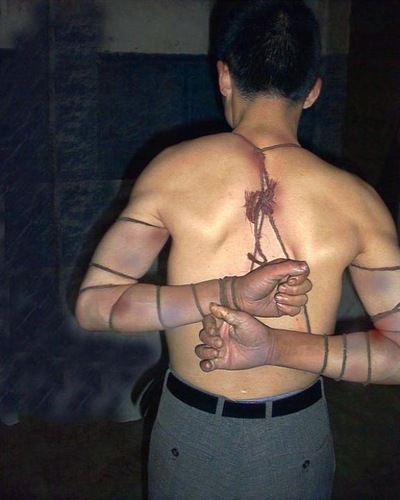 Torture reenactment: Tied up with thin ropes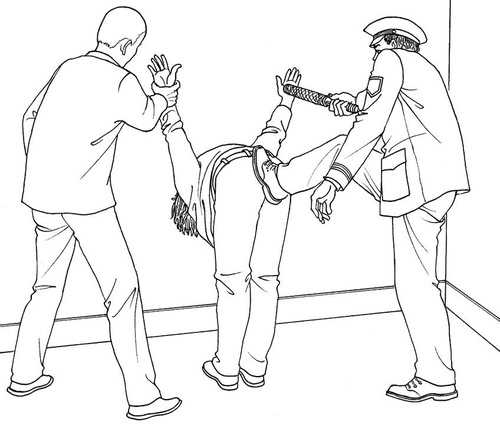 Torture re-enactment: Flying an airplane
Mr. Fu's family of four has been harassed, arrested, had their home illegally raided, and otherwise humiliated numerous times in the last over 15 years of the persecution of Falun Gong.