Photo Report: Practitioners in Bali, Indonesia Protest the Persecution
July 27, 2014 | By a practitioner in Bali
(Minghui.org) Several hundred Falun Gong practitioners gathered on the well-known Legian Kuta Beach in Bali, Indonesia on July 20, 2014, to hold a public rally, march, and candlelight vigil, and condemn the Chinese Communist Party's (CCP) 15-year-long persecution. They called on all kindhearted people to help stop the persecution. Local media and TV station covered the event.
Crowds of people were on the beach, but the practitioners, with their yellow shirts and white trousers, lined up to practice the Falun Gong exercises along with music.
A display with portraits of fellow practitioners who died due to the persecution in China was set up on the beach, along with banners condemning the persecution. The serene atmosphere drew the attention of tourists, many of whom talked with the practitioners and learned more about the persecution. Upon learning of the practitioners who died due to the persecution, some tourists stepped forward and donated flowers to salute the portraits. Many of the tourists also signed a petition opposing the persecution.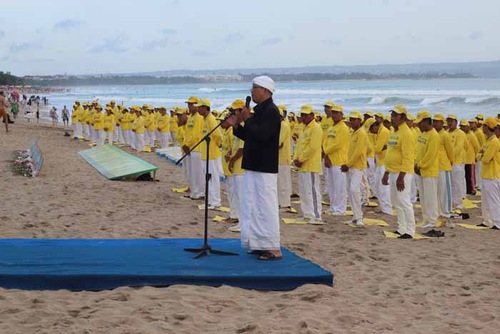 Mr. Made Sulasa Jaya, a religious leader in Bali, participated in the rally and gave a speech. He said, "I think all of us should support righteousness and truth."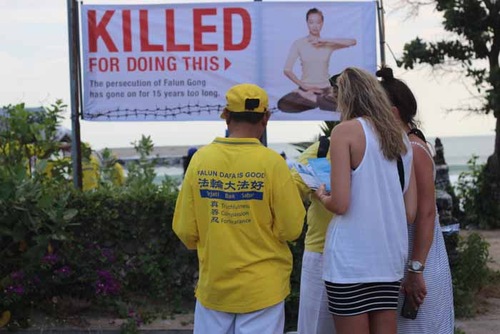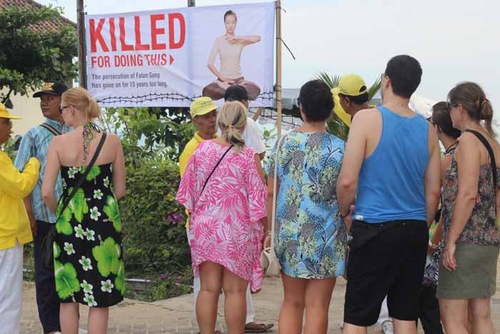 Practitioners explain the facts to tourists and distribute informational materials.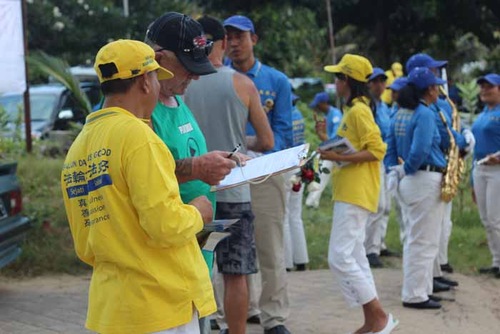 People who learned the facts sign petition opposing the CCP's live organ harvesting.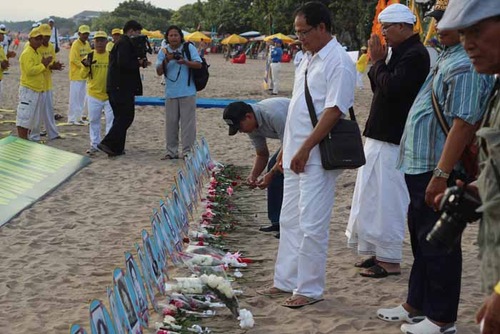 Tourists present flowers in front of portraits of Falun Gong practitioners who died due to the CCP's persecution in China.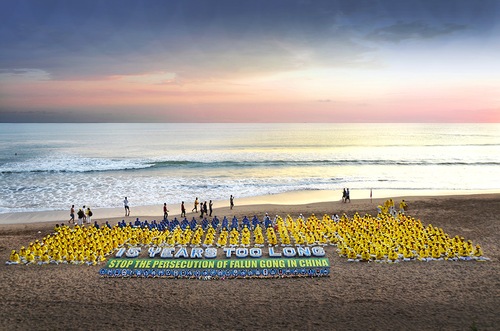 Practitioners hold a group practice on the beach in the evening.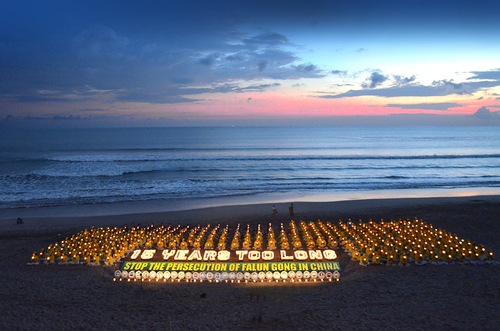 Candlelight vigil commemorating the fellow practitioners who died resulting from the CCP's persecution, and calling for an end to the 15 years of brutality.