Helsinki, Finland: Learning Peaceful Meditation on Campus and at a Health Expo
October 16, 2015 | By a Falun Gong practitioner in Finland
(Minghui.org) Helsinki Finnish Coeducational School (SYK) is the first Finnish-language coeducational school in Finland and one of the top schools in the country. Falun Gong practitioners held a workshop on the campus October 9 and 10 and attended a nearby health expo on October 10 and 11.
Students Learn the Exercises on Campus
Many SYK students attended the introductory session on October 9 given by local practitioner Sinikka. She first explained that people improved physically and mentally from practicing Falun Gong and then shared details about the brutal persecution of the practice that started in 1999, including the harvesting of organs from living practitioners in China and the recent lawsuits being filed against former Chinese leader Jiang Zemin for persecuting Falun Gong.
Another practitioner, Zhu Luoxin, told about what happened to her and her family. She was arrested in December 2001 and imprisoned until September 2009. Her husband was sent to a forced labor camp for two years. After other family members were also mistreated for their belief, the couple left China and moved to Finland.
Students were interested in the meditation, and many started to learn the exercises in class. Sinikka told them how to find information online and the value of joining a local group to do the exercises together.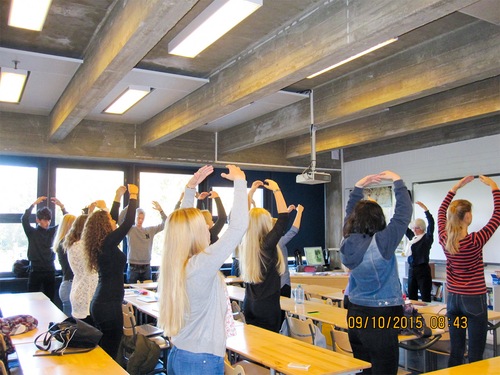 Students learn the Falun Gong exercises at Helsinki Finnish Coeducational School.
Heath Expo: Strong Energy Field
At the health expo, many people stopped for information at the Falun Gong booth. One woman said she only had 15 minutes, but she took the time to attend a short session that demonstrated the five exercises.
After learning the first and second exercises, the woman was very impressed, "This meditation is very good--I can feel a strong energy here."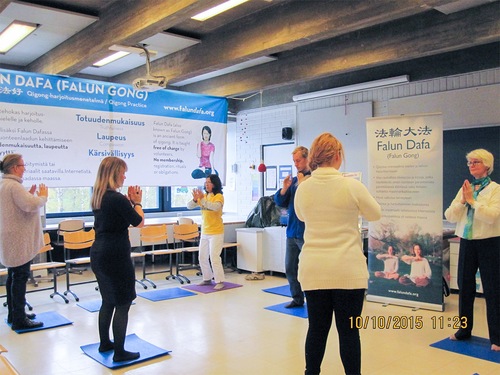 Two practitioner volunteers demonstrate the exercises at the health expo.