Ms. Niu Guifang Confined to a Small Cell, Family Denied Visitation
February 04, 2015 | By a Minghui correspondent from Liaoning Province, China
(Minghui.org) Falun Gong practitioner Ms. Niu Guifang is being held in Liaoning Women's Prison and has been forbidden to see her family since May 2014. She was detained in a small cell in the prison in October 2014.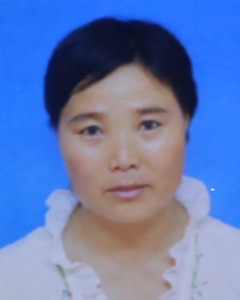 Ms. Niu Guifang
Ms. Niu's family members has tried to visit her at the prison every month for the past eight months, but were refused due to Ms. Niu's unwillingness to "reform." The prison authorities also prohibited her from calling her family. When Ms. Niu's family asked to see the head of the prison, they were told he was unavailable.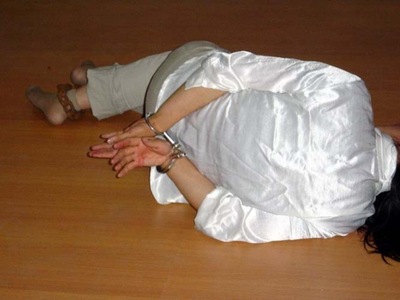 Torture reenactment: locked in a small cell
Ms. Niu's family was informed in January 2015 that her retirement pension was approved and they needed to go to the bank to get the money. When they went to the bank, they were told that Ms. Niu must appear in person in order to receive the money, otherwise they could not do anything. When Ms. Niu's family explained the situation to the guard, he said, "Niu Guifang has spoken too much in prison and doesn't behave well. We can't do anything because of this."
After much struggle, the prison authorities finally allowed Ms. Niu to call her family. Ms. Niu told them, "My health is very bad. I need someone to help me when I go up the stairs." She also said there was a boil on her foot. Her vision had become blurry, and her memory has deteriorated. Even though she has these health issues, she was not spared from being forced to perform labor from early in the morning until around 8:00 at night.
Sentenced to Prison for Hanging Banners
Ms. Niu was previously arrested by officers from Xinchengzi Street Police Station on July 19, 2012 for hanging banners that read, "The World Needs Truthfulness-Compassion-Forbearance" and "Falun Dafa is Good". She was sentenced to three years imprisonment by the Shenbei District Court on February 27, 2013. Ms. Niu appealed to the Shenyang Intermediate Court, which upheld the original verdict.
Ms. Niu was taken to Shenyang Women's Prison on November 19, 2013. It was not until January 20, 2014 that her family was able to see her. At that time they saw that Ms. Niu was very feeble. Her vision worsened, and her hair had turned gray. As a result of torture during interrogation by officers from Xinchengzi Street Police Station, she had difficulty raising her arm.
The chief of the ward was monitoring their visit with Ms. Niu. After 10 minutes, the visit was terminated with the excuse that the guards needed to take their lunch.
Ms. Niu's family went to visit her at the prison in April of 2014, but they were refused visitation. The prison personnel stated that Ms. Niu refused to write the so-called monthly "thought report" and could not see them.
Ms. Niu's family again went to see her early in the morning on May 20, 2014. However, they were again denied visitation due to her refusal to write the monthly "thought reports." Her family was then banned from seeing her.
Related article:Prison Threatens to Deprive Ms. Niu Guifeng of Visitors for Not Writing "Thought Reports"Ms. Niu Guifang Imprisoned—Her Daughter Urgently Calls for HelpShenyang Intermediate Court Upholds Falun Gong Practitioners' SentencesMs. Niu Guifang from Shenyang City Severely Beaten by Police