Rally in Vienna, Austria: "The Whole World Should Know the Facts of the Persecution"
September 30, 2015 | By Minghui correspondent Tang Xiuming
(Minghui.org) "The whole world should know about the persecution and what is happening in China," said a passerby to a Falun Gong practitioner at a rally in front of Stephansplatz, in Vienna, Austria on September 19, 2015. The passerby and his wife listened to the speeches at the rally about the Chinese Communist Party's (CCP) persecution of Falun Gong and supporting the lawsuit against Jiang Zemin, former head of the CCP who initiated the persecution in 1999.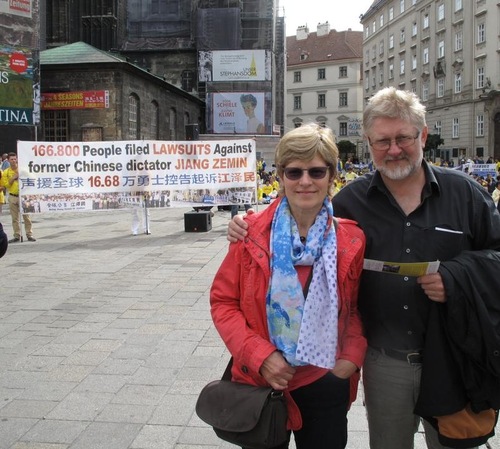 A German couple at the rally venue.
The couple signed the petition opposing the CCP's persecution. The husband, an engineer said, "We know Falun Gong. I think the CCP is terrible, which conducts such a horrible persecution that is more than a crime."
"I signed the petition in Germany. I wish you success." said the wife, who agreed with her husband on the issue.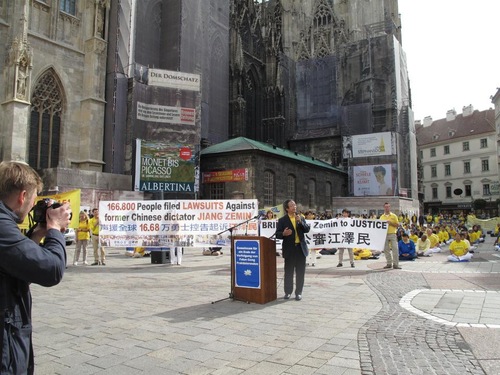 Rally in front of Stephansplatz, in Vienna, Austria on September 19, 2015.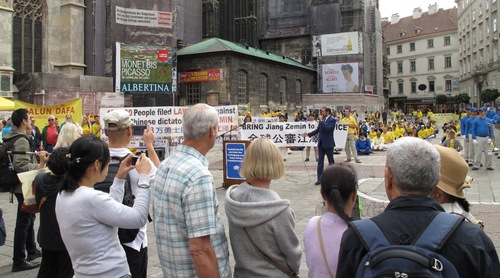 Moderator explains the lawsuit against former Chinese dictator Jiang Zemin.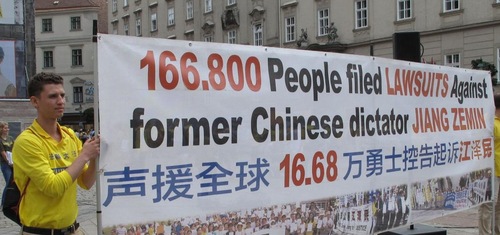 Belgium practitioner Laurence holds banner.
The large banner worded "166,800 People Filed Lawsuits Against Former Chinese Dictator Jiang Zemin" was made by Belgium Falun Gong practitioners. "We made this large banner for activities in front of the Chinese Embassy in Belgium," said Laurence. "My parents and sister have practiced Falun Gong nearly ten years. When my father heard of the lawsuit against Jiang, he immediately thought of letting the Chinese staff at the embassy know the news."
More than 180,000 Falun Gong practitioners and their families have filed criminal complaints against Jiang as of September 18, for his abuse of power in orchestrating the persecution of Falun Gong. They urged the Supreme People's Procuratorate and the Supreme People's Court to bring Jiang to Justice.