Sydney, Australia: Rally Condemns Forced Organ Harvesting in China
October 03, 2016 | By Minghui correspondent Mu Wenqing in Sydney, Australia
(Minghui.org) Falun Gong practitioners and supporters held a rally at Centenary Square, Parramatta, the busiest commercial area in Sydney on September 24, 2016.
Twelve speakers, including government officials, professionals, human rights activists and local residents, called for help stop forced organ harvesting crimes committed by the Chinese Communist regime in China.
They called upon the Australian government to take action, as has the United States and Europe, to formally condemn this crime against humanity.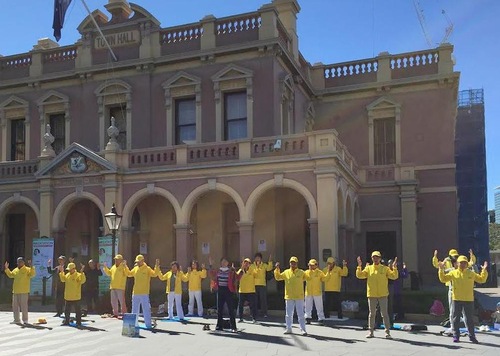 Practitioners demonstrate the exercises at Centenary Square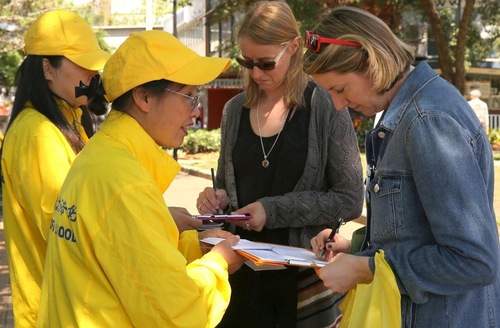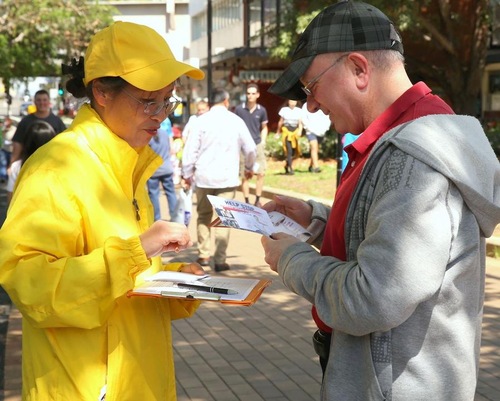 Passersby sign a petition supporting Falun Gong practitioners' effort to end the persecution
Members of All Political Parties Call Upon the Australian Government to Take a Tougher Stance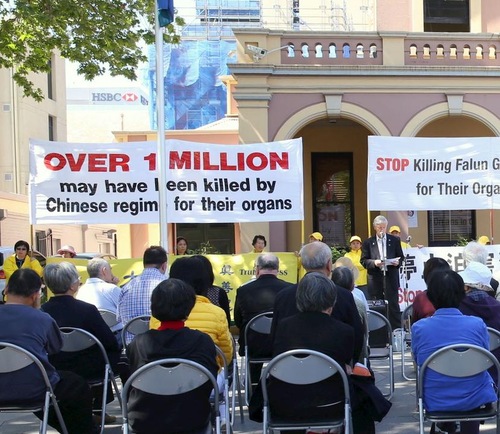 Phil Bradley, Greens candidate speaks at the rally
Phil Bradley, Greens candidate for Parramatta, said that he strongly opposes the forced organ harvesting from living Falun Gong practitioners in China. He also conveyed concerns of Greens Senator Lee Rhiannon, who said that she and her colleagues of the Greens in the parliament will work together to urge the Australian government to condemn the forced organ harvesting crime.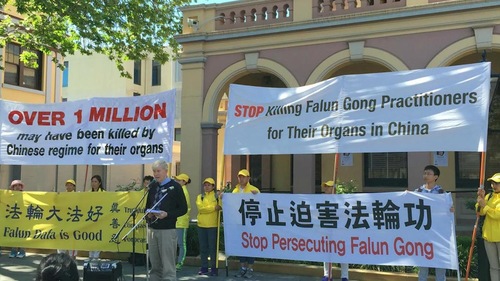 Keith Piper, a pastor from the Christian Democrats Party
Keith Piper, a pastor from the Christian Democrats Party, and candidate running for the federal seat of Parramatta, said that Chinese regime's state-sanctioned organ harvesting practice is "an outrageous crime against humanity."
He said that the crime must be exposed to the world, and all the media outlets across the world should expose the names of government officials and doctors involved.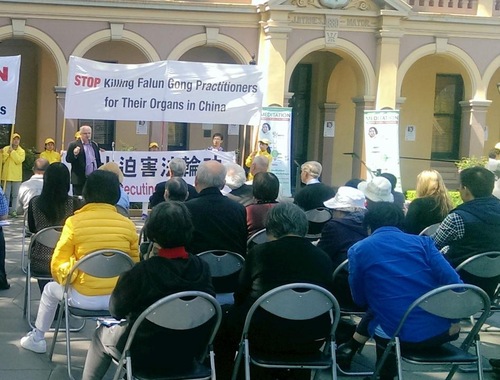 Andrew Wilson, Liberal Party member and former Parramatta councilor
Andrew Wilson, former Parramatta councilor, attended the rally to show his support. He stated that torture and suppression are not symbols of power, and such despotic tyranny can't last, nor will it last forever.
Councilor Wilson said he was deeply saddened that Australia hasn't taken a tough stance because of its trade relations with China.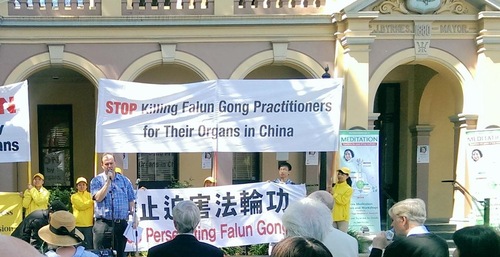 James Shaw, Labor Party member and former Parramatta councilor
James Shaw, former Parramatta councilor said we must let the Australian government know that we can't keep silent while facing a crime such as forced organ harvesting. We should put aside economic relations, and steadfastly stand up for these values, he said.
Human Rights Activists: Forced Organ Harvesting Must be Stopped
Human rights activist Bob Vinnicombe said that the Australian government must demand the Chinese regime to stop persecuting Falun Gong practitioners, Christians, human rights lawyers, etc, and stop harvesting organs from living people without their consent.
He called upon everyone at the rally to visit their federal MPs about this issue.
Than Nguyen, Chairman of the Human Rights Relief Foundation Limited, said that such a crime has continued to this day, and we all shoulder the responsibility help stop it.
He said, "If we can't stand up for the victims who suffer injustice, who will stand up for us when we become victims?"
Professionals: Everyone Should Voice Their Support for the Victims
Charles Camenzuli speaks at the rally
Charles Camenzuli who works in engineering design said that he had heard about organ harvesting years ago, but unfortunately not enough has been done to stop it. He said the Australian government should stand up and explicitly state: "We don't accept such a thing as forced organ harvesting."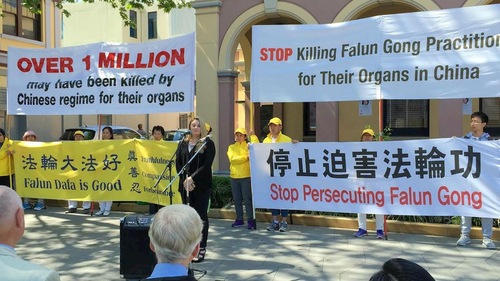 Lawyer Katie Mullens speaks
Lawyer Katie Mullens is a resident of Parramatta. She said that she learned about the persecution in China recently from a flyer she received from a Falun Gong practitioner on the street. She searched online, and the more she read, the more shocked she was. She said she felt compelled to attend the rally and voice her concern for the victims. She urged the audience and passersby to tell their friends and families what is happening.
Local Residents: Organ Harvesting is Unacceptable
Van, resident of Parramatta said that he had watched documentaries and read articles about the persecution of Falun Gong, including forced organ harvesting, and such crimes are intolerable.
He said he used to study Taichi, but he wants to learn Falun Gong and asked for the contact information of the local practice site.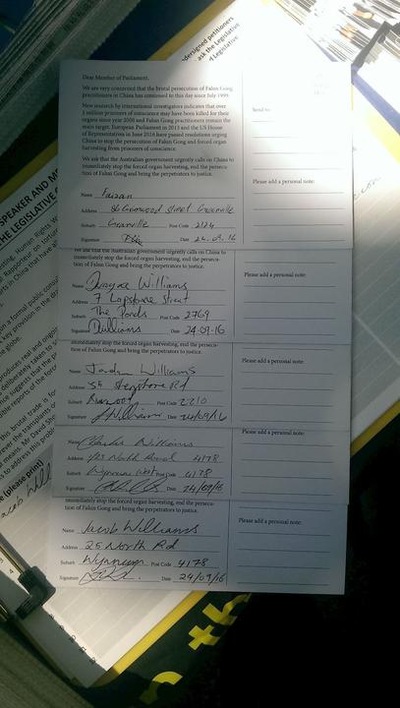 Postcard with signatures of five brothers
Williams and his four brothers walked pass Centenary Square and signed a postcard to the Australian Prime Minister. One of the brothers, Dwayne, said killing people for organs is unacceptable and more people should speak out.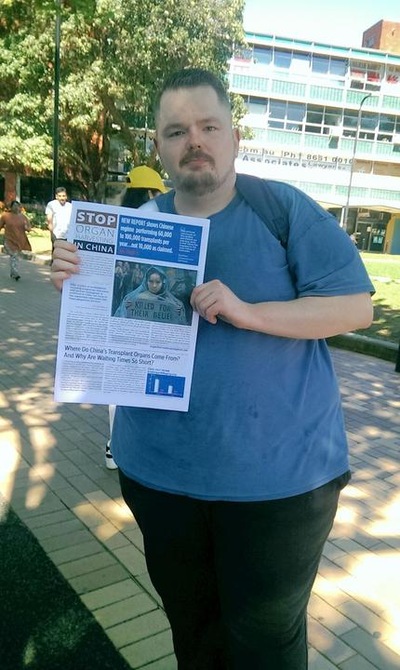 Michael Sloan said that forced organ harvesting must be stopped
Local resident Michael Sloan said he had watched two documentaries Hard to Believe and Human Harvest, and listened to several telephone conversations between investigators and Chinese doctors. He said it's unbelievable that those doctors' voices were so calm when they told the investigators that they used Falun Gong practitioners' organs. "They didn't have a bit of shame, as if they were selling a computer or a car. It's horrible. It must be stopped!" he said.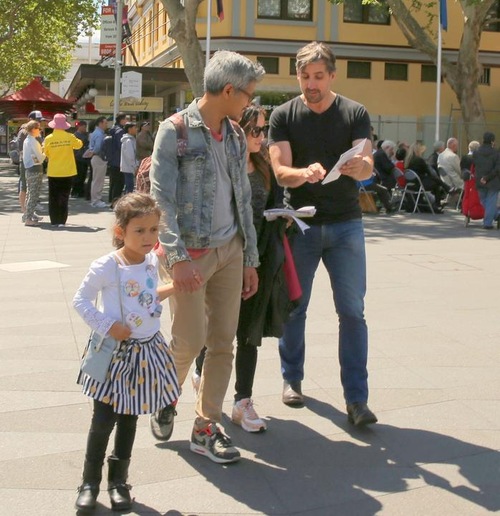 Concerned citizen talks to passersby about forced organ harvesting in China