82 Cases of Falun Gong Practitioners Sentenced for Their Faith Reported in November 2017
December 28, 2017 | By a Minghui correspondent
(Minghui.org) On November 10, 2017, Mr. Liu Xiyong, 76, from Dalian, Liaoning Province, was sentenced to three years in prison by Jinzhou District Court for distributing pamphlets exposing the persecution of Falun Gong.
The verdict, however, was dated September 19, 2017, more than one month before Mr. Liu's October court hearing.
Although the judge told Mr. Liu that he could appeal the verdict, he didn't provide any explanation of the apparently predetermined sentence.
Mr. Liu's sentence is not an isolated case in China. After decades of communist rule, Chinese judges have long become the regime's rubber stamp to deliver predetermined, unlawful sentences against dissidents and other targeted groups through show trials.
In the persecution of Falun Gong, unlawful sentencing has been one of the most common tactics employed by the regime to target Falun Gong practitioners.
As the leading clearinghouse for accounts of persecution against Falun Gong, Minghui.org has been recording information regarding the illegal sentencing of practitioners each month. In November 2017, Minghui.org confirmed a total of 82 illegal sentences of practitioners, including 30 cases that took place between March and October and 52 cases in November. The average prison term was 2.7 years.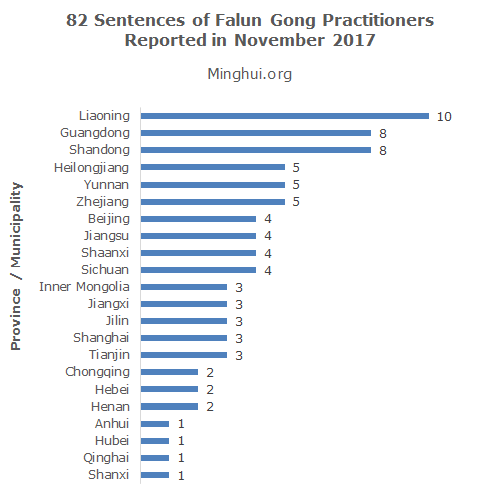 In addition to handing down prison terms, the courts also fined the practitioners a total of 143,000 yuan. Financial devastation was one of three directives given by former communist regime leader Jiang Zemin when he ordered the eradication of Falun Gong, along with two other directives to destroy their "reputation and physical bodies."
Sentencing Despite Lack of Evidence
On November 28, 2017, Pudong Court in Shanghai informed Falun Gong practitioner Ms. Lin Baozhen that she was sentenced to one year in prison. The sentence was given without the knowledge of her lawyer or family members.
Ms. Lin from Shanghai was reported to police for talking to people about Falun Gong and arrested at a subway station exit on April 24, 2017.
She was tried on November 15, 2017. Her lawyer entered a not-guilty plea on her behalf, arguing that no evidence proved Ms. Lin had violated any laws. He noted that neither the witness nor investigators on the case appeared for the court hearing and that the prosecutor did not exhibit any of the evidence listed on the indictment during the hearing. As none of the evidence was cross-examined, they could not be used to charge Ms. Lin.
Despite the lack of evidence, the court still announced the guilty verdict of Ms. Lin two weeks after the hearing without informing her lawyer.
Torture and Interrogation by Police
Ms. Tang Lihua from Guang'an City, Sichuan Province, was recently sentenced to three years in prison for studying Falun Gong teachings with 17 other practitioners.
The police arrested all the practitioners during their study on May 16, 2016. Fifteen of them were taken to a hotel and interrogated.
Ms. Tang was hung up by handcuffs to a window, with her toes barely touching the ground. She was also beaten and deprived of sleep. Ms. Tang was held there for 18 days and then taken to the detention center.
The court tried her three times before handing down the verdict.
Lawyer Denied Access to Case Document and Not Informed of Trial
Ms. Pei Shumei from Changchun, Jilin Province, was sentenced to two years in prison and fined 5,000 yuan in a secret trial on November 8, 2017. However, up to the day of the sentencing, Ms. Pei's lawyer never had a chance to review her case document due to repeated obstruction by the procuratorate and the court. He also was not informed of the secret trial.
When the lawyer visited the procuratorate for the first time on July 18, 2017, he was told that he must wait until the assistant prosecutor in charge of the case to return from vacation two weeks later, despite Chinese law stipulating that the prosecutor does not have to be present for a defense lawyer to see case files.
The lawyer later made a few more trips to the procuratorate, demanding to review the case, only to be given the runaround between different levels of procuratorate offices and the 610 Office, an extralegal agency tasked with eradicating Falun Gong and given the power to override the judicial system.
While the procuratorate used various excuses to prevent the lawyer from reviewing the case, they secretly submitted the case to the court, which continued to deny the lawyer access to the case.
Ms. Pei was arrested on April 18, 2017, while talking to a man about the communist regime's persecution of Falun Gong. The officers did not show identification or an arrest warrant.
Chinese Doctor Sentenced Again to Nine Years After Spending Ten Years in Prison and Subjected to Hundreds of Torture Methods
Dr. Shao Chengluo, 64, from Qingdao, Shandong Province, was sentenced to nine years in prison and his wife Ms. Gao Wenshu to four years on November 10, 2017. The couple was arrested while distributing materials exposing the persecution of Falun Gong on May 2, 2017.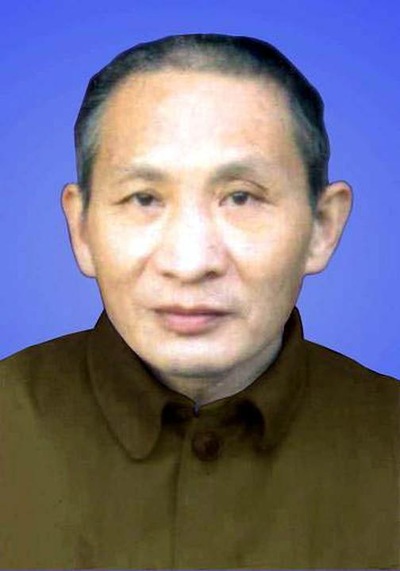 Dr. Shao Chengluo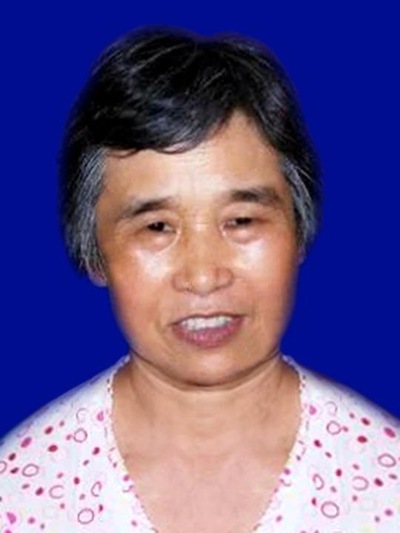 Ms. Gao Wenshu
This was the third time that Dr. Shao has been sentenced to prison. Because he refused to renounce Falun Gong, he was sentenced to three years of forced labor and seven years in prison between 2001 and 2013.
During his imprisonment at Wangcun Forced Labor Camp and Shandong Men's Prison, he was subjected to hundreds of torture methods, including beatings, force feeding, poking eyeballs, sitting on a "small stool" for extended periods of time, being stabbed with needles, scraping his ribs with toothbrushes, and so on. His fingers were broken, his left big toe was smashed, and he was on the verge of death.
When he was released in 2013, he had injuries all over his body and weighed only 99 pounds.
During his latest arrest, the police ransacked his home several times and confiscated many of his personal belongings and more than 20,000 yuan in cash.
When his niece questioned the officers about the legality of their searches and tried to stop them, she was taken to a detention center and held for ten days without due process.
Download full list of sentenced practitioners (PDF)
Previous reports:
37 Falun Gong Practitioners Sentenced for Their Faith in October 2017
60 Falun Gong Practitioners Sentenced for Their Faith in September 2017
36 Falun Gong Practitioners Sentenced for Their Faith in August 2017
61 Falun Gong Practitioners Sentenced for Their Faith in July 2017
575 Cases of Falun Gong Practitioners Sentenced for Their Faith Reported in theFirst Half of 2017
78 Cases of Falun Gong Practitioners Sentenced for Their Faith Reported in May 2017
117 Cases of Falun Gong Practitioners Sentenced for Their Faith Reported in April 2017
110 Cases of Falun Gong Practitioners Sentenced for Their Faith Reported in March 2017
72 Falun Gong Practitioners Sentenced for Their Faith in February 2017
137 Cases of Falun Gong Practitioners Sentenced for Their Faith Reported in January 2017