Reaching Out to Chinese Tourists in Paris
April 20, 2017 | By Minghui correspondent Zhou Wenying
(Minghui.org) Many Chinese tourists visit Paris in the spring. Falun Gong practitioners use this opportunity to reach out to visitors from China, where news is highly censored, to raise awareness about the Chinese Communist Party's (CCP) persecution of Falun Gong. This may be the first time for many Chinese to learn the facts about Falun Gong, as back home, this peaceful spiritual practice has been slandered and demonized for the past eighteen years.
Practitioners distribute newspapers and other informational materials to Chinese tourists near Galeries Lafayette, a popular upmarket department store chain. They also advise tourists to quit their membership in the CCP and its affiliated organizations.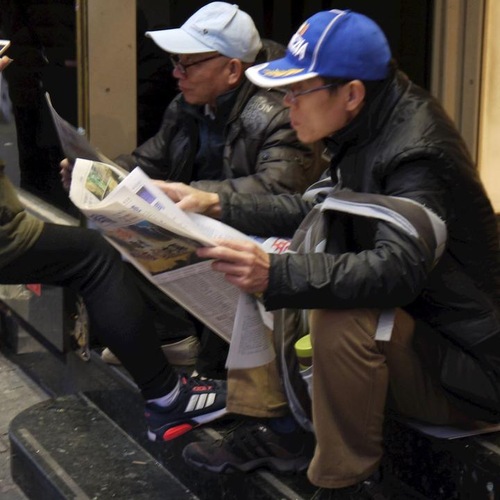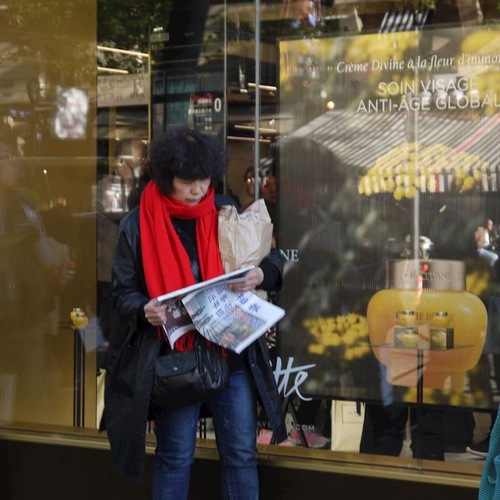 Chinese tourists in Paris read newspapers with information about Falun Gong.
Mr. Chen frequently takes part in efforts to raise awareness about Falun Gong and the persecution. He talks to visitors from China and tells them about Falun Gong and how the CCP has brutally persecuted the practice since 1999. He also encourages people to renounce their party membership, so that they'll have no ties to the party when justice is eventually served.
Chen recently told a Chinese tourist, "Falun Gong is a practice that teaches people to follow the principle of Truthfulness-Compassion-Forbearance. The CCP persecutes Falun Gong, as it fears losing control of people's minds. It maintains its power with lies and violence. This unprecedented persecution of righteous belief must stop."
The tourist responded emotionally, "There's hope for China as a result of your efforts to raise awareness. We can't get real news in China. Now that we're overseas, we can learn the facts. In China it's hard to hear the truth due to the CCP's censorship."
Another tourist said, "Speaking about the Party, we know more than you. Now we truly feel that China has hope due to your efforts. From you, I see the future of China. Nowadays, nobody safeguards justice or upholds the truth in China. It's hard to make money if you tell the truth. Telling lies is common in China."
A number of tourists felt refreshed after talking with practitioners. One person said, "I've memorized the title of your newspaper. I can't read it during the daytime as our tour guide won't allow it, but I'll read it after going back to the hotel."
Some Chinese visitors are afraid to accept newspapers with information about Falun Gong. Mr. Chen said, "You're afraid of retaliation from the CCP after you return to China. But we're in France – a democratic country with freedom. Just remember that the truth may save you in the future."
Once when Chen talked with a group of tourists, a man became aggressive and tried to hit him. Another tourist stopped the man and said, "This young man has never done anything to you. You can't just attack someone for no reason."
Many Chinese are surprised to learn that Falun Gong is practiced around the world. Chen tells them, "You can meet Falun Gong practitioners in America, Europe, Asia, or Oceania."