Kyushu, Japan: Signature Drives Call for Bringing Former Chinese Leader to Justice
(Minghui.org) Since May 2015, more than 200,000 Falun Gong practitioners and their families from China have filed criminal complaints with China's Supreme Procuratorate and Court against Jiang Zemin, former head of the Chinese Communist Party (CCP). They demand that Jiang be brought to justice for his role in the persecution of Falun Gong.
The movement to sue Jiang has prompted signature drives worldwide to support the effort to bring Jiang to justice.
Falun Gong practitioners in Kumamoto, Japan, for example, started to collect signatures to support the lawsuit beginning in September 2015 in the Kyushu area.
So far, more than 210,000 people have added their signatures, asking the Chinese authorities to bring Jiang to justice and stop the persecution of Falun Gong.
The activity covers more than 200 km, including several prefectures within the area.
"I Hope the Persecution Ends Soon"
A student at a university in Fukuoka Prefecture signed the petition but said she didn't understand Falun Gong and asked the practitioner to give her more details.
It turned out that her Chinese boyfriend had mentioned the persecution of Falun Gong to her. After listening to the practitioner, she expressed her appreciation and said that she hoped that the persecution would end soon. She said she would share what she had learned with her boyfriend, so he could understand, too. She encouraged the practitioners to keep up their efforts.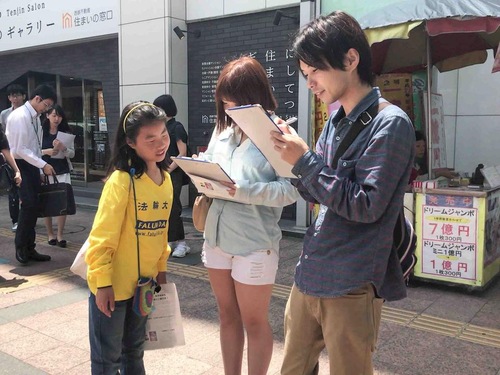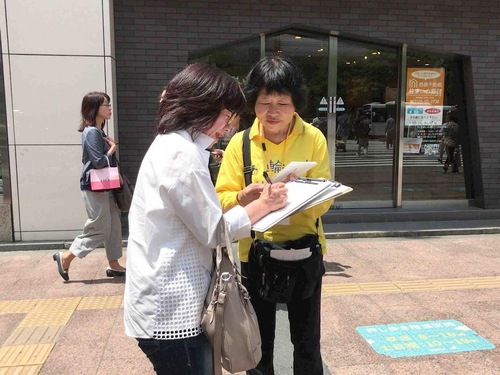 Collecting signatures on a busy street in Tenjin, Fukuoka
The university student who had signed the petition accompanied her mother to Tenjin, Fukuoka, that afternoon. She told a practitioner that her mother wanted to sign the petition, too. The mother said, "I want to sign to support you."
"Participating in Live Organ Harvesting Will Be Punished"
In October 2016, a man in his 70s walking by heard a practitioner explain about Jiang's persecution of Falun Gong, especially the state-sanctioned killing of practitioners to harvest their organs for profit. The man was so shocked that he was speechless. Finally, he said, "How can human beings do such things? They will be punished. I'll support you, and you must stand firm," he said.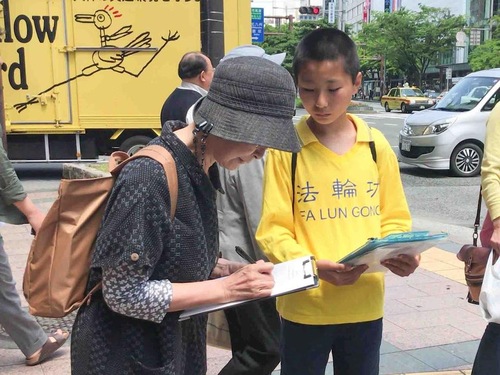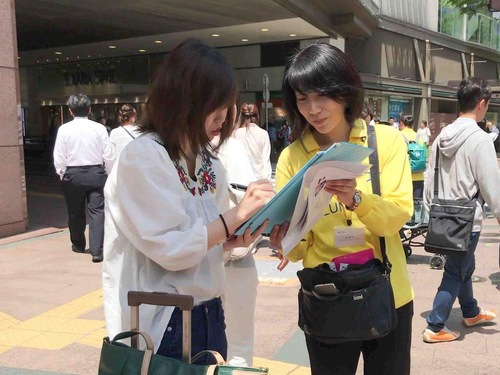 People in Kyushu sign to support Falun Gong practitioners' efforts.
Vietnamese Student: "The Persecution Is So Brutal, It Can't Be Tolerated"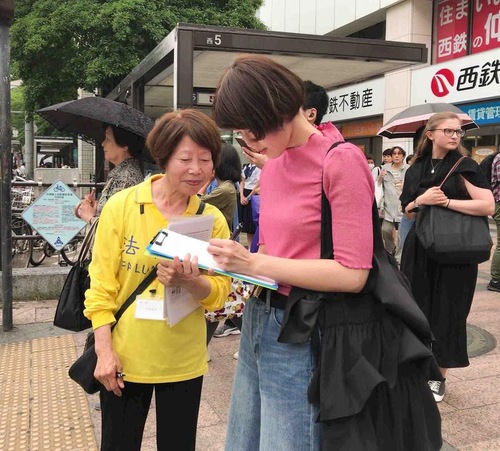 A young lady signs the petition calling for an end to the persecution
Two students from Vietnam who were out shopping took informational materials from a practitioner and read them carefully. The young man pointed to Jiang's name and said, "I cannot tolerate this. I want to sign to support the effort to bring Jiang to justice." His girlfriend signed, too.
The young man showed the practitioner his student ID and said, "I go to this nearby university, and there are many students. You can come to our campus to collect signatures. This persecution needs to stop as soon as possible."
Chinese Professor: "I Understand You and Believe You"
A woman in her 50s read the information on the display boards as she waited for the traffic light to change. A practitioner approached her with flyers and the petition to sign, but the light turned green. The woman took a flyer and crossed the street.
Shortly after, however, she returned and said she wanted to sign the petition.
The woman had been a university professor in China. She said that when she taught at the university, many of her students who practiced Falun Gong were arrested. Her mother was also a practitioner and still had a copy of Zhuan Falun. "I understand you and I believe you," she said.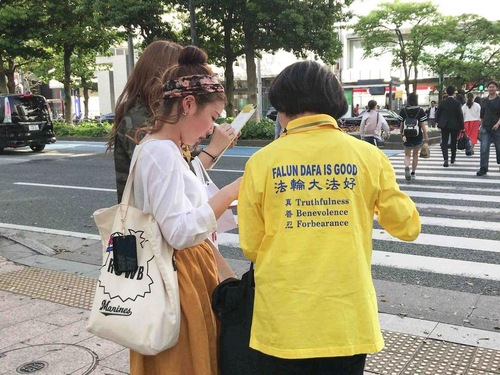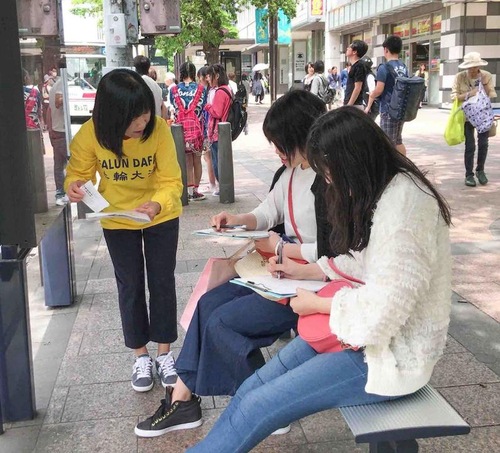 Collecting signatures in the Kyushu area
"We Will Do This Until the Persecution Ends"
Falun Gong practitioners who have participated in collecting signatures say that they will continue to inform Chinese tourists of the facts and encourage them to help put an end to the persecution, especially since more and more Chinese tourists are visiting Japan in recent years.
The practitioners also expressed their determination to persevere in their efforts until the persecution ends.
Background
In 1999, Jiang Zemin, as head of the Chinese Communist Party, overrode other Politburo standing committee members and initiated the persecution of Falun Gong.
The persecution has led to the deaths of many Falun Gong practitioners during the past 16 years. More have been tortured for their belief and even killed for their organs. Jiang Zemin is directly responsible for the inception and continuation of the brutal persecution.
Under his personal direction, the Chinese Communist Party established an extralegal security organ, the 610 Office, on June 10, 1999. The organization overrides police forces and the judicial system in carrying out Jiang's directive regarding Falun Gong: Ruin their reputations, cut off their financial resources, and destroy them physically.
Chinese law allows for citizens to be plaintiffs in criminal cases, and many practitioners are now exercising that right to file criminal complaints against the former dictator.