India: March and Candlelight Vigil with Word Formation Mark 18 Years of Persecution
July 25, 2017 | By practitioners in India
(Minghui.org) Around 200 Falun Dafa practitioners from several cities in India, as well as practitioners from Singapore, Malaysia, Vietnam, and the U.S.A assembled in New Delhi for the 2017 India Experience Sharing Conference on July 14-17 2017. They also held activities to commemorate July 20, 1999, the day the persecution of Falun Dafa in China began.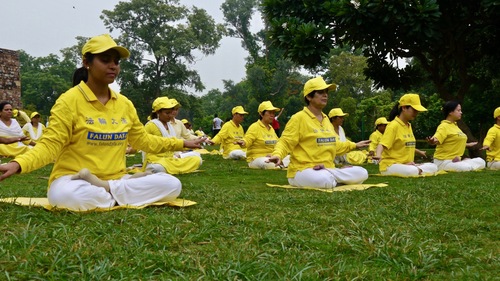 Practitioners meditating at Lodhi Gardens.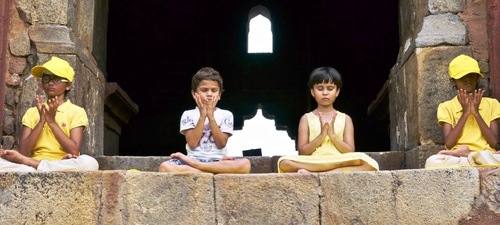 Young practitioners sending forth righteous thoughts at Lodhi Gardens.
Many elderly practitioners traveled a long distance by bus and metro to participate in the march and candlelight vigil. They were energized by the experience and did not feel tired.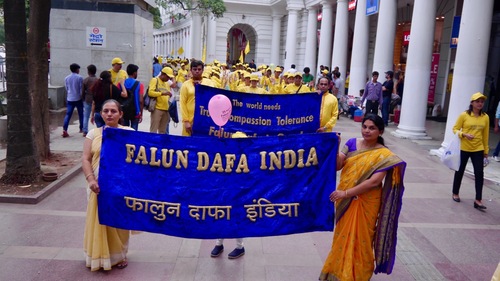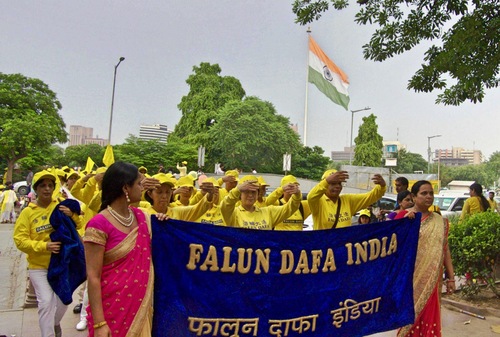 Practitioners held a march at Connaught Place, Inner Circle, to raise awareness of the persecution of Falun Dafa in China.
The practitioners walked for 2 km on Saturday July 15, in the inner circle of Connaught Place leading up to Central Park.
In Central Park, practitioners sat together to form the words "Falun Dafa," and held a candlelight vigil to mark the 18th year since the persecution in China began.
Since the parade route was along a busy thoroughfare with a huge shopping arcade, thousands of people stopped to watch, and took informational handouts to learn more about Falun Dafa and the persecution.

Candlelight vigil and word formation in Central Park.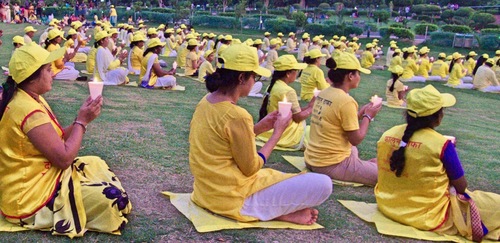 Candlelight vigil in Central Park.
Event in Nagpur
Inspired by the experience sharing conference in New Delhi, practitioners in Nagpur gathered again on July 20 to commemorate the 18th year since the persecution began in China.
They studied the Fa and shared experiences, including their thoughts and insights gained from the Delhi conference.
The significance of July 20 was explained to new practitioners, followed by a screening of the film, Eternal Story. In the evening a candlelight vigil was held to commemorate the practitioners who lost their lives in the persecution in China.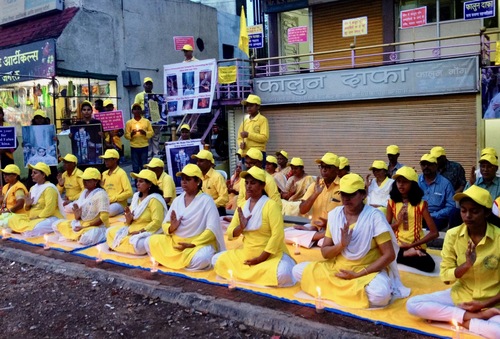 Practitioners in Nagpur sending forth righteous thoughts on July 20, 2017.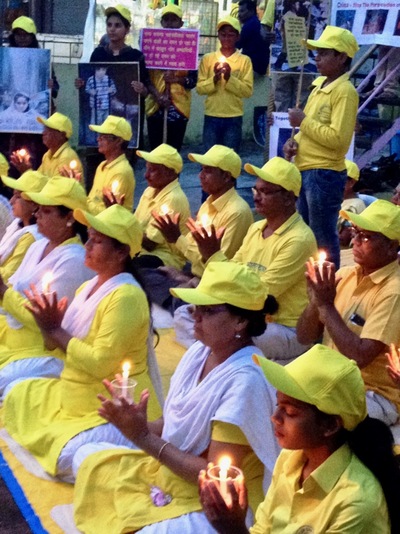 Candlelight vigil in Nagpur.