Kaohsiung, Taiwan: Elected Officials Join Practitioners in Wishing Master Li a Happy New Year
(Minghui.org) To welcome the New Year, Falun Dafa practitioners in Kaohsiung gathered at the Weiwuying Metropolitan Park on December 23 where they did the exercises and gave a waist drum performance. Several elected officials joined the celebration and wished Mr. Li Hongzhi, the founder of Falun Dafa, a Happy New Year.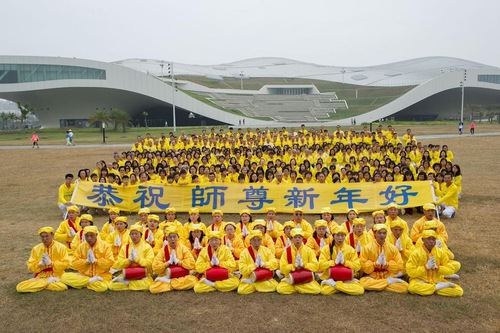 Falun Dafa practitioners celebrate New Year on December 23 at the Weiwuying Metropolitan Park.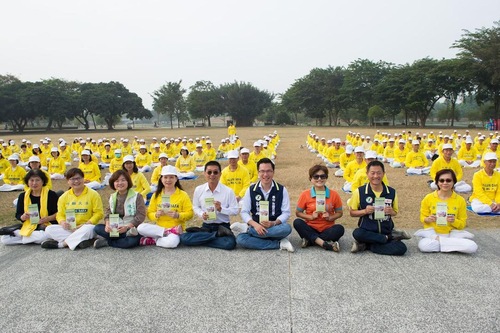 Elected officials came to the event and wished a Happy New Year to Mr. Li Hongzhi, the founder of Falun Dafa. The officials include: Kaohsiung City Councilor Legislative Member Chen Hui-wen (third from left), Legislative Member Hsu Chih-chieh (middle), Kaohsiung City Councilor Lin chih-hung (fourth from right), and Haiyang Borough chief Tsai Shiu-bao (third from right).
The officials included Legislative Member Hsu Chih-chieh, Kaohsiung City Councilors Chen Hui-wen and Lin chih-hung, and Haiyang Borough chief Tsai Shiu-bao. Members of the Haiyang Community Development Association also attended the event and learned the exercises.
Falun Dafa Benefits the World
Mr. Hsu Chih-chieh commended practitioners for their efforts to promote the universal values of Truthfulness-Compassion-Forbearance throughout the world. He supports freedom of belief, and believes that practicing Falun Dafa not only benefits practitioners physically and spiritually, but also makes the world a better place.
Mr. Hsu said that he knew of the ongoing human rights violations in China. He thanked practitioners for their hard work in exposing the brutality of the Communist Party and the persecution of Falun Dafa – particularly the organ harvesting from living practitioners. He said he'd heard of cases in mainland China in which people had certain organs taken during surgery without their knowledge. Since this could happen to a non-practitioner, he said that he could only imagine what might happen to Falun Dafa practitioners under the harsh suppression.
Dafa's Spiritual Power
Ms. Chen Hui-wen said she admired practitioners' perseverance. As an elected official, she works hard to engage the community and make progress. "Falun Dafa practitioners, on the other hand, are calm and dedicated. They remain focused on introducing the practice to the community as well as talking about the suppression in mainland China," she said.
Ms. Chen said that Falun Dafa practitioners' belief is righteous, and is a strong spiritual power that comes from within. "We should let more people know about Falun Dafa, so that more individuals can become healthier, better citizens," she added.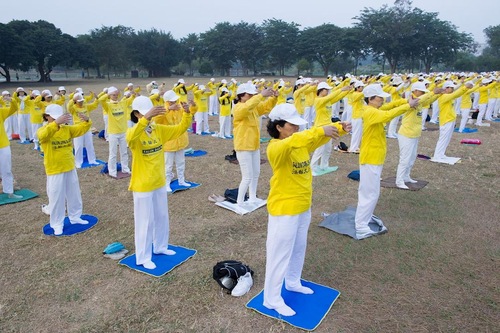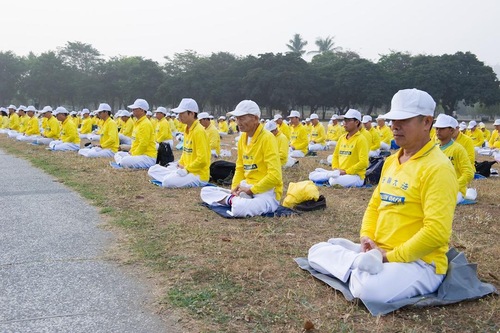 Practitioners do the exercises at the Weiwuying Metropolitan Park in Kaohsiung.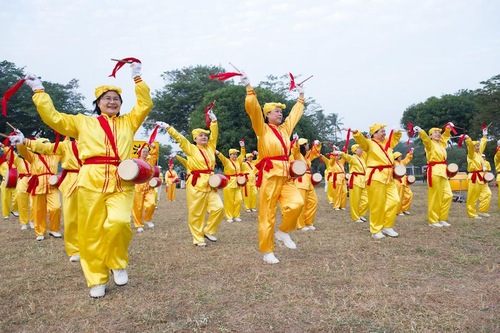 The waist drum team's joyful and energetic performance.
Officials Encourage Practitioners' Efforts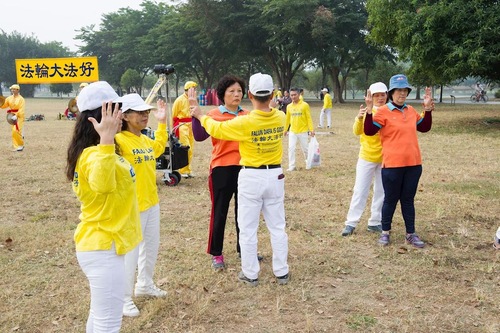 Members of the Haiyang Community Development Association learn the exercises.
Several officials noted practitioners' close involvement with their communities. Mr. Lin Chih-hung, who recently began to learn the Falun Dafa exercises, said that the improvement in physical health was significant. He emphasized that human rights should be protected globally, and he appreciates how practitioners consistently raise awareness of the brutal suppression in mainland China. He said that he is willing to stand with them and support their efforts.
Ms. Tsai Shiu-bao said that many local residents gather each evening at the community center to learn Falun Dafa. She knows that the practice is good, has traditional values and improves one's morals. "This is why I strongly recommend it," she said. Ms. Tsai hopes that more residents will embrace such a great practice that benefits everyone in the community.
A New Journey Begins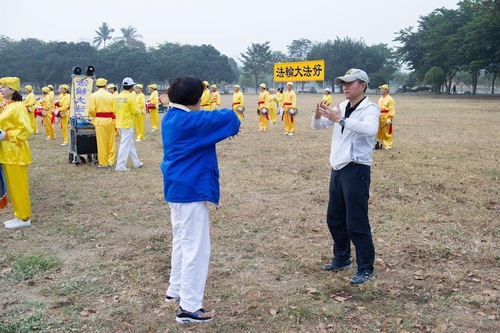 Mr. Lin talks with a practitioner and learns the exercises.
Mr. Lin happened to be passing by the New Year celebration and stopped to watch the group exercises. He was impressed by the event and said, "I have frequently thought about the purpose of life and looked for something that could guide me spiritually. I had heard about Falun Dafa, but this is the first time I've seen people doing the exercises."
After watching the group exercises and talking with practitioners, he learned the five sets of exercises. Afterwards he said that he felt very good. "I think that today is a new beginning for me," he said.