German Newspaper Reports on Group Practicing Falun Gong in a Park
April 15, 2018 | By a Falun Gong practitioner in Germany
(Minghui.org) The German newspaper Ruhr Nachrichten reported on Falun Gong practitioners doing the exercises together in Lippepark in the city of Lünen with a full-page spread on April 11, 2018.
The newspaper's website featured a video report headlined, "Unusual sight in Lippepark."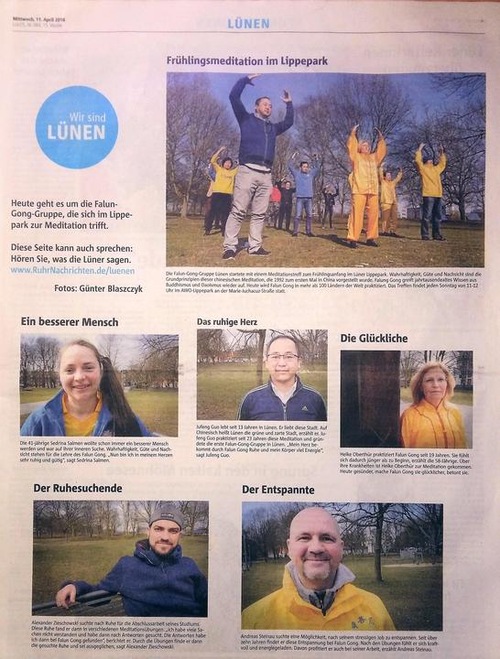 German newspaper Ruhr Nachrichten article on Falun Gong in Lippepark that included interviews with five practitioners
The Ruhr Nachrichten report read, in part: "Spring meditation in Lippepark. Truthfulness, Compassion, and Forbearance are the basic principles of Falun Gong, first introduced in China in 1992. Falun Gong revisits millennia-old knowledge from Buddhism and Daoism. Today, Falun Gong is practiced in more than 100 countries around the world."
The five Falun Gong practitioners interviewed were Sedrina; Haifeng Guo, an electrical engineer; Heike Oberthür; Alexander, who works in a courthouse; and Andreas, a bank clerk.
Court Employee: "Practicing Falun Gong gives me inner peace"
Alexander said in his interview, "When I was writing a master's thesis, I needed to be quiet. Then I started to learn to meditate and became interested in it, but I also had some doubts.
"I finally found the answer in Falun Gong. Although I am not able to find time to practice it every day, I experience inner peace through practicing. My colleagues often said, 'Alexander, you have become so calm now. It must be due to your practicing. Would you like to teach us?'
"Falun Gong benefits me and others. This is one of the main reasons why I practice Falun Gong."
German Lady: "Falun Gong brings me happiness"
Heike Oberthür wore a yellow Chinese costume. She said in the interview, "I am 58 years old, but I feel younger than when I started practicing in 1999.
"I had many health issues at that time, and I was always looking for and coming into contact with Falun Gong for my health. I can summarize my experience in one sentence: 'Falun Gong brings me happiness.'"
Bank Clerk: "Practicing reduces stress"
Andreas, a bank employee, is interested in Chinese culture and learned from traditional Chinese medicine that there are many meridians in the human body. Doing the first Falun Gong exercise, he feels, helps him open the meridians, benefiting his health. He said he was able to pay better attention after doing the fifth exercise, which consists of sitting meditation.
He said, "I'm a bank clerk. The work is stressful, so I am always looking for ways to eliminate stress. Then I came into contact with Falun Gong. After 10 years of practicing, I feel I have more energy.
"At the same time, I have a positive outlook. The work itself seems easier, and the outcomes seem so much better. This is why I practice Falun Gong."
"Falun Gong has made me calm and helpful"
Sedrina always smiles when speaking. She said in the interview, "The principles of Falun Gong are Truthfulness-Compassion-Forbearance. I have always wanted to be a better person. I have always looked for wisdom.
"After I read the Falun Gong books, I said to myself, "'Wow! This is what I've been looking for.' Falun Gong has made me a calm and helpful person.
"For example, in the past, when others were not good to me, I would immediately raise my voice and try to get back at them. Now, by practicing Falun Gong, I am no longer like that. I can stay calm and considerate of others.
"I used to have asthma, low blood sugar, and other health problems. A week or two after I started practicing Falun Gong, they all disappeared."
Electrical Engineer: "Practicing keeps me calm and gives me energy"
Another practitioner interviewed was Haifeng Guo, an electrical engineer involved in German manufacturing. On the weekends, he comes to meditate in nature. He said, "My family and I moved to Ruhr in 2012. I like Ruhr and its natural beauty.
"Today is the first Sunday of spring. It is warm, and the sun is out. Listening to peaceful music and doing the exercises is a very happy thing. I have been practicing Falun Gong for 23 years. We do the exercises in Lippepark on Sundays. Practicing keeps me calm and gives me energy."
Background
Falun Gong was first taught to the public in 1992. Nearly 100 million people across China were soon practicing it after experiencing improvements in their health and character. Jiang Zemin, former head of the Chinese Communist Party (CCP), perceived the spiritual discipline's growing popularity as a threat to the CCP's atheistic ideology and issued an order to ban Falun Gong on July 20, 1999.
Minghui.org has confirmed the deaths of thousands of Falun Gong practitioners in the persecution over the past 18 years; the actual number is suspected to be much higher. More have been imprisoned and tortured for their faith. Evidence shows that the CCP harvests organs from detained practitioners, who are killed in the process, to supply the organ transplant industry.
Under Jiang's personal direction, the CCP established the 610 Office, an extralegal security organization with the power to override the police and judicial systems and whose sole function is to carry out the persecution of Falun Gong.