Persecution of Ms. Zhao Guichun in Inner Mongolia
(Minghui.org) Ms. Zhao Guichun, 52, is from Chifeng City in Inner Mongolia. For the last 19 years, she and her family have suffered greatly at the hands of the police under the Chinese communist regime's persecution of Falun Gong, also known as Falun Dafa.
Ms. Zhao was twice detained in labor camps and twice held in the Harqin Banner Detention Center. She was forced to become homeless for five years to avoid further persecution.
She was arrested again on May 15, 2018, and is currently incarcerated in the Inner Mongolian Women's Prison.
Violent Arrest
Witnesses were terrified when the police violently dragged Ms. Zhao by her hair from the small hotel she was running and forced her into a police van.
Ms. Zhao went into shock and had to be taken to a local hospital for resuscitation. Her family rushed to the hospital and managed to see her in the morning, but they were not allowed to go near her in the afternoon.
Two police officers and an official from the Harqin Banner Court arrived in the late afternoon and drove her to Jinshan, from where she was directly transferred to the Inner Mongolian Women's Prison.
Unlawfully Put on Wanted List
In September 2010, when Ms. Zhao was on her way to Jinshan, she talked with a local official on the bus and told him about Falun Dafa and the persecution. The official reported her to the police, and she was arrested and taken to the Jinshan Detention Center. She went on a protest hunger strike and managed to return home seven days later.
To avoid further persecution, Ms. Zhao was forced to leave home and became destitute and homeless.
She was arrested again in Liaoning Province on December 7, 2011, and taken back to her hometown, where she was detained in Jinshan Detention Center. After a month-long hunger strike, her life was in danger. To avoid liability, detention supervisors released her on medical parole.
Ms. Zhao left home again to avoid further persecution after she recovered from her ordeal.
The local police station in Harqin Banner issued a nationwide warrant for her arrest, which led to her current imprisonment.
Her family has not been able to visit her, nor do they have any information about her well-being.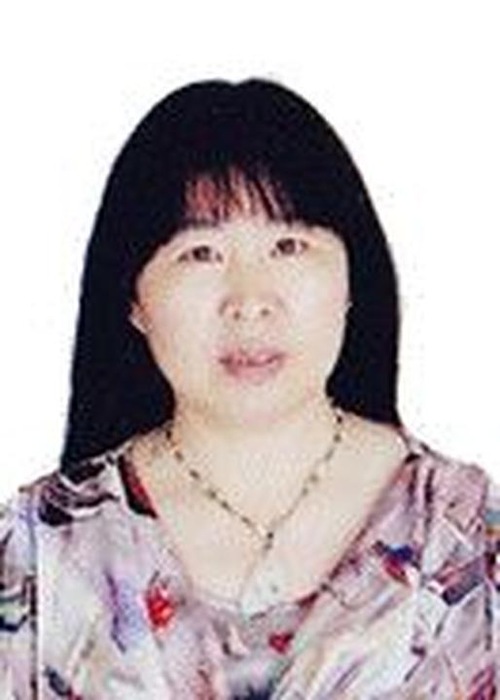 Zhao Guichun
First Encounter with Falun Gong
Ms. Zhao was cheated out of hundreds of yuan in early 1998. The small factory she was running could no longer stay in business, and Ms. Zhao suffered a nervous breakdown as a result.
She was in complete despair and vowed revenge at any cost for the person who had defrauded her. As her mental health declined, her mother sat by her side and gently asked her to listen to the lectures of Master Li Hongzhi, the founder of Falun Gong.
She was touched by the principle of "loss and gain," and she wanted to find answers for her "loss." She began to read Dafa books and enlightened to karmic relationships and the true meaning of life.
Ms. Zhao became a steadfast practitioner. She organized a study group at her home, where more and more people learned Falun Gong and benefited from the practice.
Suffering During the Persecution
Her newfound happiness didn't last long before it was completely shattered in July 1999 by the Chinese communist regime's persecution of Falun Gong.
Ms. Zhao decided to go to Beijing in October 2000 to appeal for justice for Falun Gong. "If it had not been for Falun Dafa, I would have gone insane. Dafa has given me a new life. I will go to Beijing to safeguard Dafa," she said to her family before leaving for Beijing.
Tumuji Detention Center
Ms. Zhao was arrested and taken to Tumuji Detention Center. Tumuji is known for its harsh environment and extreme weather conditions. Ms. Zhao and other Falun Gong practitioners were forced to dig trenches all day under the scorching summer sun.
Because the practitioners refused to shout slogans as required by the police guards, they were once dragged to the sports field and brutally beaten.
Ms. Zhao was later called to the office, where guard Wu Hongxia thrashed her with a wet whip to inflict maximum pain. Wu and others pinched her breasts and punched her chest. The torture went on until midnight.
In the winter, inmates and practitioners were often hired out to local farmers to harvest corn. The farmers would pay the detention center 15 yuan a day for each "laborer." It was extremely cold during Tumuji's winters, and practitioners were often forced to work in the fields from morning until night.
One day, a tractor overloaded with more than 40 detainees rolled over, and everyone on board was thrown to the ground. Ms. Zhao and another practitioner were severely injured.
Instead of taking them to the hospital, the detention center forced them to work the next day. Ms. Zhao could not walk, so the guards put her in handcuffs. She started a hunger strike to protest the cruel treatment and demanded the immediate, unconditional release of practitioners.
Her health deteriorated, and she became extremely weak. When she was finally taken to the hospital, she was diagnosed with internal bleeding and reduced blood flow to the heart.
However, she was given no treatment. The guards dragged her to the fields and covered her with corn stalks while others worked. After they brought her back in the evening, the detention center doctor (surnamed Li) would start force-feeding her.
Sometimes, the guards held her on the floor and pried her mouth open with a metal spoon. They placed a steel rod between her teeth to keep her mouth open. Other times, they inserted a rubber tube into her nostril and pulled it out from her mouth, causing extreme pain and bleeding in her throat. The doctor would then feed her corn porridge through the tube. The pain was excruciating. This torture went on for almost a year.
Because Ms. Zhao refused to renounce Falun Gong, the detention center extended her two-year term by a month. She was finally released on the verge of death.
Five Years of Homelessness
Local police continued to harass Ms. Zhao after she returned home. As a result, she left home and became destitute. She was tracked down by police and arrested again during the 2003 New Year's holiday.
At the police station, she tried to dissuade officers from participating in the persecution and told them how she was tortured in the detention center. In the end, she was released.
However, shortly afterward, police surrounded her home to try to re-arrest her. She managed to get away with the help of others.
Ms. Zhao began to wander in Liaoning, Inner Mongolia, Hebei for the next five years, with no kin to turn to for help. She didn't have much money and lived mostly on instant noodles.
When she called home from a public phone, her family was relieved that she was still alive. When she learned that her father was critically ill, she decided to make her way home to see him for the last time.
However, due to tight surveillance by police, she only managed to see her father's body at the crematorium. The police came to arrest her before she could sit down for a meal with her family in the evening. Once again, she had to leave home with deep sadness.
More Unlawful Arrests
Ms. Zhao returned home five years later, in 2009, to take care of her mother, who had become bedridden. Her kindness and willingness to do unpleasant and arduous chores every day touched the hearts of her family members. Her mother passed away a year later.
Ms. Zhao and Ms. Yang Cuiling, an older practitioner, were arrested on their way to Jinshan. Ms. Cuiling was cuffed to an iron chair during interrogation.
The police contacted their counterparts in her hometown, who searched and ransacked her home, taking away 30,000 yuan in cash. Officers also unlawfully searched her second elder sister's home, detained her overnight, and slapped her face.
Ms. Zhao and Ms. Cuiling began a hunger strike as soon as they were taken to the detention center. By the sixth day, Ms. Zhao became very weak and had arrhythmia and numbness in her left leg. She could hardly walk, but the interrogation continued.
Officers lied that her whole family had been arrested and would not be released until she confessed. Ms. Zhao went into shock and lost the ability to speak. She and Ms. Yang both fell into a coma on the seventh day of their hunger strike.
In order to avoid legal liability, the detention center took them to Jinshan Hospital for emergency treatment.
Meanwhile, practitioners overseas made phone calls to the detention center to seek the pair's unconditional release. Local practitioners also made great efforts to rescue them.
Under the pressure, the detention center released the two practitioners. However, Ms. Zhao was later re-arrested in Liaoning Province and taken to the Jinshan Detention Center on December 7, 2011.
She went on another hunger strike. A month later, the detention center released her on medical parole when she had bloody stool, vomited blood, and lost consciousness.
The police later issued another nationwide warrant for her arrest, which led to her most recent arrest and imprisonment.
Impact on Ms. Zhao's Family
When Ms. Zhao was first arrested in 2000, her daughter was only nine years old. The girl was terrorized in the years to come, witnessing the violent arrests of her mother and being ostracized, threatened, and harassed at school by police.
When she was preparing for her university entrance exams, the police again harassed and threatened her family.
She could no longer bear the pain and cried out loud. She murmured to herself, "When will this miserable life come to an end? When will I be able to call 'mom' like others? I can't even call out 'mom' on the phone." She fainted amid the pain and sorrow.
Ms. Zhao's husband has also endured fear and anxiety over the past 19 years. He calls on the public to lend a helping hand so that his wife can come home soon.