Rally and Candlelight Vigil in Houston and Vancouver Marks 19th Year of Persecution in China
July 22, 2018 | By Minghui correspondents Shu Jing and Zhang Ran
(Minghui.org) By 1999, nearly 100 million people across China were practicing Falun Gong, a spiritual and meditation practice that taught them to live by the principles of Truthfulness-Compassion-Forbearance. Jiang Zemin, former head of the Chinese Communist Party (CCP), perceived the spiritual discipline's growing popularity as a threat to the CCP's atheistic ideology and issued an order to ban Falun Gong on July 20, 1999.
Minghui.org has since confirmed the deaths of thousands of Falun Gong practitioners in the persecution over the past 19 years; the actual number is likely much higher. More have been imprisoned and tortured for their faith.
To commemorate fellow practitioners who have died in the persecution and call for an end to the brutal suppression campaign in China, Falun Gong practitioners across the world mark the occasion of July 20 with rallies, marches, and candlelight vigils.
Rally in Houston
Falun Gong practitioners held a rally in front of the Chinese Consulate on the afternoon of July 20, 2018. Under the scorching sun, the temperature neared 100ºF (38ºC).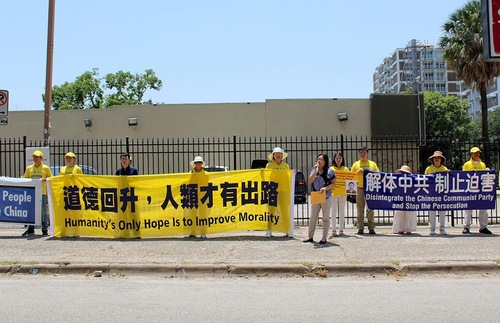 Rally in front of the Chinese Consulate in Houston, Texas on July 20, 2018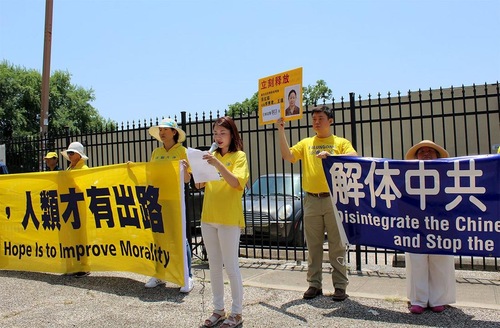 Practitioner Zhen Yang speaks about the CCP's persecution of her mother in China.
Falun Gong practitioner Ms. Zhen Yang spoke at the rally and told of the abuse and torture her mother has endured in China for her belief. She said, "My mother Zhang Hongru and two other practitioners were arrested for hanging Falun Gong posters in a public space in Qingdao in May 2016. She was sentenced to prison for three and a half years and fined 5,000 yuan ($738 USD). She is incarcerated in Shandong Women's Prison, where she was tortured and her back was injured. She can no longer walk on her own."
She said, "The CCP tramples the Constitution and laws, violates human rights, and deprives citizens of their freedom of belief. I appeal to all people to learn about the evil nature of the CCP."
Some of those waiting for visas at the consulate entrance took pictures of the rally and practitioners' banners. Some signed a petition condemning the persecution, including the state-sanctioned harvesting of organs from living Falun Gong practitioners.
A woman named Nancy said to her friend, "I told you there is live organ harvesting in China… You didn't believe it. Do you believe it now?"
Candlelight Vigil in Vancouver
Practitioners in Vancouver held a candlelight vigil in front of the Chinese Consulate on the evening of July 19, 2018, in memory of those who lost their lives in the persecution in China.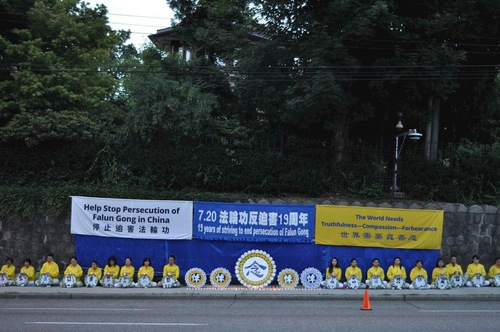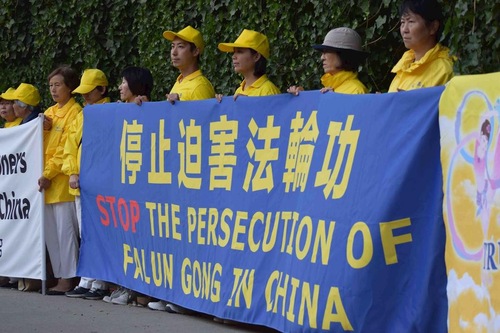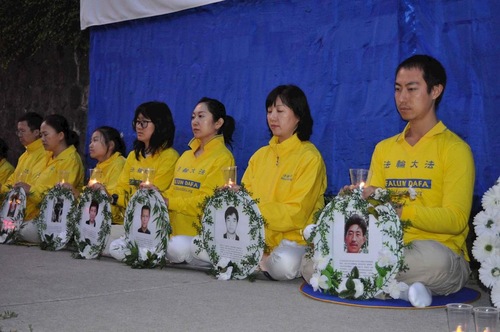 Candlelight vigil in front of the Chinese Consulate in Vancouver, Canada on July 19, 2018.
The solemn vigil began at 8:20 pm. Some passing drivers honked in support, slowed down, or waved to practitioners.
Related article in Chinese: 中领馆前烛光悼念 温哥华学员谴责中共迫害(图)