Australia: Group Exercises and Grand March Commemorate 19 Years of Peaceful Resistance Against the Persecution in China
July 22, 2018 | By Minghui correspondent Xia Chunqing in Melbourne, Australia
(Minghui.org) Falun Gong practitioners in Melbourne and Queensland gathered on Saturday, July 14, 2018, for a series of activities, including a march, rally, and large group exercise practice. It was to mark the 19 years of persecution in China, launched on July 20, 1999 by the communist regime.
To date, more than 4,236 Falun Gong practitioners are confirmed to have been killed through torture and mistreatment. However, due to China's information blockade, the true death toll is believed to be far higher.
An unknown, yet estimated terrifyingly large number of Falun Gong practitioners, have been killed for their organs. Many are still in prison and may lose their lives at any time.
Melbourne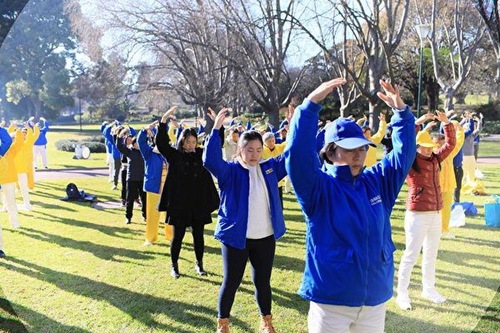 Group exercises with more than 100 Falun Gong practitioners at Queen Victoria Gardens in Melbourne on July 14, 2018.
The practitioners' peaceful group exercises attracted many citizens and tourists to the park. After listening to the practitioners explain this ancient Chinese spiritual practice and the persecution the practice faces in its country of origin, many expressed their appreciation and support for Falun Gong practitioners' efforts to call for an end to the persecution.
Chris and Joann, a couple from the Sydney suburbs, said that they believe the Falun Gong principles of Truthfulness-Compassion-Forbearance are values the world needs.
Local resident Alberto said that organ harvesting from living Falun Gong practitioners constitutes genocide. He believes it is an extremely serious matter, as the persecution has been ongoing for 19 years. He said he appreciates and supports practitioners outside of China for their efforts in raising awareness all these years. "Falun Gong practitioners are changing the world," he said. "A small step now is very important for the future. In particular, it will have a huge impact in China."
Grand March in Melbourne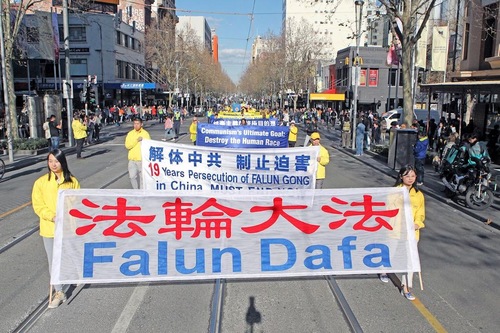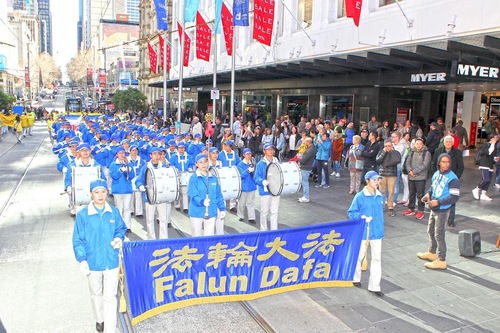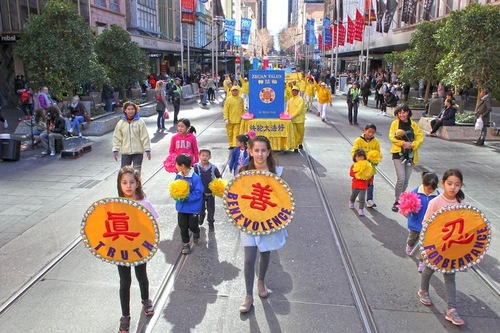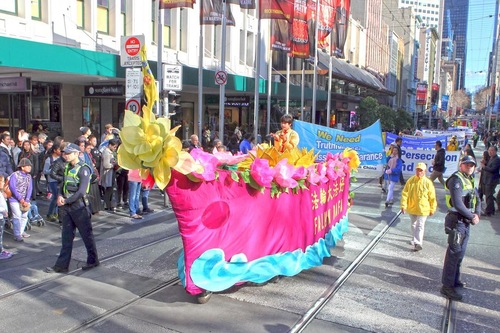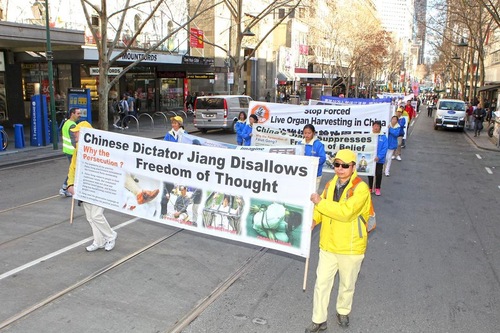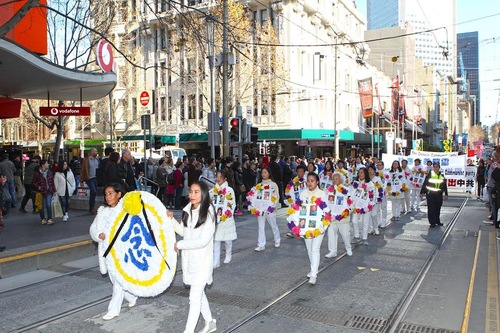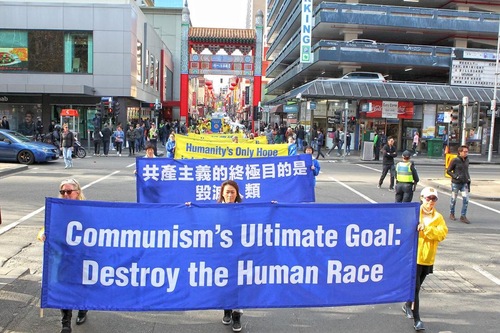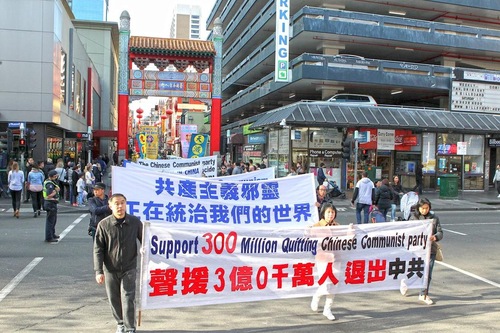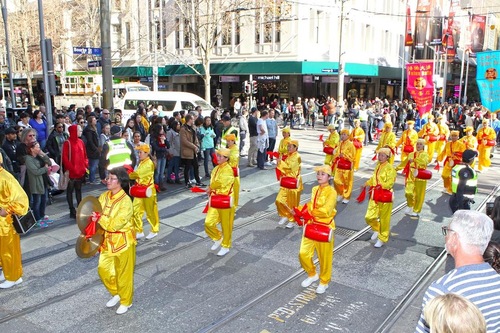 Procession marches through downtown Melbourne and Chinatown.
It's Genocide: Chief Perpetrators Should Be Brought to Justice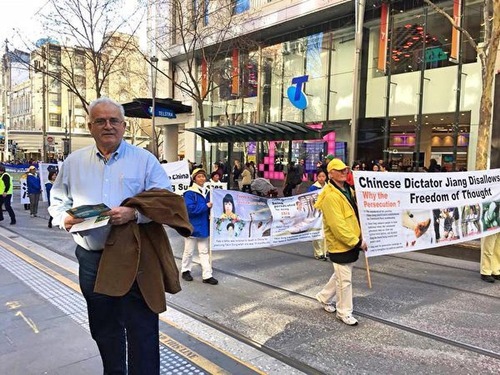 Jim Haw, a pharmaceutical sales representative.
Jim Haw, a pharmaceutical sales representative, said he felt it appalling that the persecution has persisted for 19 years.
"Our and other countries' governments," he said, "should help Falun Gong practitioners to end all this [persecution]."
He continued, "People are losing their lives – it's genocide – and no one should stand by and watch. Those chief perpetrators should be brought to justice. Such atrocities, should be stopped as soon as possible."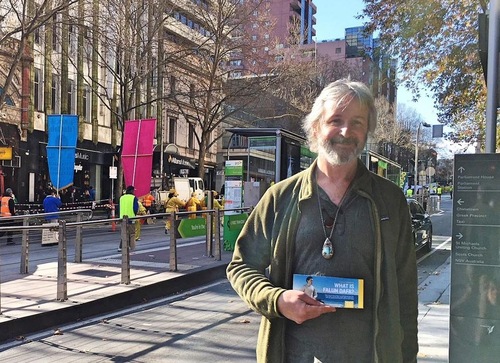 Melbourne resident Daniel Keine manages a company's information technology department.
Daniel Keine, manager of an IT department, said that holding a parade was an excellent way to bring people's attention to the persecution in China.
Referring to the practitioners' 19 years of peaceful efforts calling for an end to the persecution, he said, "It's a great example for many peace movements against injustice and persecution in the world."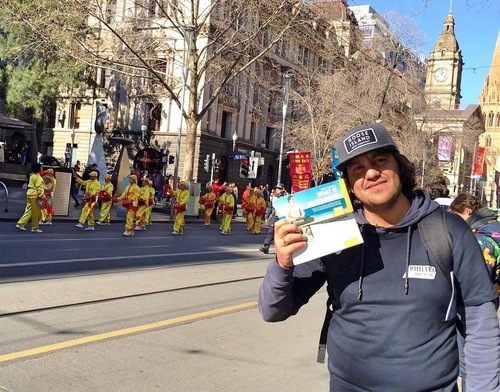 Roberto Tacuri, an elementary school teacher, respects practitioners' efforts to raise awareness of such atrocities in a beautiful and peaceful manner.
Elementary school teacher Roberto Tacuri said that it is difficult to imagine that in 2018 genocide is still practiced, especially when people are killed and detained for upholding their beliefs. He said he believes that the practitioners' activities help more and more people learn about what is happening in China. Although far away, Falun Gong practitioners in China are no different from us and should enjoy freedom.
Raising Awareness in Queensland
Nearly a hundred Falun Gong practitioners gathered in downtown Brisbane on July 14 to hold a march and other activities to call for an end to the 19 year persecution of Falun Gong in China. Many people learned the facts and signed a petition to support the practitioners' efforts.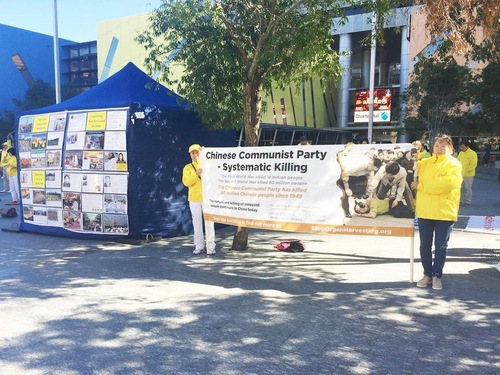 Practitioners hold banner exposing the brutality of the persecution.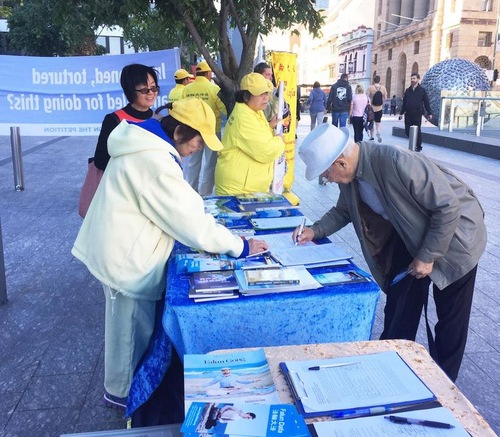 A passerby signs a petition to support the efforts to end the persecution.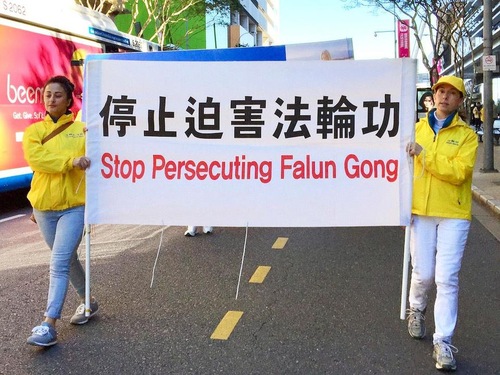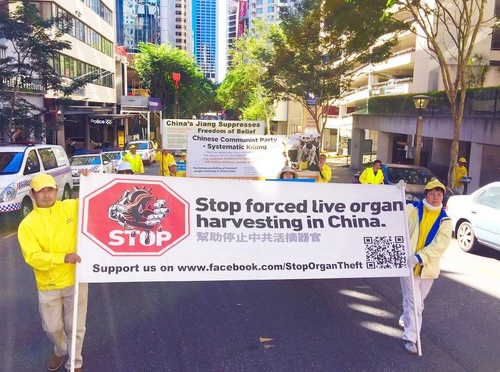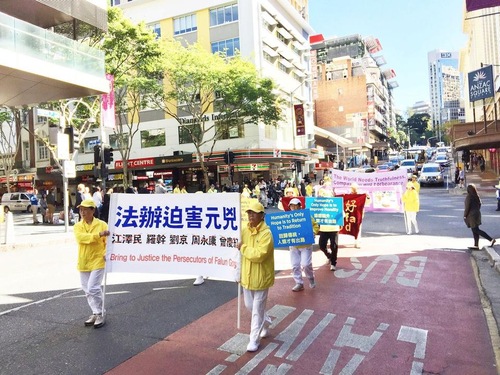 Nearly a hundred practitioners marched through downtown Brisbane at noontime.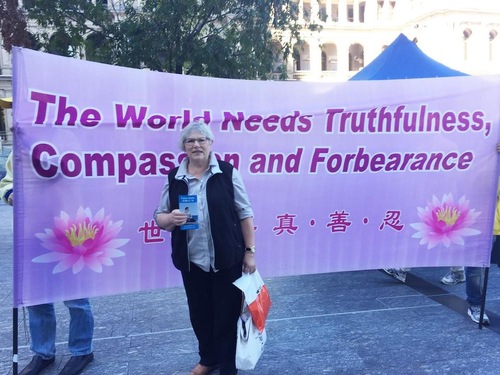 Joy, member of Women's International League for Peace and Freedom shows her support for Falun Gong practitioners and said that everyone should enjoy freedom of belief, and the persecution must be stopped.
Related articles in Chinese:http://www.minghui.org/mh/articles/2018/7/18/墨尔本法轮功集会纪念反迫害十九周年(图)-371198.htmlhttp://www.minghui.org/mh/articles/2018/7/17/澳洲昆士兰法轮功学员纪念反迫害十九周年(图)-371142.html