Bulgaria: Events in Sofia and Burgas Mark 19 Years of Peaceful Resistance
July 30, 2018 | By practitioners in Bulgaria
(Minghui.org) Falun Dafa Practitioners in Bulgaria organized several events in the cities of Sofia and Burgas to commemorate July 20, 1999, when, 19 years ago, former Chinese Communist Party (CCP) leader Jiang Zemin started a campaign to ban the practice of Falun Dafa. The persecution of Falun Dafa (also called Falun Gong), has continued in China ever since then, claiming the lives of thousands of practitioners.
Sofia
On July 20 in the capital city of Sofia, a peaceful protest was held in front of the Chinese Embassy, in the prestigious neighborhood of Lozenetz.
At the beginning of the event, the practitioners were approached by security officers, who asked who their leader was. The practitioners took this opportunity to explain the facts about Falun Dafa and the persecution in China, and why they were there.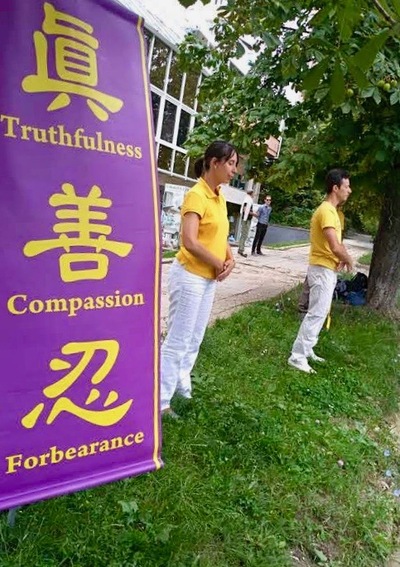 The officers listened attentively to the facts about the human rights and religious freedom violations in China. They expressed their intention to search for more information on the Internet to learn more about the practice.
The practitioners hung banners on trees along the boulevard to draw attention to the situation in China. Dozens of passersby as well as nearby shop owners were interested in the event. Everyone who stopped by voiced their support for Falun Dafa's principles of Truthfulness, Compassion, Forbearance and wished the practitioners success in bringing an end to the persecution in China.
In the early afternoon, the event continued at the park in front of the Ivan Vazov National Theatre, next to the location of "The Art of Zhen, Shan, Ren" exhibition – an exhibition about Falun Dafa, that was displayed in Sofia until July 22.
Burgas
On July 22 the city of Burgas hosted an event marking the 19th year since the start of the persecution of Falun Dafa in China. The event took place in the Hotel Bulgaria's garden on Bogoridi Blvd. from 6:00 to 8:00 p.m. Many citizens took flyers, inquired about Falun Dafa and asked about practice sites in the city where they could learn the Falun Gong exercises.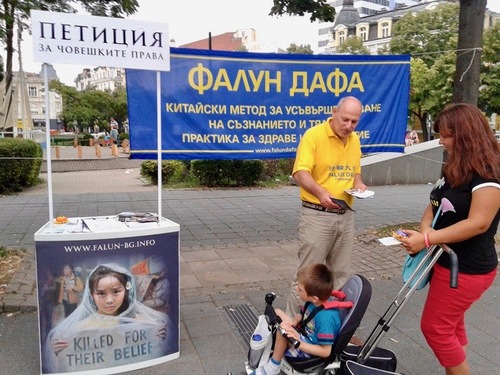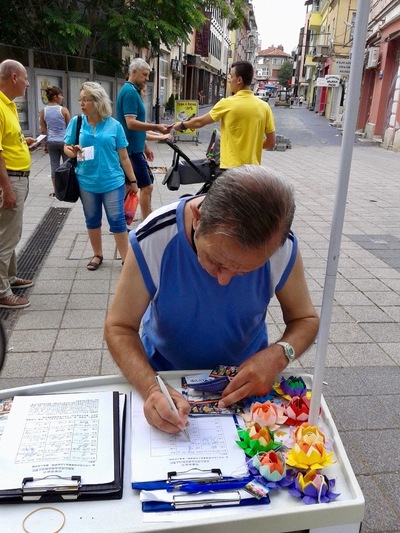 The practitioners introduced Falun Dafa to all visitors, talked about the persecution, and passed out informational flyers and origami lotus flowers, which symbolize the purity of a person who has devoted his life to the path of cultivation.
They also invited guests to sign a petition that will be sent to the Supreme Court of China, calling to bring former Chinese leader Jiang Zemin to justice for the crimes committed against Falun Dafa.
One woman sincerely wished the practitioners good luck in their efforts to bring an end to the persecution. Many others signed the petition in order to show their support for Falun Dafa.