Seattle, Washington: Group Meditation in City Center Raises Awareness of Persecution in China
July 30, 2018 | By a Minghui practitioner in Seattle
(Minghui.org) When Falun Gong practitioners sat in meditation together at Westlake Park in Seattle, Washington on July 21, they brought an aura of peace and tranquility to the busy downtown shopping district. Many people were attracted to the exercises, and were then surprised to learn that this peaceful practice is brutally persecuted in China, its country of origin.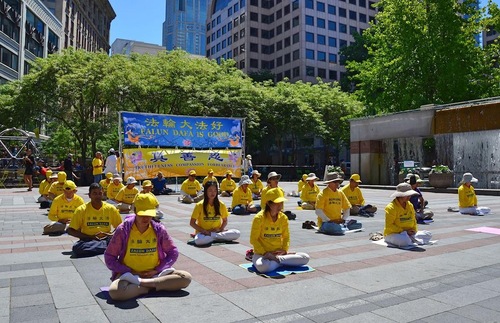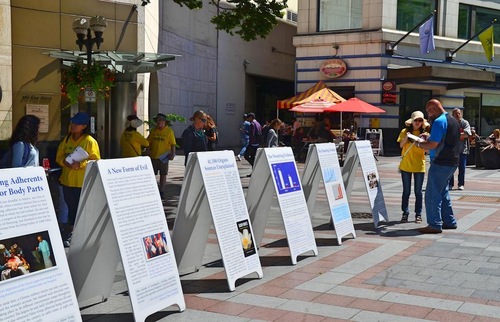 On July 21, 2018, Falun Gong practitioners demonstrated the exercises and raised awareness of the persecution in Westlake Park, which lies in the heart of Seattle's downtown shopping district.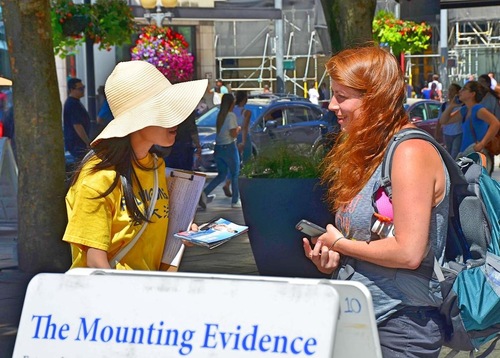 A pedestrian learns about Falun Gong from a practitioner.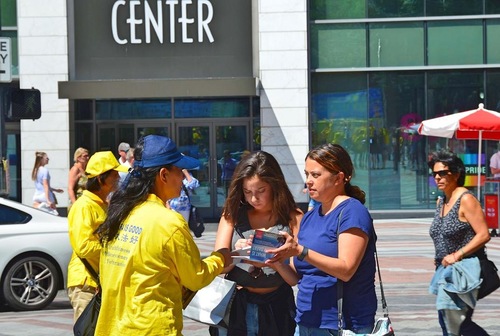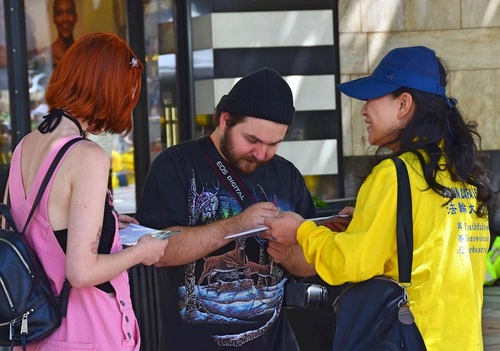 People sign the petition calling for an end to the persecution.
Falun Gong, also known as Falun Dafa, is a mind-body cultivation method. Introduced to the public in May 1992 by its founder Mr. Li Hongzhi, Falun Gong has since drawn over 100 million people to live according to its principles of Truthfulness-Compassion-Forbearance.
However, Falun Gong's principles are in stark contrast to the Chinese Communist Party's (CCP) falseness, evilness, and its doctrine of struggle. The CCP therefore saw Falun Gong as a threat and launched a nationwide suppression on July 20, 1999. Practitioners around the world have since peacefully resisted the persecution and clarify the facts of Falun Gong to Chinese people and others influenced by the lies of the CCP propaganda.
A Chinese tour group shopping at Westlake Park clearly hadn't expected to see Falun Gong here. They took pictures of the group meditation along with the "Falun Dafa Is Great" banner.
Jeremy Shank, a college student in Seattle, said he would share the facts of the persecution with his faculty and fellow students. He and his girlfriend signed the petition calling for an end to the persecution in China.
Mr. Shank had tried meditation and was quite drawn by it. He said that this was due to his father's influence, but he had never gained a deep understanding of meditation. Practitioners introduced the fifth exercise (the meditation) to him. He said he planned to reach out to his local Falun Gong contact to learn the exercises.
Another couple read the exhibition boards about the persecution. Upon learning that Falun Gong practitioners are being killed for their organs in China, the couple said that this was a crime against humanity. They signed the petition and said they would inform their family and friends about what is taking place in China.
A tourist from Boston had heard of Falun Gong, but hadn't had an opportunity to learn much about it. He took time to chat with practitioners and said that the persecution was ridiculous. He was thankful to have a chance to get to know Falun Gong on the last day of his visit to Seattle and said he would pass the information on.