California: New Practitioners Embark on the Path of Cultivation after Attending Nine-Day Class
August 23, 2018 | By a Minghui correspondent in Fremont, California
(Minghui.org) More than 20 people attended a nine-day Falun Dafa class from August 11 to 19, 2018, in Fremont, California. Attendees included Chinese people from Taiwan and China, Westerners, and people from India. Most said that, after attending the class, they experienced positive physical and mental changes and that they planned to continue practicing Falun Dafa.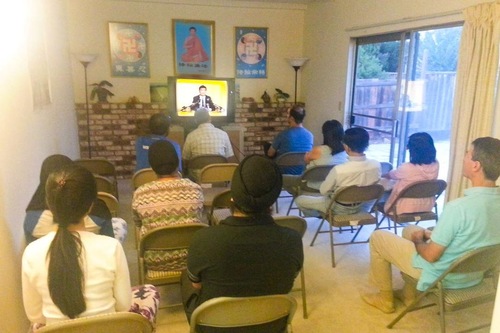 New practitioners watch Master Li's video lecture.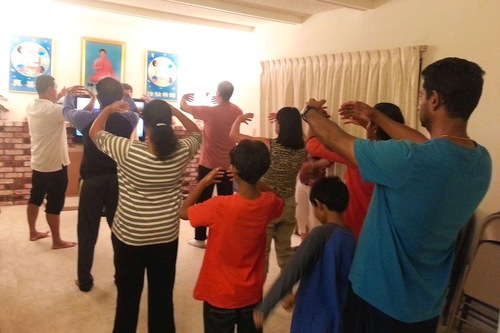 Learning the second Falun Dafa exercise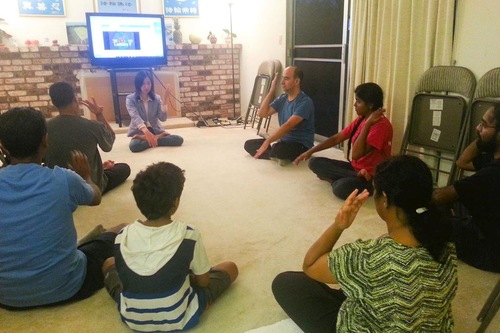 The fifth Falun Dafa exercise, the sitting meditation
"I Want to Continue Practicing"
After attending the first day of the class, Ms. Li from China said that she felt very relaxed when she drove home. She mentioned that she had not been sleeping well recently and her blood pressure was very high. After she did the Falun Dafa exercises, she found that her blood pressure had dropped to a normal level.
Ms. Li said that she was very happy to be able to listen to Master Li's lectures. She also brought her son to learn the exercises.
She said that she read Zhuan Falun, the main book of Dafa's teachings, in two days. Ms. Li said, "Although I do not yet understand some things, I want to continue practicing." She said she would begin attending a group Fa study.
Sunil, a stock investor, also attended the nine-day class and learned the Falun Dafa exercises. He said that after attending the classes he could feel energy when he did the sitting meditation at home. He said that he used to just blindly do things, but now he considers the ramifications of his actions before he does anything. Sunil also mentioned that he will continue to cultivate.
Abhishek (left) and his sister Hashini (second from the left) do the sitting meditation at the Fremont practice site.
Abhishek and his sister Hashini took part in a Falun Dafa workshop in June. In order to participate in the nine-day class, they often rushed directly from work to the class without stopping to have dinner. Hashini said that they are very happy to have the opportunity to listen to Master Li's (the founder of Falun Dafa) teaching. Each time they finished listening to the Fa, they would heshi (a gesture of respect) in front of Master Li's portrait. They said they planned to attend the English-language Fa study every week.
Attendees Experience Positive Changes
Marcus said that he easily became tired before he began practicing Falun Dafa. After he learned the exercises, he could feel energy and felt much better. He said, "Now I feel calm, and I'm able to concentrate. I can help my wife do more work at home. My wife also noticed this. I like this easy-to-learn practice and it works."
Marcus's wife is taking care of the couple's nine-month-old baby, so she could only listen to some of Master's teachings and learned a few of the exercises. She said, "When I practiced, I could feel the energy and it felt very good. I like it very much. I want to participate in the next nine-day class. I hope to be able to attend the entire nine sessions."
On the last day of the nine-day class, the attendees sat together and shared their experiences.
Veteran Practitioner: Study the Fa
Ms. Yang Li traveled from San Francisco to share her cultivation experiences with the new practitioners. Ms. Yang, who is 72, told them that she had been sick since childhood. She had more than a dozen health problems, including hepatitis A and B, heart disease, bronchitis, and allergic rhinitis. Later, she was diagnosed with advanced gastric adenocarcinoma and nasopharyngeal cancer. The doctor said that she only had three to five months to live. In early November 1995, her friend who practiced Falun Dafa introduced her to the practice. Because she was so sick, she read the book and did the exercises at home, but soon all her diseases were gone.
Ms. Yang encouraged the new practitioners to believe in the Fa and cherish their cultivation paths. She urged them to read Zhuan Falun and to focus on improving their xinxing.
The practitioners decided to form an English Fa study group and to do the exercises together every week.