France: Minghui Summer Camp Nurtures Young Falun Dafa Practitioners
September 03, 2018 | By De Long in Paris
(Minghui.org) More than 60 young and adult Falun Dafa practitioners attended the 2-week-long Minghui Summer Camp at a castle in Rene in the west of France. So that the campers can experience different cultures and scenery, each year the camp is held in a different place in France.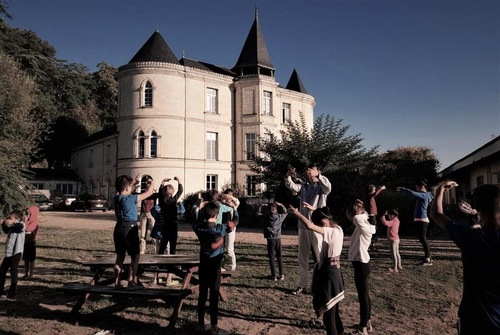 Doing the exercises together in the morning
According to the camp organizers, their goal was to create an environment in which the young practitioners could share and learn from each other based on the principles of Truthfulness-Compassion-Forbearance.
Learning How to Cultivate at Camp
The campers did the five Falun Dafa exercises at 8 a.m. and then studied the teachings of Master Li Hongzhi.
When they shared experiences, the young practitioners talked about how they had improved at camp.
For 15-year-old Aurélie, who had just followed her mother to practice Falun Dafa for years, the camp gave her time to think about her own choice to become a genuine practitioner and to let go of the fear of "being controlled."
Junyi, who is 14 and taking college prep classes, shared some of her understandings of the Fa. She noted that different manifestations in different layers of space can explain certain phenomena in the universe but that science can't explain the phenomena in cultivation practice.
"Practicing together as a group helped me concentrate. Hearing others share helped me to look inward so that I know where to improve myself," said Daniel.
Yi-yi, 12, said that living with a large group of children helped her xinxing to improve quickly.
Augustin, who is 6, said thinking of Falun Dafa helped him to calm down and avoid a fight with his older sister.
The camp experience helped 10-year-old Joséphine understand the importance of sending forth righteous thoughts and made it possible for her to concentrate when she did.
Learning Traditional Chinese Culture and Values
In addition to classes in dance, calligraphy, and Chinese language, lessons on traditional Chinese culture and historical figures were added this year. Students aged 5 to 19 and of both Chinese and French origin showed good comprehension of the stories and their messages in the question and answer sessions.
One story was about the collapse of the Shang Dynasty. The students understood that it was because emperor Zhou didn't respect the gods that he was bewitched by Da Ji. He tortured and killed loyal ministers, which resulted in the downfall of the dynasty.
Another story was about the king of Zheng, Zheng Zhuang Gong, during the time of Chun Qiu. Zheng dug a tunnel to reunite with his mother who had supported his younger brother's coup. The story helped youngsters understand the value of respect for one's parents.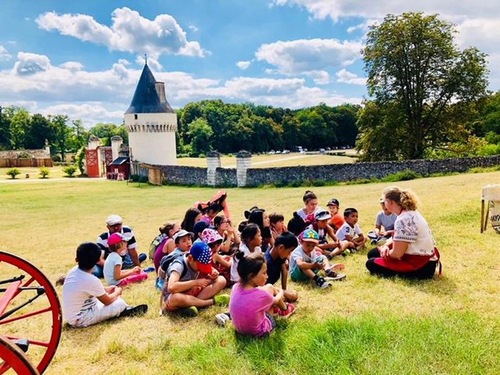 Young practitioners listen to stories.
Promoting Falun Dafa in the City of Rene
On the last day of camp, students went into the city of Rene to promote Falun Dafa. They demonstrated the Falun Dafa exercises, danced and sang, and made paper lotus flowers to pass out to passersby.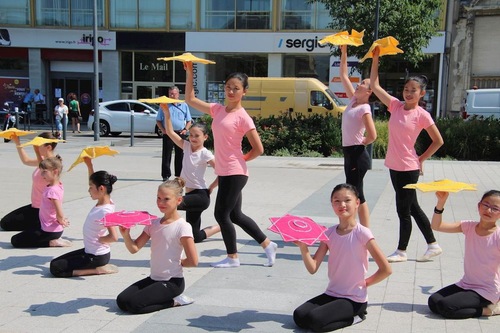 Handkerchief dance
While young practitioners were making lotus flowers and dancing, adult practitioners talked to passersby about the persecution of Falun Dafa in China and the state-sanctioned forced organ harvesting from Falun Dafa practitioners and other prisoners of conscience.
A police officer told a practitioner how impressed he was with the children's performances and that it was the first time he'd heard about the persecution in China. He was very interested in reading the book written by David Kilgour and David Matas about the forced organ harvesting in China.
Some people had seen an announcement of the Falun Dafa activities in the local newspaper. They were very interested in learning the exercises and asked where and when they would be taught.
Two ladies invited the practitioners to host a seminar for their group about the forced organ harvesting in China.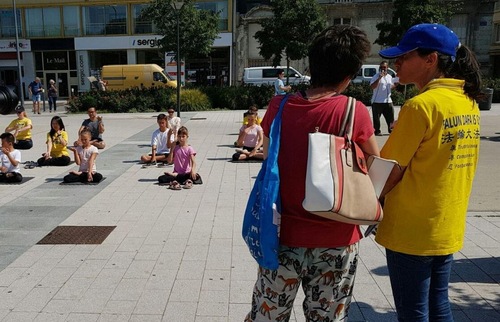 Demonstrating the exercises