An Introduction to Falun Dafa at the Basilica of the Annunciation in Nazareth, Israel
January 07, 2019 | By practitioners in Israel
(Minghui.org) On the afternoon of Saturday, December 22, 2018, Falun Dafa practitioners gathered at the Basilica of the Annunciation in Nazareth, Israel, in the small garden next to the fountain. Practitioners came from all over the country to introduce the ancient meditation of Falun Dafa and to inform the public about the persecution of its practitioners, which has been going on for 19 years in China.
The city of Nazareth is a tourist attraction all year round and especially before Christmas. In preparation for the holiday, the city was decorated in red, white, and green, as well as colorful lights and figures of Santa Claus and his sled. Families and large groups flocked to the main square in Santa hats, dined in the many restaurants, ate sweets and desserts such as Kanafeh and baklava, and drank bitter and spicy Arabic coffee.
The practitioners talked to tourists from Germany, Spain, China, and Israel.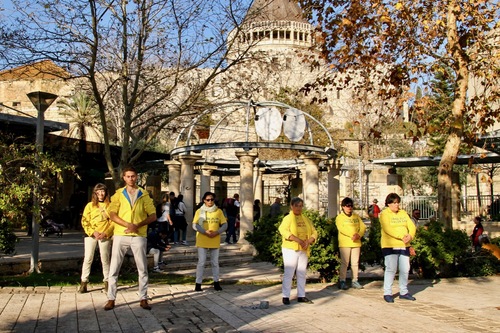 Israeli practitioners demonstrate the Falun Dafa exercises at the Basilica of the Annunciation in Nazareth.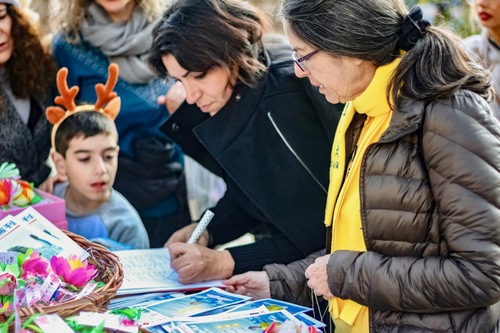 Members of the public sign a petition calling to prosecute former Chinese president Jiang Zemin for launching the persecution.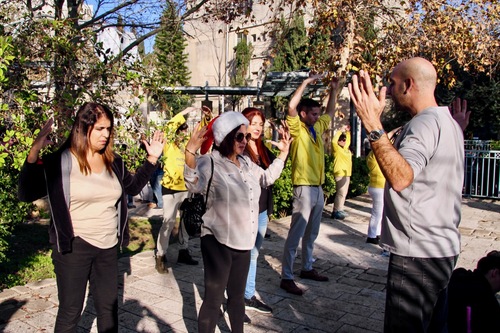 Passersby learn the movements of the second Falun Dafa exercise.
A group of practitioners demonstrated the standing and sitting exercises, accompanied by serene exercise music. Other practitioners scattered through the large crowd that flooded the area and distributed flyers and paper lotus flowers. They talked to people who were interested in hearing more about the practice and the persecution, and many of them signed a petition calling to stop the persecution in China.
In front of the square was a table with handmade paper lotus flowers. Many visitors stopped by to pick up lotus flowers given out by practitioners, and some children also joined the practitioners in doing the exercises.
A woman receives an origami lotus flower from a Falun Gong practitioner.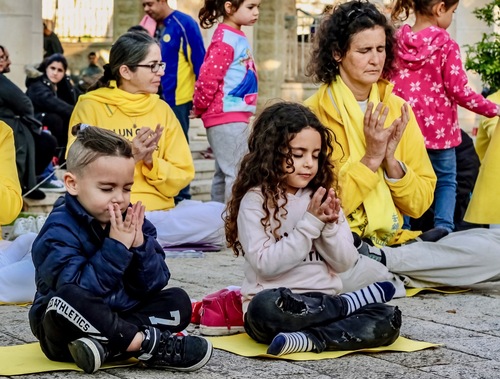 Some children joined the Falun Dafa practitioners.
Falun Dafa is a spiritual and meditation discipline based on the principles of Truthfulness-Compassion-Forbearance. It gained tremendous popularity in China, with about 100 million practicing Dafa by 1999. However, that was when Jiang Zemin, then-head of the Chinese Communist Party, started a brutal persecution of Dafa, under which practitioners have been tortured and even killed for their organs.