Woman Loses 3 Family Members in 15 Years to Persecution of Falun Gong
November 04, 2019 | By a Minghui correspondent in Heilongjiang Province, China
(Minghui.org) A 47-year-old widow whose husband died in 2004 as a result of the persecution of Falun Gong was dealt another blow when her son jumped to his death on September 3, 2019.
Falun Gong, also known as Falun Dafa, is a mind-body practice that has been persecuted by the Chinese communist regime since July 1999.
Ms. Chen Xiumei, who lives in Harbin City, Heilongjiang Province, credits Falun Gong for improving her strained relationships with her in-laws and giving her a happy family. During these past two decades, however, she and her late husband were repeatedly arrested for refusing to give up their faith in Falun Gong. Her husband, Mr. Yan Shanzhu, died two years after being held and tortured for a year in a forced labor camp. Her grief-stricken father-in-law died of a stroke four years later.
Ms. Chen's son was only around eight when she and her husband were first arrested in 2000, and the young boy was further traumatized when his father died just four years later. He suffered several episodes of mental breakdown growing up. He later recovered and got married in 2015, only to have his wife divorce him in 2018 after a police officer told her of his past mental illness and his parents' arrests. He became depressed and took his own life a year later, leaving behind a five-year-old daughter.
Having lost three loved ones in 15 years, Ms. Chen is writing down the devastating impact of the persecution of Falun Gong on her family. She said, "What my family went through is just one among countless tragedies. The Chinese Communist Party has committed too many crimes against Falun Gong practitioners to list." She hopes her testament brings to light the ordeals of Falun Gong practitioners and their families under persecution in China today.
Taking Up Falun Gong
My name is Chen Xiumei, but everyone calls me Chen Xiuhua. My husband Yan Shanzhu and I learned Falun Gong in 1996. Falun Gong taught me to be a good person. I started to treat my mentally ill mother-in-law well and was able to stay calm when my short-tempered father-in-law would fly off the handle at me. My husband was the youngest of seven children, but I offered to have his parents live with us so I could take care of them.
Practicing Falun Gong also gave me good health. I was no longer overwhelmed by heavy farm work and could keep up with my husband in the field.
Being Persecuted
After former Chinese Communist Party (CCP) leader Jiang Zemin launched the persecution of Falun Gong in 1999, my husband and I went to the provincial government office to explain Falun Gong. The police took us back to our hometown and put our names on a blacklist.
We went to Beijing to seek justice for Falun Gong in November 2000. We were taken back again and detained at the local detention center for two weeks. Our family had to pay 4,000 yuan before we were released.
The local police extorted another 3,000 yuan from my family after I said that I would continue practicing Falun Gong. They took the money without issuing a receipt.
County government officials came to my village to gather information about Falun Gong practitioners in November 2001. After learning that my husband and I hosted a study group in our home, they planned to arrest us, so we decided to go to Beijing again to appeal for Falun Gong. We were arrested again. I was detained in Beijing for seven days before being released, but my husband was sent to a forced labor camp for a year.
Five days after I got home, three police officers showed up and took me to the local police station, where they interrogated me and threatened to sentence me to three years. I escaped the next morning and hid in my brother's home.
Eight police officers stormed my brother's home and arrested me in February 2002, during the Chinese New Year holiday. They detained 50 Falun Gong practitioners in a brainwashing center and didn't feed us. Practitioners' families had to bring us food.
My father-in-law was struggling to take care of my mother-in-law and son at home, so he couldn't bring me any food. I had to take a few bites from other practitioners' meals every day.
I was beaten in the brainwashing center for refusing to give up Falun Gong. I was released two months later after developing symptoms of heart disease.
I was arrested again in May 2012 for distributing information about Falun Gong. I was sentenced to a year-and-a-half in prison and released in August 2013.
Husband and Father-In-Law Die Four Years Apart
My husband was given one year of forced labor after we went to Beijing in 2001. He was tortured for not giving up his belief. When he started a hunger strike to protest, he was brutally force-fed. The guards injured one of his lungs when they inserted the force-feeding tube.
Local police station officers refused to pick my husband up when his labor camp term was over in November 2002, because I couldn't afford to pay the 2,000 yuan in cash they demanded. I told the forced labor camp, which required local police to pick up newly released detainees, what had happened, and they brought my husband home two days later.
My husband passed away on October 4, 2004, as a result of the torture he suffered.
The manager of my village threatened to confiscate my family's farmland if I continued practicing Falun Gong. The threats and pressure, and the death of his son, left my father-in-law in deep distress. His health declined and he died of a stroke in 2008.
Son Driven Insane as a Youth and Jumps to His Death at 27
My son Yan Supeng was a cute little boy when I started practicing Falun Gong. Though only 4 years old, he knew he shouldn't fight back when other kids hit him.
After the persecution began, my son was traumatized so many times watching the police arrest us or threaten our family. My husband and I were forced to leave home when he was only nine, depriving him of our care.
He was not even 13 when my husband died in 2004. Unable to cope, he became mentally unstable. After he had a major episode at 16, I took him to a mental hospital.
His legs started to shake when he saw doctors in white lab coats. He said, "My dad was killed by people in white coats," as he recalled his father passing away in the hospital. "I'm scared. My dad practiced Falun Gong. Persecution killed my dad."
I took him home and he rested for five days. Then he was fine and went to Harbin city and found a job. He relapsed after a motorcycle accident in 2010, but he quickly recovered after staying with me and watching me study and practice Falun Gong.
After I was imprisoned in 2012, my son started having mental problems again. This time no one was home to cook or care for him. He ran outside, jumped into houses, and stood in front of cars. The police locked him up in chains at home. It was winter and freezing cold , but he had no food or heat in the house for two or three days. He was so hungry that he begged a neighbor to cook some noodle soup for him.
My son wrote his longings on the walls, ceilings, doors, and family photos at home, such as "I miss Dad," "I want to see my mom," "A family of three," and "Never separate again." I could not hold back my tears when I saw these sad, heartbroken words.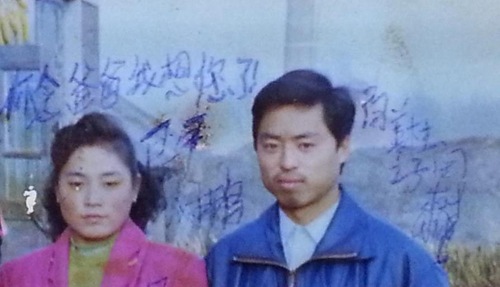 Ms. Chen Xiumei and her late husband Mr. Yan Shanzhu (the words on the photo were written by their son saying he missed his parents)
My sister-in-law had no choice but to take Supeng to a mental hospital while I was still serving time in prison. I took him out after I was released in 2013, when he was about 21.
My son was fine after he returned home. He got married in 2015 and his daughter was born later that year. But while registering their daughter at the local police station, the receptionist told Supeng's wife about his past mental issues and our family's situation. She couldn't bear the pressure of being part of a family of Falun Gong practitioners and divorced him in July 2018.
My son attempted suicide several times after the divorce. I took him to a mental hospital, but he escaped that evening.
He jumped from a building on September 3, 2019, and died hours later, leaving behind his five-year-old daughter.
Related report: