Texas: Falun Dafa Practitioners Express Their Appreciation for Master Li During Thanksgiving
December 01, 2019 | By a Minghui correspondent in Houston Texas
(Minghui.org) Thanksgiving is a special holiday during which people express their gratitude and appreciation for the blessings in their lives. For many Falun Dafa practitioners, it's also an opportunity to reflect on their cultivation and express their appreciation for the practice's founder, Master Li Hongzhi.
Falun Dafa, also known as Falun Gong, is a cultivation practice of mind and body. It was first introduced to the public by Master Li in 1992 in China. Since then, millions of people in over 100 countries around the world have taken up the peaceful spiritual practice. In July, 1999, the Chinese communist regime launched a brutal persecution of Falun Dafa; it is still ongoing today.
Several practitioners from Houston, Texas shared their stories.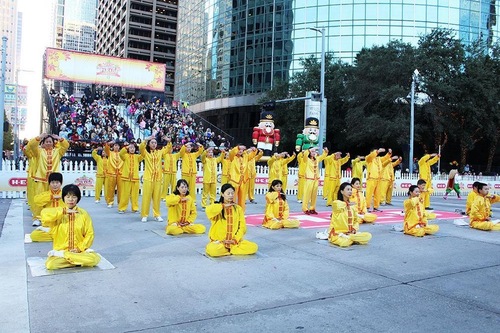 Practitioners demonstrate the exercises prior to the Thanksgiving Day parade on November 23, 2017.
Practicing Falun Dafa Gave Her Hope
Twenty-two years ago, Ms. Liu was exhausted and did not know how she could go on. After taking care of her disabled daughter for more than a decade, Ms. Liu's health had declined. Her doctor diagnosed her with nephropathy, anemia, breast mass, endocrine disorder and several other diseases.
Her life took a positive turn in June, 1997 when her friend told her about Falun Dafa. "It is a practice of both mind and body, based on the principles of 'Truthfulness-Compassion-Tolerance'. It was easy to learn and easy to practice, so my daughter and I both started practicing," Ms. Liu said.
Just three months later she regained her health. All the lab results were normal. "I followed the principles in my daily life. My mental pressure disappeared. I experienced the beauty and power of Falun Dafa. I have been confident and happy since then," she explained
Ms. Liu said she cannot express her gratitude in words, "From purifying my body, raising my mind to higher realms, and protecting me throughout the past 22 years. Master is always with me."
Treating Clients with Compassion Improves Firm's Business
Ms. Chen is a partner at an accounting firm where several Falun Dafa practitioners work. Business is very competitive, but the firm's revenue continues to expand because she and her practitioner co-workers follow Falun Dafa's principles at work. They place the customers' interests first. The firm has gained more clients due to their reputation.
One client came to Ms. Chen with quotes from other accounting firms and asked for the lowest price with the best service. She agreed to work with him and he was happy.
Not long after, the client returned to her office. He had a quarrel with his wife, was depressed and needed to talk to someone. Even though Ms. Chen was busy, she didn't brush him off. She spoke with him about having compassion and explained how she practiced the principles of Falun Dafa. He gradually relaxed and left her office in a good mood. He later recommended her firm to several of his friends.
Another client was so difficult that several accounting firms had refused to serve her company. Finally they turned to Ms. Chen's firm. "We served them with patience and attention to detail, and won their approval and appreciation," she said. "They later referred many clients to our firm."
"Had I not practiced Falun Dafa, I would have refused this client. However, after practicing Falun Dafa for decades, I'm more considerate of the clients' needs. I was not offended, but rather patiently listened and solved their problem.
"We have more business now and our client base is very stable. Master Li has given me a healthy body and a compassionate and kind heart," she said.
Practitioners Are So Kind and Honest
Ms. Dai worked for a company on weekends. The company overpaid her 3 times and she returned the money each time.
"As a practitioner I knew how to deal with this situation. I never take something that does not belong to me," she explained.
The third time, the company overpaid her two weeks worth of wages. She had already left the company. When she phoned human resources to return the money, the department director said since she no longer worked for them, she had to return it in cash.
When she returned the money, the company's director thanked her and asked her to continue working for them. "You are so kind and honest, our company doesn't want to lose you!"
After Ms. Dai explained that every Falun Dafa practitioner would do the same as her in this situation, the director sighed and said, "This society needs more good people like Falun Dafa practitioners."
Ms. Jiang, a chef at a Chinese restaurant, had similar experiences.
Before she began practicing Falun Dafa in 1996, Ms. Jiang often felt exhausted after working long hours at the restaurant. The practice eliminated her ailments and she felt energetic every day. Even though she still works until after 11p.m. or sometimes 2 a.m., she's energetic and ready to work the following morning.
Falun Dafa also taught her that true happiness comes from having compassion. She's no longer moved when others talk about her behind her back. She's no longer picky about tasks at work. Instead she helps others.
As the chef, she receives the highest wage at the restaurant. The boss once handed her the wrong envelop and she was shorted $500. She was not upset and did not complain.
Another time, a coworker misunderstood her and was upset at her. She compassionately discussed the situation with him. The coworker understood and saw her kindness. Since then they've worked well together. The coworker learned about Falun Dafa from her. He now has great respect for practitioners.
"Our boss thinks Falun Dafa is great. He now treats every employee with fairness and tolerance," Ms. Jiang added.