Germany: Legislator Calls For Public Support for Human Rights Accountability Act
December 25, 2019 | By Falun Dafa practitioners in Germany
(Minghui.org) From December 1 to 30, 2019, members of the public can sign an online petition urging the German Parliament to pass the Magnitsky Human Rights Accountability Act.
The Magnitsky Act was originally passed by the U.S. Congress in 2012 and was aimed at punishing Russian officials who had committed human rights violations and corruption. In 2016, the U.S. law had its reach extended globally. On March 14, 2019, the European Parliament passed a resolution to urge the EU and its 28 member states to legislate an act similar to the Magnitsky Act. This has taken place in Canada, the U.K., Estonia, and the Netherlands, but Germany has yet to join this growing list of countries.
On October 1, 2019, the public submitted an application (No. 99914) to the Board of Appeals of the German Parliament, urging the government to introduce the global human rights accountability act in light of China's brutal human rights violations. The board published the appeal on its website on December 1, allowing the public to show their support by signing a petition.
Member of Parliament Calls for Public Support
Ms. Ulli Nissen is a parliamentarian for the Frankfurt region. She wrote in her newsletter published on December 13, "Please support this appeal to the German Parliament to pass this Act. If enacted, the assets of human rights perpetrators will be frozen and they will be barred from entering Germany. This applies to criminals on a global basis including Communist China." She also wrote, "We have received a lot of information on how the Chinese communist regime brutally persecutes the innocent simply because of their belief. There is shocking evidence which indicates that Falun Gong practitioners are murdered for their organs and numerous Uyghurs are imprisoned in labor camps."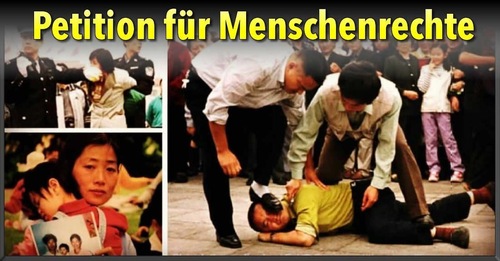 Ms. Nissen calls for support in her newsletter (partial screenshot).
"This is a terrible thing. We should support the victims and hold the perpetrators accountable. We recently celebrated the passing of the Universal Declaration of Human Rights. We celebrate this every year, yet crimes against humanity have been more severe." Ms. Nissen also said in her newsletter, "What makes me angry is that China was a member of the United Nations Human Rights Council from 2016 to 2019. During this time, it has carried out even more illegal trade in organ harvesting."
The Persecution of Falun Gong Practitioners Should Not Be Permitted
Ms. Nissen spoke at the World Falun Dafa Day celebrations held in Frankfurt on May 11, 2019. She said that the persecution of Falun Gong practitioners in China must be stopped immediately.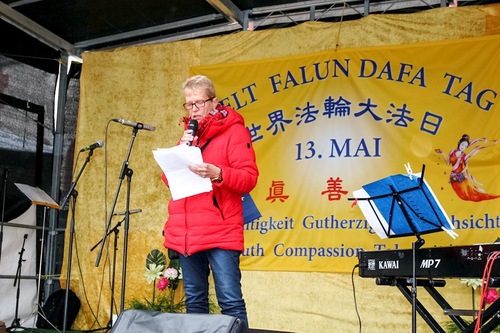 Ms. Nissen addressed the World Falun Dafa Day celebrations in Frankfurt on May 11, 2019.
In May 2019, the U.S. Department of State told Falun Gong practitioners that they could submit a list of perpetrators involved in the persecution of practitioners. The U.S. government intends to deny visas to human rights violators and perpetrators of religious persecution. This applies to both immigrant visas and non-immigrant visas. Those who have already been granted visas may be denied entry. At the same time, their assets in America will be frozen.
Ms. Nissen praised this act and said, "It is very important that more and more regions in the world pay attention to the crimes against Falun Gong practitioners committed by the communist regime. It is a very meaningful result for those fighting for human rights."
As of November 15, 2019, the Minghui website has collected a list of 105,580 perpetrators involved in the persecution of practitioners. Part of this list has been submitted to the governments of the U.S, Canada, U.K, Australia, and New Zealand, known as the Five Eyes Alliance.
In August this year, Ms. Nissen commented in an interview with The Epoch Times, "Now I can imagine that Germany will be able to freeze the assets of human rights violators just like the U.S. An even better idea is Europe takes action as a collective body. The European Commission's Service for Foreign Policy Instruments has already created a list of dictators. We can supplement this list with the names of human rights violators in China."