Introducing Falun Dafa in Ramat Gan National Park, Israel
December 09, 2019 | By a Falun Dafa practitioners in Israel
(Minghui.org) On a beautiful Saturday morning, November 9, 2019, Falun Dafa practitioners gathered in Ramat Gan National Park, a large urban park located in the city of Ramat Gan, Israel, to showcase the beauty of Falun Dafa and raise awareness of the persecution that has been carried out against Falun Dafa practitioners in China for the last 20 years.
The park is usually filled on Saturdays with families and groups enjoying its beautiful picnic locations, as well as cyclists, skaters, and pedestrians.
Practitioners held several public activities on one of the park's vast lawns. While one group demonstrated and taught the gentle Falun Dafa exercises, others set up a workshop teaching children how to make folded paper lotus flowers. Practitioners also hosted a table where they provided informational materials in several languages to educate the public about Dafa and the persecution in China. Many people signed a petition calling for the prosecution of Jiang Zemin, the former Chinese Communist Party leader who started the persecution.
Falun Dafa is a spiritual discipline based on the principles of Truthfulness-Compassion-Forbearance and includes five simple meditative exercises. The practice gained tremendous popularity in China, where 100 million people were practicing Falun Dafa before the persecution began in July 1999. Since then, practitioners across China have been arrested, imprisoned, tortured, and even killed for their organs–all for refusing to renounce their faith.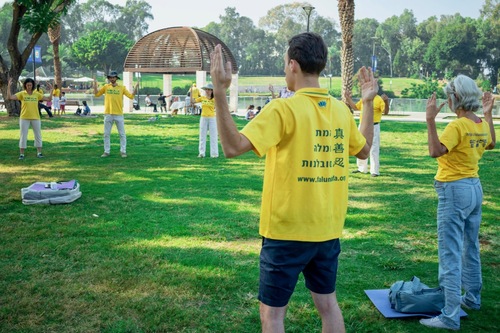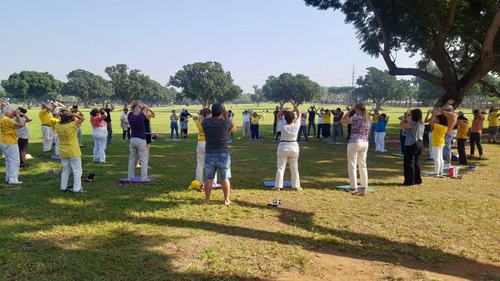 Practitioners demonstrate the Falun Dafa exercises in Ramat Gan National Park.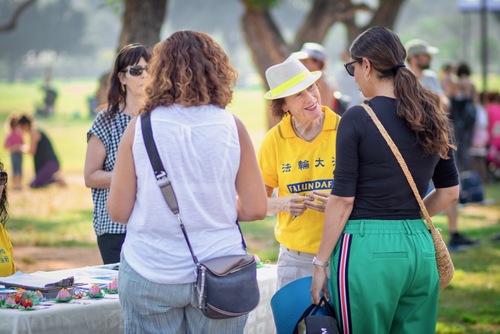 A practitioner talks to passersby about the persecution of Falun Dafa practitioners in China, which began in 1999 and continues to this day.
Learning About Falun Dafa
One practitioner taught the exercises on the shady lawn beneath the trees. Soon, more people joined the circle and listened attentively as they learned the exercises. After the sitting meditation portion, people didn't want to leave the site and remained seated. The practitioner told them about the book Zhuan Falun (the main text of Falun Dafa), how people learned Falun Dafa in nine-day workshops, and the situation in China today.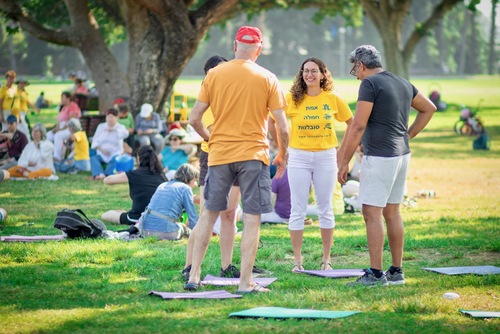 Passersby learn the exercises.
One of the learners said that standing still for so long with her hands lifted up in the air was quite challenging for her, as she was not used to slowing down like that. She said it required patience to adjust to that kind of pace and fully embrace it, without wanting for it to end.
Another practitioner who taught the exercises to children recounted that watching them close their eyes and go into meditation had a special magic. Their inner beauty was reflected in their facial expressions. The children thanked the practitioner after finishing the exercises.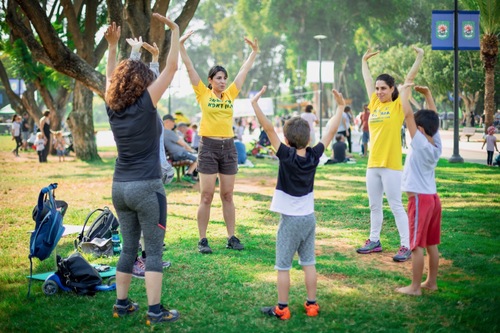 Children and adults alike were drawn to the gentle, peaceful Falun Dafa exercises.
A Lesson in Patience
At the lotus flower workshop, some children managed to make a whole flower from start to finish, and they were pleased with the outcome. Completing the flower required determination, patience and accuracy. The practitioners gave attention to each participant and answered all their questions.
One girl had difficulties and was quite impatient, but she did not give up. She wanted to make the flower on her own but couldn't. The instructor held her fingers gently and made the folds with her. This gave the girl confidence, first with one leaf, and then with the whole flower. When they finished, she raised her flower high up in the air and declared to everyone present, "Look what I did!" She brimmed with happiness.
Some children asked if they could take some materials with them to continue working on their flowers at home. Some were quite surprised to see how such a colorful three-dimensional flower could be made out of a few simple pieces of paper.
Truthfulness, Compassion, Forbearance Fill People's Hearts
Many people gathered at the information table, which was decorated with beautiful paper lotus flowers. Everyone who visited received a flower, and adults also received a leaflet and were asked if they wanted to sign the petition calling to bring Jiang Zemin to justice.
One person said that the world needs Falun Dafa's principles of Truthfulness-Compassion-Forbearance. A mother was seated with her grown son on a mat next to the information table. As a practitioner approached them, she heard the mother say to her son, "You need this, because you constantly fight with your wife." Her son replied, "You need it, because you haven't been talking to your husband for two weeks." The practitioner gave each of them a flower and told them to give it to their wife and husband, respectively.
The woman reflected, "I've noticed that the older you get, the calmer you become. You learn to let go and not take things to heart that much. If something is mine, then it's mine, and if not, then it shouldn't have been in the first place." The practitioner said that people of all ages who learn Falun Dafa also understand this principle.
An elderly couple was seated on a bench, watching the activities. A practitioner approached them and told them about Falun Dafa and the persecution. They told her that they were holocaust survivors and that they were appalled by the horrors and evil they had encountered during the war. They both signed the petition.
A man seated in a wheelchair wanted to sign the petition, but his hands were paralyzed. A practitioner offered to sign it on his behalf, and the man agreed happily.
Some people had already encountered the Falun Dafa exercises at the local group practice site, which is also held at the same location in the park every Saturday morning. This time, they came specifically to learn the exercises. One person said that it was no coincidence that she had encountered the practitioners.
The Healing Power of Dafa
A young Israeli and his Chinese girlfriend approached the information table. When the young man translated what the practitioners said to her, she said that in China Falun Dafa is not considered to be good.
The practitioner shared how Falun Dafa had helped her recover from cancer after she underwent chemotherapy. When she first encountered Falun Dafa, she didn't know if she would survive the cancer and what quality of life she would have, as she was too exhausted even to climb the stairs.
The Chinese woman said, "Exercising is good for you."
The practitioner explained that the most important thing in practicing Falun Dafa is constantly improving one's character rather than just doing the physical exercises. When she started learning Falun Dafa, she could hardly perform the exercises, but she worked hard to improve her character according to the principles of Truthfulness, Compassion and Forbearance. As a result, 18 years later, at age 68, she is in good health and does not pose any burden to her family.
At one point, a senior municipal official arrived with the park manager. They both said that they wished all people were as calm as Falun Dafa practitioners. They thanked the practitioners for holding these quiet, diversified, and free activities for park visitors.