Denmark: Falun Dafa Warmly Received at Odense Health Expo
February 21, 2019 | By a Falun Dafa practitioner in Denmark
(Minghui.org) Falun Dafa practitioners in Denmark participated in a health expo in Odense February 16 and 17, 2019. Odense, Denmark's third largest city, is famous for being the birthplace of fable author Hans Christian Andersen.
During the expo, many people learned about Falun Dafa and how it's being persecuted. They endorsed the practitioners' efforts to raise awareness to end to the persecution. Several people were intrigued by the music as practitioners demonstrated the exercises, and a few learned to do them.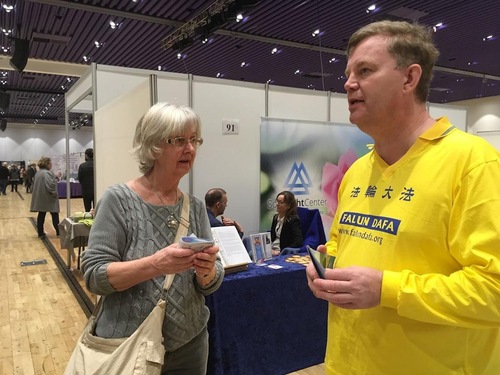 Birgit was pleased to learn about Falun Dafa and said she'd pass the information along to her daughter.
Birgit was interested in learning the exercises after she heard that Falun Dafa is a cultivation practice based on Truthfulness-Compassion-Forbearance and that following these principles can lead to physical and mental wellbeing. When she heard there were practice sites in Copenhagen, Aarhus, and other cities in Denmark, she said, "That's great! My daughter lives in Aarhus. I'll take this information to her."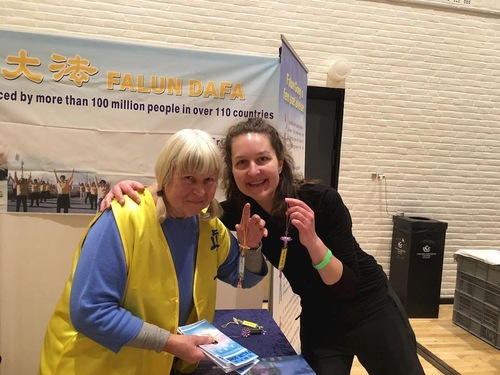 Mie Lykke felt fortunate to encounter Falun Dafa at the expo.
Mie Lykke was wheelchair-bound and only recently able to walk again. She'd been searching for something and was excited to see the Falun Dafa booth. She said, "This makes me feel optimistic. I believe that I can get help from the divine." She said she felt very fortunate to find Falun Dafa and wanted to learn it.
Many people who walked by the Falun Dafa booth commented that they felt a strong energy field. Two ladies stopped and quietly watched practitioners doing the exercises for some time. One asked the other, "Can you feel a strong energy?" The other lady replied, "Yes, it's very pure and clean."
Flemming Andersen was very interested in the exercise demonstration. He followed along and learned to do the four standing exercises. Afterward, he said he felt a comfortable and peaceful energy. His friend joined him to do exercises three and four. He left his contact information and said he wanted to attend the exercise workshop.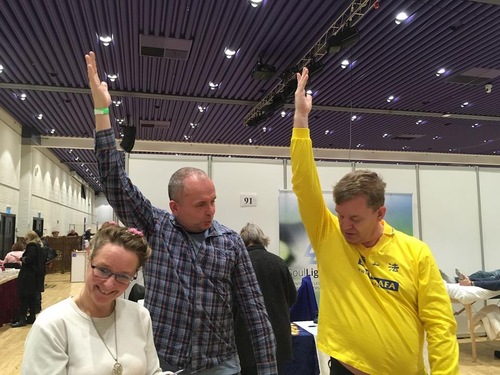 Flemming Andersen learns to do the Falun Dafa exercises, while his friend reads a Falun Dafa flyer.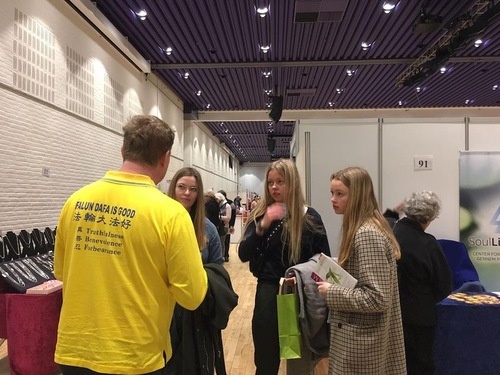 Three young women learn about Falun Dafa's principles of Truthfulness-Compassion-Forbearance.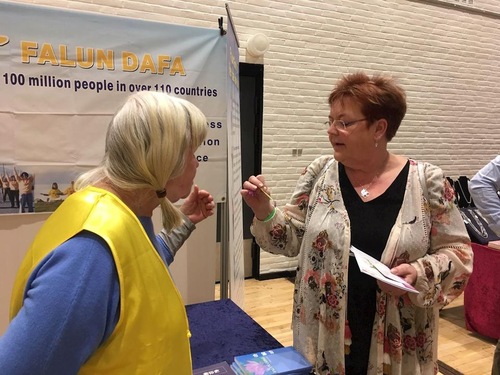 Judith said that she still has a handmade lotus flower a practitioner gave her five years ago.