Two Jilin Residents Face Indictment for Distributing New Year Paintings with Information about Their Faith
February 28, 2019 | By a Minghui correspondent in Jilin Province, China
(Minghui.org) Two Nong'an County, Jilin Province, residents detained for distributing new year paintings with information about Falun Gong are now facing indictment for their faith.
Falun Gong, also known as Falun Dafa, is a spiritual discipline that has been persecuted by the Chinese communist regime since 1999.
Ms. Wang Jingxia and Ms. Wang Guifang were arrested on January 15, 2019, when they traveled to Qianguo County (about 55 miles from Nong'an County) to distribute the paintings before the Chinese New Year.
The police initially told both women's families that they would hold them in Qianguo Detention Center for ten days. Then the police extended the detention for five more days, until January 30.
Before the women's families could pick them up on January 30, however, the police transferred them to Shanyou Town Detention Center on the afternoon of January 29 and continued to hold them in custody.
The police have already submitted the practitioners' cases to the Procuratorate and the detention center is preventing their lawyers from meeting with them. Their families are very worried about them.
Ms. Wang Jingxia Regained Her Health after Practicing Falun Gong
Ms. Wang Jingxia said she suffered from severe headaches, pain in her eyes, and bilateral femoral head necrosis after her second child was born in 1985. Shortly after she began to practice Falun Gong in July 1997, all the pains that had tortured her for a decade disappeared.
Deeply grateful, Ms. Wang felt compelled to share her story with more people and dispell the slanderous propaganda put out by the communist regime. She was reported to the police on July 25, 2016, and held in a detention center for three days.
Ms. Wang Guifang Repeatedly Persecuted for Her Faith
Ms. Wang Guifang, 56, used to have severe liver problems and couldn't sleep well at night.
She turned over a new leaf after learning Falun Gong in 1998. Her ailments and her hot temper both disappeared, and she was much happier.
After the communist regime launched the nationwide persecution of Falun Gong in 1999 because of its huge popularity, Ms. Wang was repeatedly targeted by the authorities for not giving up her faith.
She was arrested and detained eight times. The police beat her, whipped her with leather belts, and forced her to bend over and stand with her back against the wall for hours on end.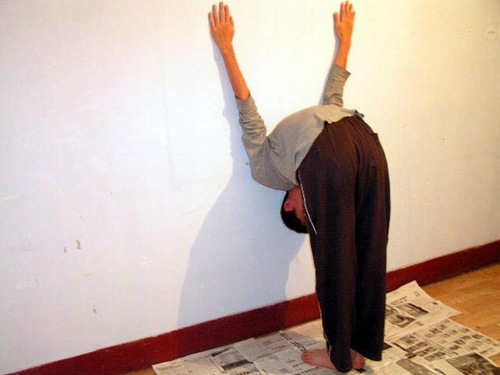 Torture reenactment: Standing
The village Party officials and police harassed her and her family members constantly. Unable to bear the enormous pressure, her husband, Yu Xiangjun, began to beat her and locked her in the house, fearing she might be arrested again. The fear and stress took a toll on his health. His diabetes deteriorated quickly and he passed away in 2015.