New York City: Practitioners Celebrate World Falun Dafa Day and Express Gratitude to Dafa's Founder
May 13, 2019 | By a Falun Dafa practitioner in New York
(Minghui.org) May 13, 2019 is the 20th annual World Falun Dafa Day and also marks the 27th anniversary of the ancient spiritual discipline's introduction to the public. Practitioners from the New York City area gathered at Dag Hammarskjold Plaza outside the United Nations to celebrate this special occasion and to wish Mr. Li Hongzhi, the founder of Falun Dafa, a happy 68th birthday.
The event began with performances by the Tian Guo Marching Band followed by performances by students from the Northern Academy of the Arts in Middletown, New York. The young people presented Western classical compositions with solo, ensemble, vocal, piano and string ensemble performances. Several pieces incorporated traditional Chinese instruments as well. Practitioners from New York City also gave a waist drum performance.
To commemorate this special day, over 130 proclamations were received from federal, state, city, and county level officials in New York honoring Falun Dafa Day. They thanked Mr. Li for introducing the practice and for the contributions made by practitioners to the greater community. Besides congratulatory letters from 10 state senators, 59 out of 62 state senators co-sponsored a resolution to honor World Falun Dafa Day. More than 40 state representatives also issued proclamations and co-sponsored a resolution for Falun Dafa Day. Kathy Sheehan, Mayor of Albany, designated May 13, 2019 as World Falun Dafa Day in the City of Albany, the capital of New York State.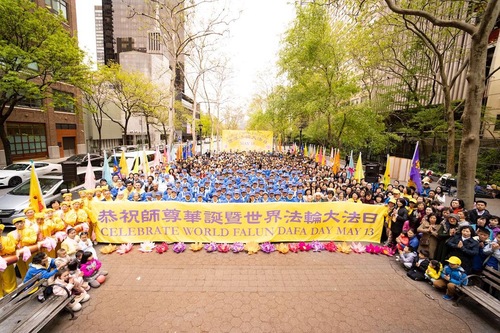 The World Falun Dafa Day celebration began with a performance by the Tian Guo Marching Band.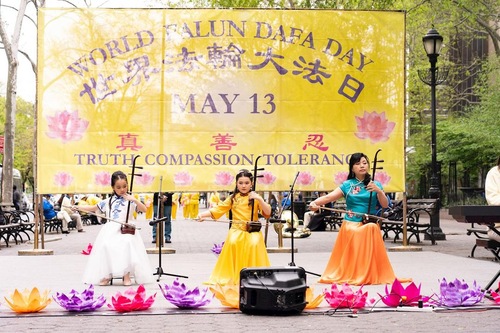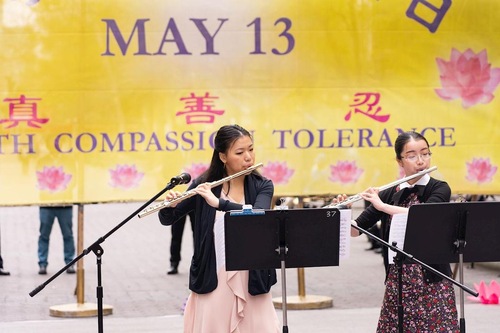 Musical performances by students from the Northern Academy of the Arts in Middletown, New York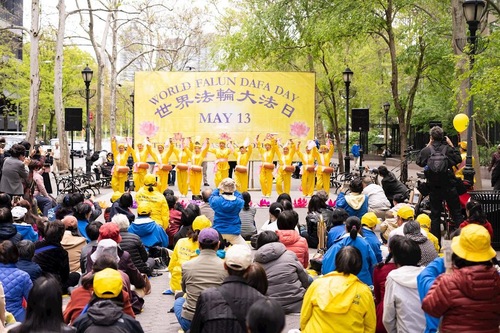 Lively waist drum performance.
"Falun Dafa is the Best"
Jeanne Mitchell was a psychologist and an artist before she retired. She heard about Falun Dafa in 2003. She said as soon as she began practicing, she knew that Dafa was special. "I remember clearly, right at that moment, I knew this is what I had been looking for," she recalled.
For years she dealt with nerve problems, nausea, fevers, and frequent colds. Not long after she began practicing that January, Jeanne noticed that these problems had disappeared. "Master Li explained the profound principles so clearly, it really touched my heart," she said. She stopped being anxious and her life became harmonious. Her husband was also impressed because within one month, Jeanne became easygoing. The changes were dramatic.
Because she knows that many Chinese people have been misled by the Communist Party's hate propaganda, Jeanne wants to share her experience and hopes that they can open their hearts to the practice. "Being able to encounter and practice Falun Dafa is the most fortunate thing in my life," Jeanne explained. She said in Chinese, "Falun Dafa is the best in the world!"
Scott Chinn, a software developer, said he'd been searching for the meaning of life. "I earned a Ph.D. degree, but that did not help with my spiritual pursuit. Then I found Falun Dafa, which is very enlightening, but at the same time clear and simple to learn," he said.
Life Renewed
Li Dianqin, a practitioner in her late 60s, shared that she was diagnosed with hemangioma in 1995. In addition, she had intestinal issues and had difficulty eating. "My weight dropped from 130 pounds to less than 60. I was in so much pain every day! I also lost most of my hair," she recalled.
That June, her daughter heard about Falun Dafa and learned that people were practicing it in a nearby park. Her family brought Ms. Li to the park. She said as soon as she started to do the exercises she felt enveloped in a warm energy. "That was 24 years ago. I no longer needed to see doctors or take medication after that," she said.
Li Hongzhen, originally from Shanghai, had surgery in 1997 for colon cancer. She also had uterine fibroids and liver cysts; her doctor said she might only survive another three months. After her neighbor told her about Falun Dafa, Ms. Li took up the practice. Within three months, she went from being unable to eat or walk, to full recovery. "I am so grateful to Master Li and I hope more people can learn how amazing Falun Dafa is," she said.
Passersby Encourage Practitioners
Niran de Silva from Sri Lanka works at the United Nations and often sees practitioners' activities. He said he agrees with Falun Dafa and its principles of Truthfulness-Compassion-Forbearance. He accepted flyers and lotus flower pendants for himself and his coworker.
Kate watched the Dafa Day activities for a long time and remarked that the performance was great. She said the Communist Party is a totalitarian regime and that the persecution of Falun Dafa in China should immediately end. "Truthfulness-Compassion-Forbearance is important for everyone," she affirmed.
Martin from the Czech Republic said he knew about Falun Dafa and supported the practitioners' efforts to raise awareness of the persecution in China. When he heard about the extent of the brutal persecution, including harvesting organs from living practitioners, he said that it needs to stop. "In the country where I came from, people lived without life or dignity under the Communist regime," he shared. "But things changed when Communism collapsed there in 1989."
Marie, a college student from Connecticut, mentioned that she'd heard about the persecution in China. "This practice is peaceful and looks awesome," she said. "It's amazing that these practitioners are able to keep the faith after so many years of persecution."
Kelvin Medina, who stopped to videotape the event, said that the performance was graceful and beautiful. "I will post it on my Facebook so that more people can see it," he added.