New York and Michigan, U.S.A.: Legislative Resolution and Special Tributes to Commemorate World Falun Dafa Day
May 14, 2019 | By Falun Gong practitioners in New York and Michigan, U.S.A.
(Minghui.org) Falun Gong, also known as Falun Dafa, was first introduced in Changchun, Jilin Province, China on May 13, 1992 by its founder Mr. Li Hongzhi. The practice has since spread to over 100 countries around the world.
May 13 was declared "World Falun Dafa Day" in 2000. On the occasion of the 20th annual World Falun Dafa Day, a number of state governments have issued proclamations to commemorate World Falun Dafa Day and express appreciation for Mr. Li.
This report highlights official Falun Dafa Day recognition from the states of New York and Michigan, in the U.S.
New York: State Senate Passes Resolution to Commemorate World Falun Dafa Day
New York Senator Jen Metzger of the 42nd District read the resolution she initiated on May 7, 2019 in the Senate of New York State: Senate Resolution J1115, to commemorate the 20th Annual World Falun Dafa Day celebration, to be observed May 13, 2019. The Resolution was co-sponsored by 58 of the total 62 senators, and it was passed in the Senate unanimously. All Senators stood up and gave a warm applause after the resolution was passed.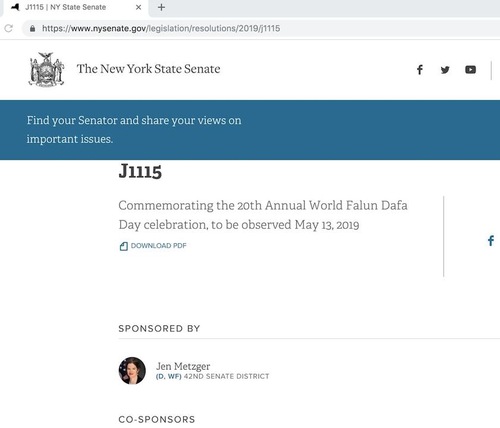 Screenshot of Resolution J1115 of the New York Senate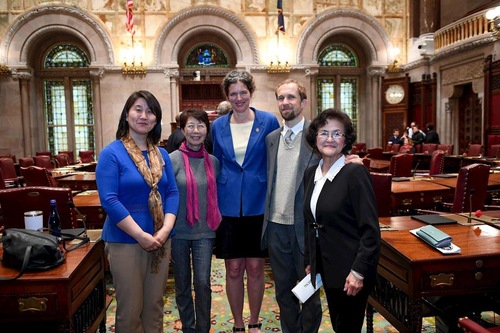 Senator Jen Metzger (middle) of the 42nd District has her photo taken with Falun Gong practitioners.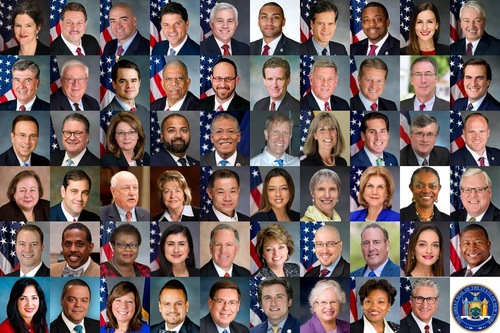 From left to right: Resolution initiator Senator Jen Metzger, and 58 co-sponsors: Senators Joseph P. Addabbo Jr, Fred Akshar, George A. Amedore, Jr. Robert E. Antonacci, Jamaal T., Bailey, Brian A. Benjamin, Alessandra Biaggi, Phil Boyle, Neil D. Breslin, John E. Brooks, David Carlucci, Leroy Comrie, Simcha Felder, John J. Flanagan, Rich Funke, Patrick M. Gallivan, James Gaughran, Michael Gianaris, Joseph A. Griffo, Pete Harckham, Pamela Helming, Brad Hoylman, Robert Jackson, Chris Jacobs, Daphne Jordan, Todd Kaminsky, Brian Kavanagh, Timothy M. Kennedy, Liz Krueger, Andrew J. Lanza, Kenneth P. LaValle, Betty Little, John C. Liu, Monica R. Martinez, Rachel May, Shelley B. Mayer, Velmanette Montgomery, Thomas F. O'Mara, Robert G. Ortt, Kevin S. Parker, Roxanne J. Persaud, Jessica Ramos, Michael H. Ranzenhofer, Patty Ritchie, Gustavo Rivera, Joseph E. Robach, Julia Salazar, James Sanders Jr., Diane J. Savino, Luis R. Sepúlveda, Sue Serino, José M. Serrano, James L. Seward, James Skoufis, Toby Ann Stavisky, Andrea Stewart-Cousins, James Tedisco and Kevin Thomas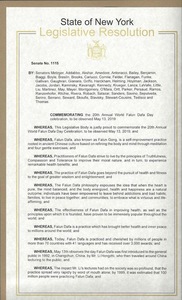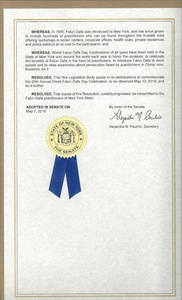 Senate Resolution J1115 to commemorate the 20th annual World Falun Dafa Day celebration, to be observed May 13, 2019
The resolution states, "Whereas, The Falun Dafa philosophy espouses the idea that when the heart is pure, the mind balanced, and the body energized, health and happiness are a natural outcome; individuals have been empowered to leave behind addictions and bad habits; families, to live in peace together; and communities, to embrace what is virtuous and life-affirming; and
"Whereas, The effectiveness of Falun Dafa in improving health, as well as the principles upon which it is founded, have proven to be immensely popular throughout the world; and
"Whereas, In 1996, Falun Dafa was introduced to New York, and has since grown to include hundreds of practitioners who can be found throughout the tri-state area offering workshops in senior centers, corporate offices, health clubs, private residence and police stations at no cost to the participants; and
"Whereas, World Falun Dafa Day Celebrations of all types have been held in the State of New York and around the world each year to honor the occasion, to celebrate the benefits of Falun Dafa in the lives of practitioners, to introduce Falun Dafa to more people and to raise awareness about persecution faced by practitioners in China;
"Now therefore, be it resolved, that this Legislative Body pause in its deliberations to commemorate the 20th Annual World Falun Dafa Day Celebration, to be observed May 13, 2019."
Michigan: State Senators and Representatives Issue Special Tributes for Falun Dafa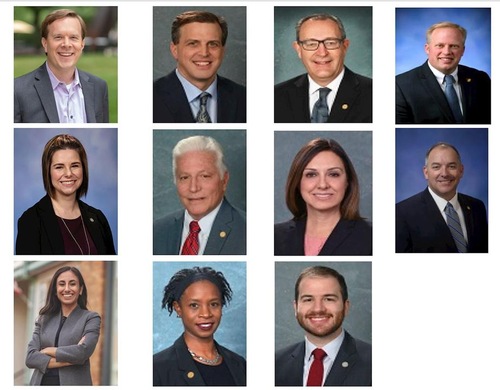 Eleven Michigan Senators and Representatives issued Special Tributes for Falun Dafa. First row, left to right: Rep. Matt Koleszar, Sen. Jeff Irwin, Sen. Roger Victory, and Rep. Luke Meerman. Second row: Rep. Laurie Pohutsky, Sen. Paul Wojno, Sen. Dayna Polehanki, and Rep. Joseph Bellino. Third row: Rep. Mari Manoogian, Sen. Erika Geiss, and Sen. Jeremy Moss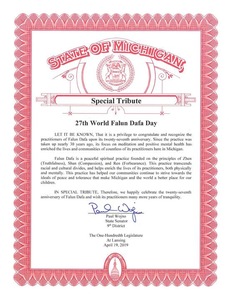 Special Tribute from Senator Paul Wojno of the 9th District, State of Michigan
Senator Paul Wojno stated in the Special Tribute, "Let it be known, that it is a privilege to congratulate and recognize the practitioners of Falun Dafa upon its twenty-seventh anniversary. Since the practice was taken up nearly 30 years ago, its focus on meditation and positive mental health has enriched the lives and communities of countless of its practitioners here in Michigan.
"Falun Dafa is a peaceful spiritual practice founded on the principles of Zhen (Truthfulness), Shan (Compassion), and Ren (Forbearance). This practice transcends racial and cultural divides, and helps enrich the lives of its practitioners, both physically and mentally. This practice has helped our communities continue to strive towards the ideals of peace and tolerance that make Michigan and the world a better place for our children.
"In Special Tribute, therefore, we happily celebrate the twenty-seventh anniversary of Falun Dafa and wish its practitioners many more years of tranquility."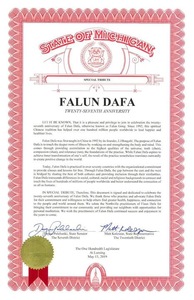 Special Tribute from Senator Dayna Polchanki of the 12th District and Rep. Matt Kolcszar of 20th District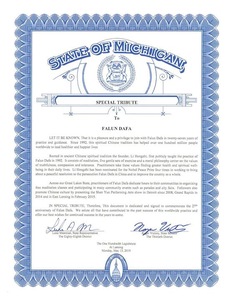 Special Tribute from Rep. Luke Meerman of the 88th District and Senator Roger Victory of the 30th District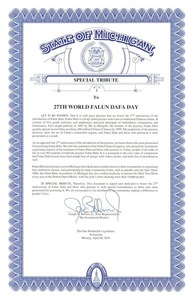 Special Tribute from Rep. Joseph N. Belino, Jr. of the 17th District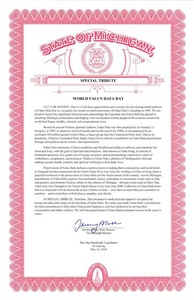 Special Tribute from Senator Jeremy Moss of the 11th District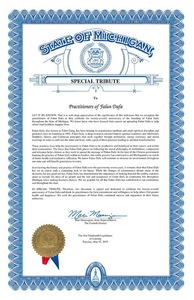 Special Tribute from Rep. Mari Manoogian of the 40th District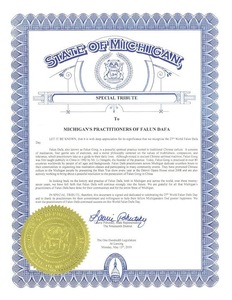 Special Tribute from Rep. Laurie Pohutsky of the 19th District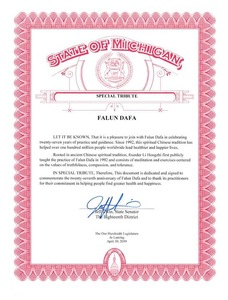 Special Tribute from Senator Jeff Irwin of the 18th District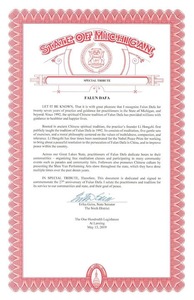 Special Tribute from Senator Erika Geiss of the 6th District
Relevant article in Chinese: Michigan