Falun Dafa Practitioners' Families Wish Master Li Hongzhi a Happy Mid-autumn Festival
September 14, 2019 | By a Minghui correspondent
(Minghui.org) Many people took up Falun Dafa after being introduced into the practice by their family members, who have experienced firsthand the tremendous health benefits and moral teachings themselves.
With one after another picking up the practice, many families have practitioners spanning three or four generations, witnessing the power of Dafa together.
On the grand occasion of Mid-autumn Festival, many practitioners' families send their warmest greetings and wish Master Li Hongzhi, the founder of Falun Dafa, a happy holiday!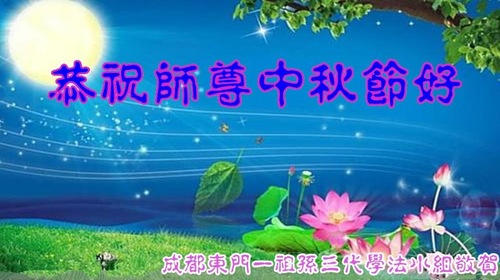 A family of nine from Mudanjiang City, Heilongjiang Province, wrote: "Thank you, Master, for saving us from the sea of bitterness. I've benefited so much from Dafa. My health improved. I became calmer. And, more importantly, I understood the true meaning of life. My whole family admires Dafa and supports me. Now they have all begun practicing themselves. Thank you, Dafa, for bringing happiness and peace to our family."
Another family of four generations from Zhoukou City, Henan Province, wrote: "A dozen people in our family practice Falun Dafa. We are so grateful for Master's salvation. You've given us so much. Everyone in our family is benefiting from the practice. Blessed by Dafa, our family is filled with harmony and happiness."
One family of nine from Anshan City, Liaoning Province, wrote in their greeting: "Time flies! It's the Mid-autumn Festival again. Every year around this time, we miss Master even more. Thank you, Master, for awakening and purifying our souls and guiding us on our spiritual journey in Dafa. No words can express our appreciation for you. Master and Dafa are great!"
Another family of four generations in Zhaoyuan City, Shandong Province, wrote: "The six people in our family that practice Dafa span four generations. Both my husband's severe heart condition and my mother's rheumatoid arthritis were cured after practicing Dafa. My grandmother, 92, is very healthy and can still do some household chores. My two daughters, four and two, also know that Dafa is good. We are all grateful for Master's grace!"
Other well-wishers include:
Three sisters-in-law in Xianning City, Hubei ProvinceA mother and son in Qinhuangdao City, Hebei ProvinceSix siblings in Shenyang City, Liaoning ProvinceA family of eight in Zhaoyuan City, Shandong ProvinceA family of three generations in Chengdu City, Sichuan ProvinceA mother and daughter in Qitaihe City, Heilongjiang ProvinceA family of four generations in Mianyang City, Sichuan ProvinceA mother and two daughters in Harbin City, Heilongjiang ProvinceA family of three generations in Handan City, Hebei ProvinceA mother and daughter in Nanchang City, Jiangxi ProvinceA family of eight members in Laiyang City, Shandong ProvinceA family of three generations in Yushu City, Jilin ProvinceA family of 19 members in Changping District, BeijingA family in Liaoyuan City, Jilin ProvinceA family in Tonghua City, Jilin ProvinceA family in Taikang County, Henan Province