Minghui.org Receives More Than 16,000 Greetings Wishing Master Li Hongzhi a Happy Mid-Autumn Festival
September 18, 2019 | By Minghui correspondent Zheng Yan
(Minghui.org) In the days leading up to this year's Mid-Autumn Festival, the Minghui website received more than 16,000 greetings from Falun Dafa practitioners and their supporters, who sent in their best wishes to Master Li Hongzhi, the founder of Falun Dafa, for a happy holiday.
The Mid-Autumn Festival, also known as the Moon Festival, is one of the most celebrated holidays in Asian cultures. It is a time for families to gather and enjoy good food, including the traditional moon cakes.
The holiday falls on the fifteenth day of the eighth lunar month, September 13 this year.
Among the more than 16,000 greetings, 13,391 were published on Minghui.org over the course of three days (September 11-13). Ninty-eight percent of the published greetings (13,070) came from China and the rest (321) were sent by practitioners in other parts of the world.
This year marks the 20th anniversary of the persecution of Falun Gong by the Chinese communist regime. With strict information censorship and limited communication channels, most Falun Dafa practitioners use the Minghui website as a central hub to connect with other practitioners around the world. They also turn to this platform to send greetings to Master Li and express their heartfelt appreciation to him for introducing the practice to the public.
The Mid-Autumn Festival is one of the four major holidays for which practitioners send greetings to Master Li, in addition to the New Year, the Chinese New Year, and World Falun Dafa Day. The greetings received during the Chinese New Year this year totaled more than 23,000.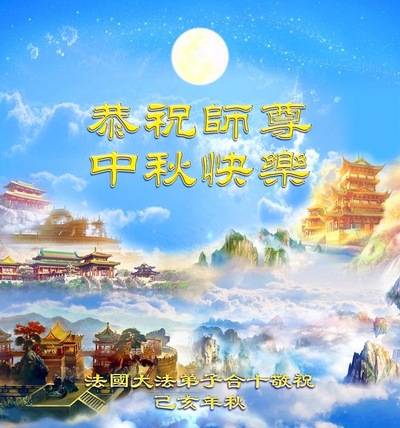 Practitioners in France contributed a poem titled "Gratitude in the Autumn,"
High in the sky the moon is clear and bright,
just like the blessings brought everywhere by Falun Dafa;
Happy and rejoicing, salvation means a better future,
people from around the globe are grateful for Master's nurturing."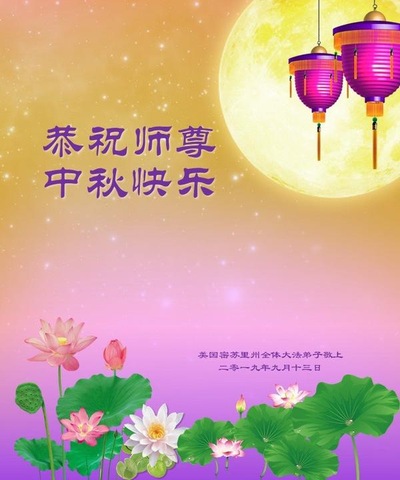 Greetings from practitioners in Missouri, United States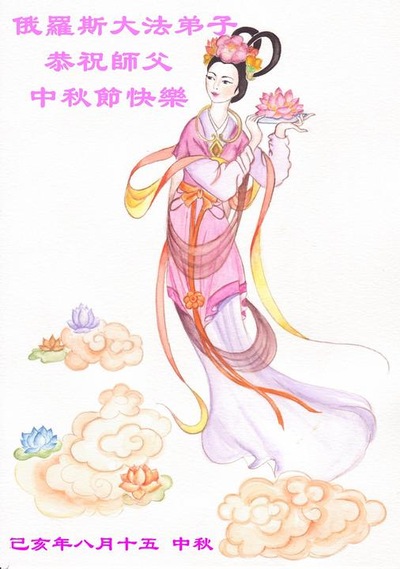 A greeting from practitioners in Russia, "We hope more people learn the real story of Falun Dafa and benefit from the practice."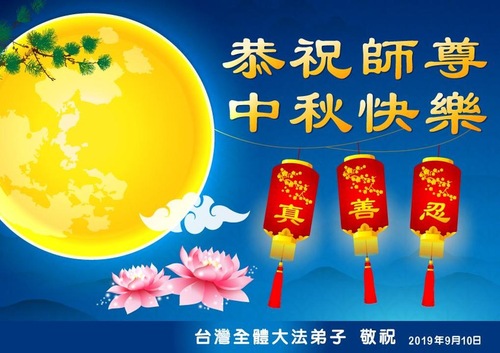 Greetings from practitioners in Taiwan
Greetings from China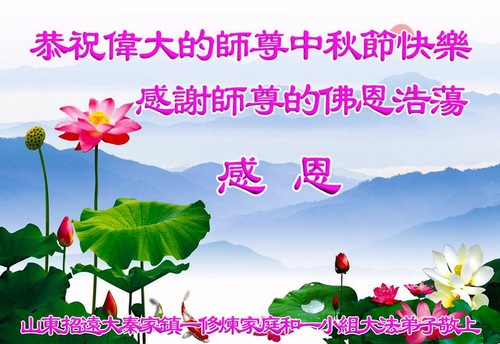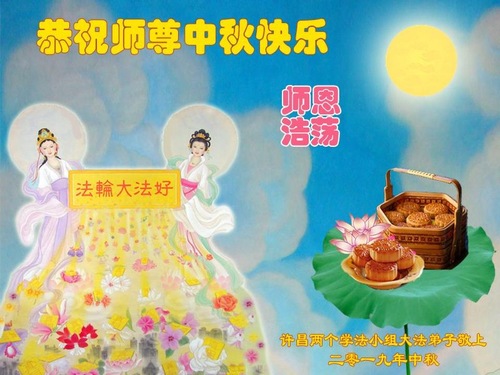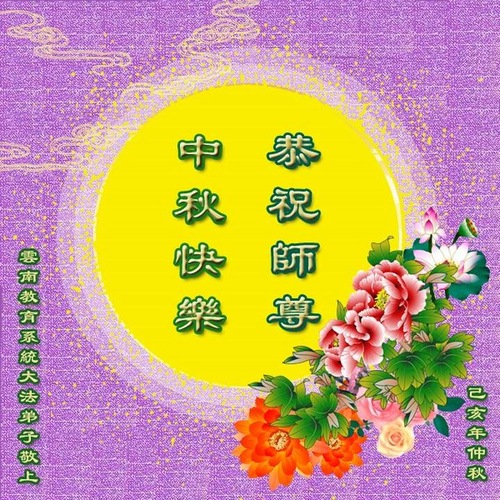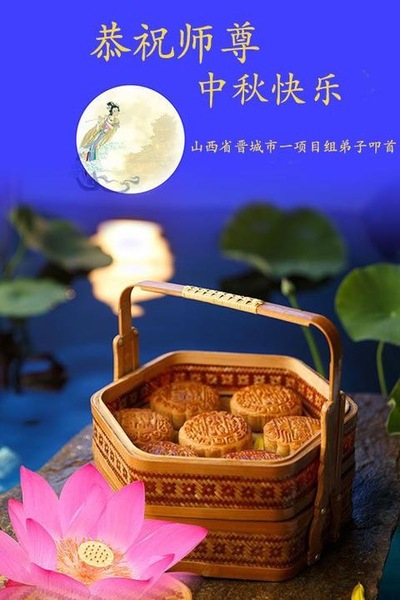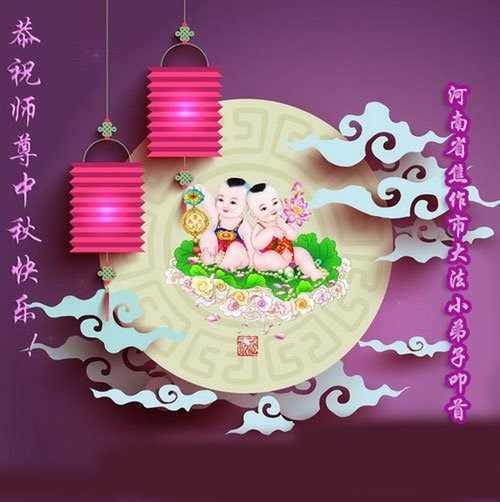 Greetings from practitioners in China
Among the greetings from China, some were sent by individual practitioners, while others were from the same families or Fa-study groups. The well-wishers hail from almost every province in China and include practitioners who are still incarcerated for their faith but managed to send in their greetings.
From young children to seniors in their 90s, and from college students to professionals in various industries, the practitioners recounted in their greetings how Falun Dafa has returned them to health and taught them to improve character by living by the principles of Truthfulness-Compassion-Forbearance.
One family of four generations from Zhoukou City, Henan Province wrote, "Dafa gives us good health and fills our family with harmony and happiness. In Dafa cultivation, we experienced the beauty of looking within and improving ourselves. Those in our family who don't practice Dafa also respect it and support us in doing the practice. Everyone in our family has benefited from it."
Another family of four generations in Zhaoyuan City, Shandong Province wrote, "The six people in our family that practice Dafa span four generations. Both my husband's severe heart condition and my mother's rheumatoid arthritis were cured after practicing Dafa. My grandmother, 92, is very healthy and can still do some household chores. My two daughters, four and two, also know that Dafa is good. We are all grateful for Master's grace!"
Greetings from Supporters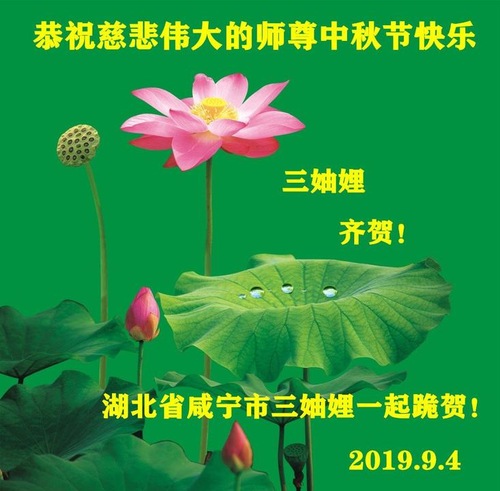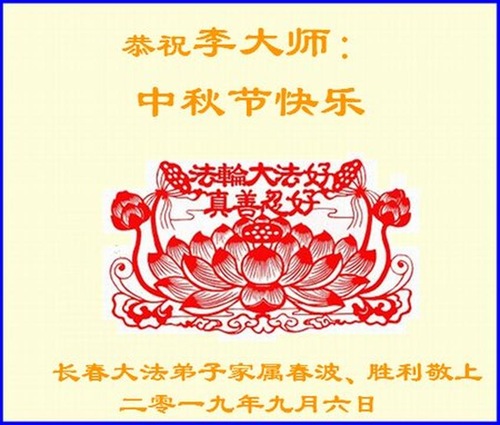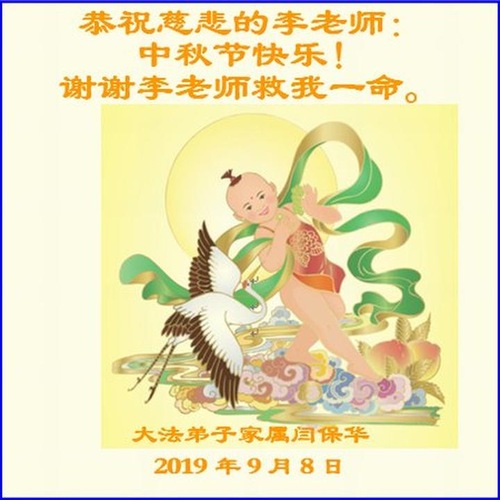 Greetings from supporters and practitioners' families
In addition to the practitioners, many Chinese citizens who don't practice Falun Dafa also sent in their greetings. They identify with the principles of Truthfulness-Compassion-Forbearance and condemn the Chinese Communist Party's persecution of the spiritual practice.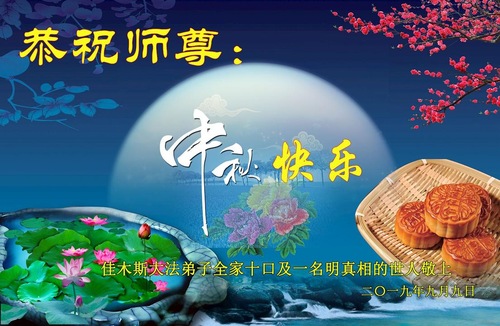 A young man from Changli County, Hebei Province wrote, "I often read the booklets produced by Falun Dafa practitioners. My entire family has quit the communist regime. I know that Falun Dafa teaches people to be good. I have a store in town, and I follow Falun Dafa's principles in my day-to-day operations and try to provide my customers with the best service. My business has been going very well. My children are also doing well at school. Thank you, Master Li, for the blessings you've brought us."
One resident of Jingzhou County, Hunan Province who is in his 70s said that at age six he witnessed how Chinese Communist Party officials hung up his parents for humiliation in public because of their wealthy background. To protect him from being physically and mentally abused, his father hid him at a remote mountain, leaving him with nothing to drink or eat. For the past several decades, his entire family has had mixed feelings of fear and hatred towards the CCP.
His fear dissolved when he met a Falun Dafa practitioner who talked to him about how the CCP had harmed Chinese people in previous political campaigns, including the ongoing persecution of Falun Dafa practitioners. "I was both surprised and happy. By reading the Falun Dafa materials I have received, I gradually learned how practitioners have been mistreated for their belief," he wrote.
This man deeply believes that the righteous will prevail. "Having lived for over 70 years and experienced the calamities caused by the CCP, I know that our world needs the principles of Truthfulness, Compassion, and Forbearance. I also hope more people will say no to the Party so that they too will be blessed for a better future. Thank you so much Master Li!" he added.