Japan: While Visiting Temples for the New Year, People Sign Petition Condemning the Persecution of Falun Gong
January 10, 2020 | By a Falun Gong practitioner in Japan
(Minghui.org) Many Japanese people visit shrines to welcome the New Year. Falun Gong practitioners in Tokyo held activities January 1-3, 2020 to tell people about the ancient spiritual practice and how it's being persecuted in China by the Chinese Communist Party (CCP).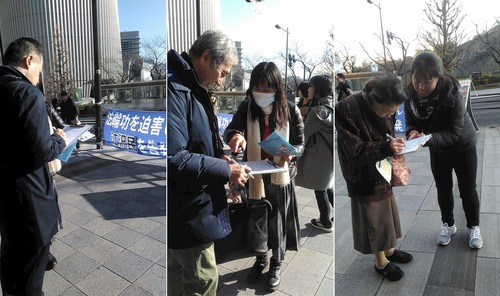 Japanese people sign a petition to support lawsuits against a former CCP head.
Practitioners distributed flyers and collected signatures on a petition which supports lawsuits against the former CCP head responsible for the persecution. Many people signed the petition and received flyers about an upcoming screening of a documentary exposing the CCP's crime of harvesting organs from living practitioners.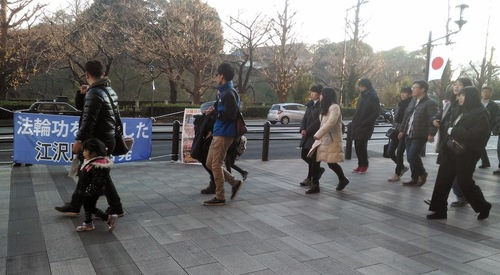 Practitioners hung a large banner near a subway station during activities held in Tokyo, January 1-3, 2020.
Along the road to the shrine practitioners set up a display board about Falun Gong and hung up a large banner about bringing a former CCP head to justice. They collected 1,130 signatures within 3 days. Many people encouraged practitioners to keep up their great effort. Some stopped to chat with practitioners and left their contact information.
One man said, "The former Soviet Union collapsed overnight. Today's China is just like the former Soviet Union. The Chinese Communist Party's organ-harvesting crimes are worse than the Nazi's!"
After a woman signed the petition she exclaimed, "I support you!"
Another woman asked a practitioner, "I hope to see the Chinese Communist Party collapse soon! What can I do to help you?"
As more and more evidence has surfaced, an increasing number of people know about the CCP's crime of organ-harvesting. Three books on this topic have been published in the Japanese language. The evidence has been presented at several media conferences. Many people have also found the information on the Internet.