Minghui Report: Nearly 10,000 Falun Gong Practitioners Arrested and Harassed in 2019
January 13, 2020 | By a Minghui correspondent in China
(Minghui.org) The Chinese communist regime's persecution of Falun Gong remained unabated in 2019, with 6,109 Falun Gong practitioners arrested and 3,582 harassed for their faith. At the time of writing, it is known that 3,400 practitioners remain in custody.
Falun Gong, also known as Falun Dafa, is an ancient spiritual practice based on the principles of Truthfulness-Compassion-Forbearance. Since former Chinese dictator Jiang Zemin ordered a nationwide campaign against the practice on July 20, 1999, many practitioners have been arrested, imprisoned, tortured, and even killed for their organs.
The year 2019 had several anniversaries deemed sensitive by the regime: April 25 marked the 20th anniversary of the peaceful appeal of 10,000 practitioners outside of the National Appeals Office in Beijing seeking the release of several dozen practitioners unjustly arrested days before; July 20 marked the 20th anniversary of the onset of the persecution of Falun Gong; October 1 marked the 70th anniversary of the Chinese Communist regime's founding.
The arrests and harassment of Falun Gong practitioners spiked around these three anniversaries, as the authorities attempted to prevent the practitioners from engaging in public demonstrations or launching other grassroots efforts to raise awareness about the persecution.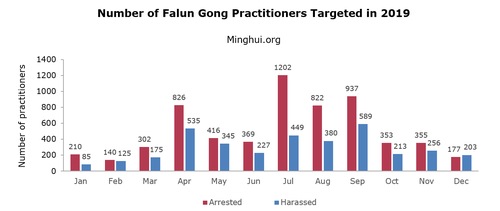 The month of July reported the most arrests (1,202), followed by September (937) and April (826). These three months were also the top three months in terms of the total number of practitioners being harassed, with July registering 1,651 cases, September 1,526, and April 1,361. The month of August also saw high numbers of practitioners targeted, with 822 arrests and 380 harassment cases.
Many of these practitioners were arrested in groups, usually of two or three dozen. In most cases, the police monitored the practitioners' cellphones and their daily activities for months before executing the arrests.
In Guang'an City, Sichuan Province, over 20 practitioners were arrested on April 23, 2019. More than 300 police officers were mobilized to arrest 18 practitioners in Zunhua City, Hebei Province, around 3:00 a.m. on July 6, 2019. In Wuhan City, Hubei Province, 40 practitioners, including an 89-year-old woman, were arrested on September 23, 2019, before the National Day on October 1 and the 7th Military World Games between October 18-27 in Wuhan.
The arrests and harassment of practitioners took place in 29 provinces and centrally-controlled municipalities. Shandong, Hebei, and Sichuan were the top three provinces with over 1,000 practitioners arrested and harassed. Eighteen provinces, such as Jilin and Liaoning, reported triple-digit cases of arrest and harassment.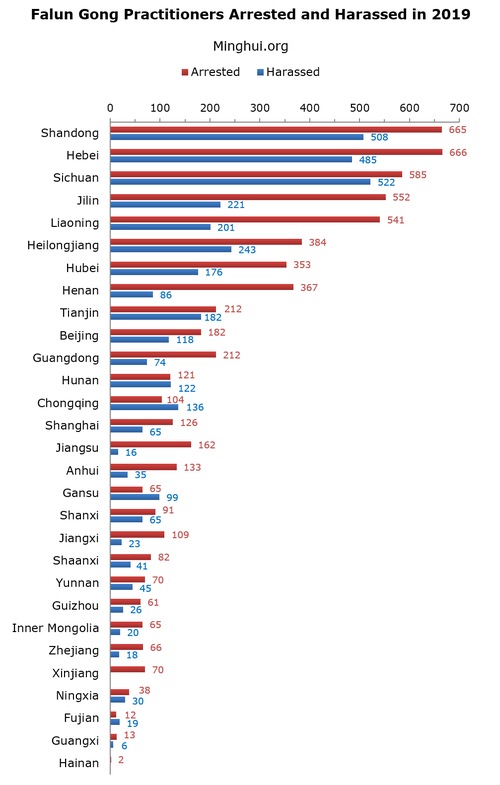 The targeted practitioners come from all walks of life, including teachers, engineers, lawyers, reporters and dancers.
Of note, 9.7% (593) of the practitioners arrested and 5.9% (213) of the practitioners harassed are 65 or older, while 112 arrested practitioners and 92 harassed practitioners are 80 or older.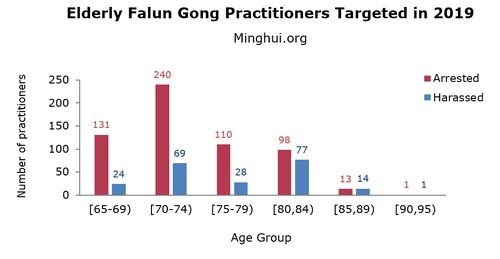 Other vulnerable groups were also targeted. Ms. Sun Yaping was arrested on October 23, 2019, when she was seven months pregnant. A group of officers traveled more than 800 miles from Lishui City, Zhejiang Province to arrest her in Botou City, Hebei Province. They took Ms. Sun to Zhejiang despite strong objections from her family. She was held in custody briefly and experienced considerable discomfort.
Several practitioners were targeted for reading Falun Gong books together, some were arrested for telling others how Falun Gong renewed their lives and how the Chinese regime has been persecuting the practice, and others were taken into custody for urging local officials to quit the Chinese Communist Party.
Ms. Wang Shuqing, of Fengcheng City, Liaoning Province, was detained for five days for publicly expressing regret for having renounced Falun Gong against her will while she was in detention.
Mr. Qian Gentai and his wife Ms. Zhang Xingji, two ethnic Koreans living in Changchun City, Jilin Province, were arrested in late August 2019. They were facing trial for receiving money from their daughter, who currently resides in South Korea after fleeing China in 2015 to avoid being persecuted for her faith in Falun Gong. The authorities accused the couple of receiving funding from "foreign forces" to produce informational materials about Falun Gong.
Many families had several members arrested at the same time in 2019. In particular, ten members of a family in Bozhou City, Anhui Province, including a mother, her five daughters, three sons-in-law and a 12-year-old grandson, were arrested on April 17, 2019 by more than 100 officers. Four of the sisters stood trial on December 5, 2019 and are now awaiting verdicts.
In addition to the adverse effect on practitioners themselves, family members of practitioners are devastated by the persecution as well. The family of Ms. Liu Xifang in Jinan City, Shandong Province, struggled to feed her one-year-old son after she was arrested on June 14, 2019. The child was still nursing. An arresting officer taunted Ms. Liu, "The Chinese Communist Party is going to wean your son now!"
In the case of Ms. Liu Rulan, a Jiaozhou City, Shandong Province resident, her adult son, who has an intellectual disability, struggles to care for himself alone at home after her arrest on October 15, 2019.
Several practitioners' family members were beaten or given the run-around while seeking justice for their loved ones.
Despite the lack of valid evidence or legal basis for the persecution, some of the practitioners are held in detention, often incommunicado, for extended periods of time, and are eventually sentenced to prison for their faith.
Many of the practitioners have been repeatedly arrested and detained over the past 20 years because of their faith. Some were brutalized by the police during or after their arrests, with a few passing away hours or days after their arrests (see detailed report on confirmed death of Falun Gong practitioners in 2019).
In addition to the physical abuse and arbitrary detention, some of the practitioners were also extorted financially or had their basic living rights deprived.
Among the targeted practitioners in 2019, 3,124 had their homes ransacked and 280 were extorted by the police for a total of 3,605,059 yuan, averaging 12,875 yuan per person. Three practitioners were extorted out of 300,000 yuan each, and four were extorted for between 100,000-180,000 yuan each.
Ms. Yuan Chunxiao, a college freshman in Nanjing City, Jiangsu Province was expelled for doing the Falun Gong exercises in her dorm.
Ms. Li Donghua, a 60-year-old resident of Beijing, had her rental housing forcibly terminated by the authorities following her arrest on April 20, 2019. Mr. Gong Xiaohong, a Chongren County, Jiangxi Province, had his home demolished during his seven-day detention between September 4-11, 2019.
Several elderly practitioners have their pensions suspended in 2019 after being released from prison for practicing Falun Gong, as the authorities ordered them to pay back the payments they had received during their imprisonment.
Most of the persecution directives were given by the 610 Office and Political and Legal Affairs Committee, two agencies tasked with executing the policies to eradicate Falun Gong from China.
The 610 Office, an extra-legal security force launched on June 10, 1999, has been playing a critical role in the persecution through its central and local offices. Despite that its central office was disbanded in 2018, its local branches remain active.
As the persecution enters its 21st year, Minghui.org is also collecting information on the perpetrators, in preparation for bringing them to justice in the future.
Below are snapshots of some of the cases of arrest and harassment. With the ever-increasing mass surveillance and information censorship by the Chinese communist regime, the number of Falun Gong practitioners who are arrested and harassed cannot always be reported in a timely manner, nor is all the information readily available.
Group Arrests
Group arrests of Falun Gong practitioners were reported throughout 2019, especially around the above-mentioned sensitive dates, including April 25, May 13 (World Falun Dafa Day), July 20 and October 1.
In January 2019, shortly before the Chinese New Year, 13 practitioners from Cangzhou City, Hebei Province were arrested and another dozen were harassed.
Group arrests of 14 in Jiangxi Province,15 in Anhui, more than 20 practitioners in both Sichuan and Zhejiang, as well as 47 practitioners in Jiangsu Province took place in April.
On May 12, eight elderly practitioners in Zhuhai City, Guangdong Province were arrested while studying Falun Gong books together. The police recorded detailed information about each practitioner, including their children's employment information and phone numbers, before taking them home and ransacking their places.
Five days later, eight practitioners in Yingtan City, Jiangxi Province were arrested.
More than 20 practitioners in Guiyang City, Guizhou Province were arrested on June 13, 2019, while trying to attend the hearing of another fellow practitioner. The police brought the practitioners to the police station and took their photos, fingerprints, and blood samples. They also videotaped each person's front, left and right sides, as well as their feet.
With China's ever-advancing mass surveillance tools, including facial and gait recognition, the Guiyang practitioners suspect that the authorities used the hearing as bait to arrest them and collect their information for further surveillance.
In July, group arrests were reported as early as July 3, with nine practitioners in Tangshan City, Hebei Province arrested that morning. Three days later, another 18 practitioners and 3 of their family members were arrested on July 6 by more than 300 police officers.
In Sichuan Province, 64 practitioners in seven cities were arrested between July 5 and 18, 2019.
At least 24 Falun Gong practitioners in Jilin City, Jilin Province, and two spouses who don't practice Falun Gong were arrested on July 19, 2019.
More than 20 residents of Chongqing, including an 82-year-old woman, were arrested on July 23, 2019.
Fifteen residents of Jiamusi City, Heilongjiang Province, including an 86-year-old man, were arrested within the three days of July 25-27, 2019.
The group arrests continued in August, including 5 practitioners in Chongqing on August 8, nearly 30 practitioners in Siping City, Jilin Province on August 15, and 32 practitioners in Nanyang City, Henan Province, on August 30 and 31, 2019.
The persecution intensified in September, sometimes with several group arrests taking place on the same day.
On September 10, 2019, at least three group arrests were reported, including 4 practitioners in Luzhou City, Sichuan Province, and 13 practitioners in both Songyuan and Shulan City, Jilin Province.
On September 23, 2019, 8 practitioners and 2 family members in Shenyang City, Liaoning Province, and 40 practitioners in Wuhan City, Hubei Province were arrested.
Physical Abuse and Harassment
Police brutality during the arrests and detention was prevalent in 2019. Several practitioners were assaulted and injured as they resisted arrest, while some were abused after they were taken into custody – yet there were denied medical attention and family visits.
74-Year-Old Woman's Right Arm Fractured During Arrest
Ms. Wang Guizhen, 74, is a resident of Chenzhou City, Hunan Province. She was waiting to board a train at the Chenzhou Highspeed Train Station on the morning of July 2, 2019, when over 20 police officers showed up in the waiting area.
While being roughly pushed into a police cruiser, Wang suddenly felt an unbearably sharp pain in her right arm. Her wrist and arm soon became swollen.
She was taken to the Chenjiang Police Station for interrogation. Three policewomen ordered her to strip naked for a security check. She reproached them for making such a request to humiliate her and refused to comply. When the police tried to handcuff her to a chair, she told them that she was not a criminal and should not be treated like one.
After hours of interrogation, Ms. Wang was released around 9:00 p.m.
Ms. Wang's right hand and arm were so painful that she went to the police station the next day and demanded that they take responsibility. The police took her to the hospital and an X-ray confirmed that her arm was broken.
Police Beat Falun Gong Practitioner and Threaten to Bury Her Alive
Ms. Zhou Minglan, a 57-year-old resident of Jiaozhou City, Shandong Province, was arrested on March 10, 2019, after being reported for distributing materials about Falun Gong.
An officer slapped her in the face while on the way to the local police station when she urged them not to participate in the persecution.
At the police station, officers attempted to force Ms. Zhou to sign her name on a prepared interrogation record. When Ms. Zhou refused to comply, they wrapped her inside a window curtain and one of the officers slammed her head against the wall several times. This caused pain that persisted for more than four days. The police kept telling her, "If you still don't cooperate with us, we will just bury you alive."
The police took Ms. Zhou to a room without surveillance cameras in the evening and ordered her to kneel down. She refused and was shoved to the ground. Her left knee was severely injured.
When Ms. Zhou told the police that Falun Gong is legal in China, and it teaches people to be good, an officer slapped her in the face with his shoe. He and several others then forced her to put her fingerprints on the interrogation record they had prepared.
The police didn't provide Ms. Zhou with food or drink from the time of her arrest at 9:00 a.m. on March 10, to the time she was taken to the Qingdao City No. 2 Detention Center on the evening of March 11. She was given only some water when she became unable to talk from excessive thirst while undergoing a physical examination prior to being admitted to the detention center.
Hebei Woman Barely Conscious after Ten Days of Detention at a Brainwashing Center
Ms. Jiang Qiuying, a resident of Wuhan City, Hubei Province, was talking to people about the persecution of Falun Gong in a residential area on October 21, 2019, when she was discovered by a plainclothes officer. The officer didn't arrest her right away but followed her back home.
A group of officers waited until dark, then arrested Ms. Jiang that night. They ransacked her home and confiscated her Falun Gong books and other related materials.
The police initially put Mr. Jiang on a 15-day detention. When her husband went to the local detention center to pick her up at the end of the period, she had already been transferred to the Yangyuan Brainwashing Center.
Ms. Jiang's husband went to the brainwashing center every day to demand her release, despite his own high blood pressure and physical disability.
By the tenth day at the brainwashing center, Ms. Jiang had become very weak and was barely conscious. A staff member told her husband that she hadn't taken any food or drink since entering the brainwashing center.
Mr. Jiang's husband called an ambulance to take her to the hospital right away, despite strong opposition from the brainwashing center staff.
Yangyuan Brainwashing Center is notorious for its persecution of Falun Gong practitioners. Most practitioners who were held there reported that they were forced to ingest toxic drugs, deprived of sleep, and tortured, as the authorities attempted to force them to renounce their faith.
Many of these practitioners suffered depression and had difficulty overcoming the mental trauma after being released.
Two Hebei Women Tortured in Detention
Ms. Li Dongmei and Ms. Geng Shulan, from Shijiazhuang City, Hebei Province, were arrested on July 18, 2019, for talking to people about Falun Gong.
They were transferred to the Shijiazhuang No. 2 Detention Center on July 20, 2019, and suffered severe torture there.
The guards put handcuffs and shackles on Ms. Geng and chained them together. She was unable to stand straight and had to crawl on the floor in order to move about. She couldn't take showers or change her clothes. She also needed help using the restroom. The heavy shackles severely injured her ankles and wrists.
In order to force her to give up her belief, the guards ordered inmates to beat Ms. Geng. She was kicked and beaten so badly that her ribs ached for days. She was force-fed after holding a hunger strike in protest.
Ms. Li refused to answer "roll call" in protest of her unjust detention. The guards ordered inmates to beat her every day for over a week. After she protested the abuse, they forced her to wear handcuffs, locked her in solitary confinement, and deprived her of outdoor activity. She was also not allowed to take a shower or purchase necessities from the detention center store.
Ms. Li's blood pressure had reached 200 mmHg by the end of August. She had chest pain and one side of her body became numb and stiff. She lived in constant fear and suffered a low-grade fever.
When her attorney visited her, Ms. Li was so tense that she shook uncontrollably. She only managed to talk for ten minutes and then had to be carried back to her cell. The detention center refused to take her for a medical examination.
Beijing Man Drugged While Detained for His Faith
While being detained for his faith in Falun Gong, Mr. Guo Shunqiang was force-fed food that had been laced with unknown drugs. He experienced heart palpitations and excessive sweating as a result.
Mr. Guo, a Beijing resident, was arrested at home on March 2, 2019. The police pried open his door without a search warrant and confiscated his Falun Gong books and related materials.
When asked for their police IDs and where they were from, the officers refused to answer. They also refused to provide a list of the confiscated items. Mr. Guo videotaped the police during the home raid, but the police later forced his wife to delete the video. He was sent to the Xicheng District Detention Center after passing the physical examination.
On March 23, Mr. Guo found out that the detention center staff had been putting unknown drugs into his food for a week. When he questioned a guard as to why they were drugging him, the guard remained silent.
Mr. Guo started a hunger strike in early August to protest the arbitrary detention. Several guards force-fed him on August 11. One officer held his right arm so tightly that he experienced sharp pain and soreness and was unable to lift his arm for more than a week.
The officers drugged Mr. Guo during another forced-feeding on September 7. He experienced a heart condition and excessive sweating afterward and was sent to a hospital for medical care two days later.
The Xicheng District Procuratorate indicted Mr. Guo on September 25. The police provided three interrogation records to the prosecutor, but Mr. Guo said he was only present at one of them, and the other two were fabricated by the police.
Mr. Guo was released on bail on October 26, 2019.
Shandong Woman Arrested, Son Beaten When Requesting Her Release
Ms. Zhan Zhongxiang, a resident of Pingdu City, Shandong Province, was arrested with several other Falun Gong practitioners on September 24, 2019. Her son and daughter-in-law went to the Renzhao Police Station on September 25 to inquire about her case.
While waiting outside of the police station, Ms. Zhan's son saw a police van driving away with his mother and two other practitioners inside.
He ran to the van and tried to stop it. A group of officers rushed him. One officer held him by the neck and dragged him back, while another hit him on the head, specifically targeting his eyes, nose, and neck.
When other family members tried to intervene, they were beaten as well.
As a result of the beating, Ms. Zhan's son sustained injuries to his eyes, nose, arm, and ribs. He had difficulty moving and suffered reduced eyesight in his right eye.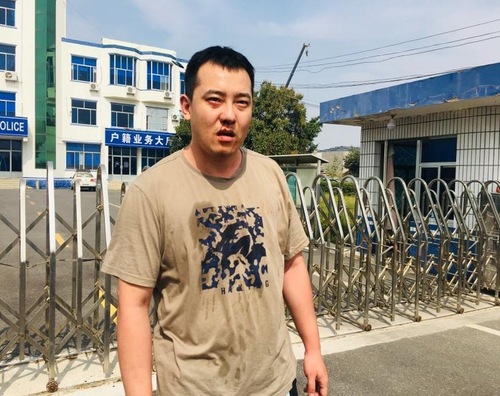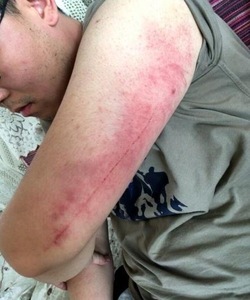 Mr. Zhan's son after being beaten by the police
Elderly Woman Suffers Declining Health After Being Fitted with Wrist Monitor and Subjected to Frequent Harassment
Ms. Tang Xiuwen, 76, a retired TV factory worker in Changsha City, Hunan Province, was arrested in May 2017 after being reported for handing out informational materials about Falun Gong. She was given a one-year term by the Yuelu District Court in June 2018 and ordered to serve the time outside of prison.
The local police and residential committee staff members showed up at Ms. Tang's home in April 2019 and forced her to wear a wrist monitor that constantly tracks her location and records her daily life in both audio and video. The monitor was kept on even after the term ended in June 2019.
The residential committee staff has also since been interrogating Ms. Tang at home every one or two weeks, making records of her daily activities and taking her fingerprints and photos.
The surveillance and harassment have taken a toll on her health. Ms. Tang experienced rapid weight loss, dizziness, coughing, and high blood pressure, as well as difficulty falling asleep at night.
Other than Ms. Tang, another elderly man in Beijing, Mr. Hou Junwen, died on January 29, 2019, weeks after he was fitted with an electronic monitoring device and harassed by the authorities.
Family Members Affected
Father Jailed and Mother Detained, 11-Year-Old Girl Cries for Help
An 11-year-old girl in Huidong County, Guangdong Province, was dealt another blow when her mother Ms. Lin Liqiong was arrested on June 25, 2019, for practicing Falun Gong. Her father Mr. Zeng Liuming is still serving a three-year term in prison, also for his faith in Falun Gong.
Below is the little girl's personal account.
"When I got home from school at 4:40 p.m. on June 25, 2019, I locked the door behind me and saw a note on the table from my mother. It said, 'I'm grocery shopping with your aunt and will be back soon.' I started to do my homework.
"A little while later, more than 20 people suddenly threw open the door and burst in. They said they were police officers but didn't have uniforms on. They asked me my name and the phone numbers of my family. They seemed to know where I went to school, what class I was in, and even the name of my homeroom teacher. Since I was home alone, I gave them my older sister's phone number.
"By then, I'd figured out why they were there and started to cry because I was really scared. Seeing that I was crying, one of the officers said they were firemen and were there to check safety. I did not believe it and, with tears in my eyes, asked, 'Do you check every house in China for fire safety?'
"'It's none of your business, kid!' another one replied.
"'The door was locked. How did you get in?' I asked.
"'I don't need to tell you that,' said an officer. He didn't dare say they'd broken in.
"About 10 minutes later, my sister showed up and many neighbors were gathered outside to see what was going on.
"When my sister asked what was happening, I said, 'It's the police.'
"Just then, the officers came out of my mother's room carrying Falun Gong books, materials, the printer, and computers. My sister was angry to see that they'd messed up the apartment and asked, 'Aren't you afraid of what will happen to you for doing such bad things?'
"'If you dare to say another word, we'll arrest you, too!' threatened an officer.
"As the police were leaving an hour later, a neighbor asked them, 'What did the family do?'
"'It's a homicide case," one officer said. He didn't dare say it was because my mother practiced Falun Gong.
"With no parent at home, my sister took me to the home of my maternal grandmother Luo Yueying, who also practices Falun Gong. My grandfather said that she too had been taken away by the police for questions related to Falun Gong. 'Why? How can they treat innocent people like this?' sighed my sister.
"Not long after that, my grandmother returned home with the groceries my mother had bought. She said my mother and aunt had been detained. Hearing the bad news, my mind went blank.
"My grandmother recounted what had happened earlier in the day: Over 20 uniformed officers showed up a little after 5:00 p.m. and confiscated all her Falun Gong books and materials. She said my other aunt, Yang Fenglan, was also arrested. My aunt Fenglan was released on July 10.
"My mother and my aunt Chen Shitian are being held in Huidong Detention Center. I am writing this to beg for help."
87-Year-Old Woman Suffers a Stroke After Being Harassed, Husband in Distress
Ms. Ma Jinglan, 87, and her husband, both residents of Qixia City, Shandong Province, went to a farmers' market one morning in early September 2019. They were arrested after the police found a copy of Falun Gong-related information on their tricycle. The police interrogated them and took their photos. "If you continue to practice Falun Gong, we will arrest your daughter," an officer said to them.
Terrified by the police, Ms. Ma began to experience dizziness upon returning home. She suffered a stroke three days later and was sent to the hospital.
Her situation also left her husband in distress. He now has trouble sleeping and is exhausted.
Husband Arrested One Day Before Wife's Prison Release for Their Faith
Mr. Chuai Zhiang, a Qianxi County, Hebei Province resident, was arrested one day before his wife Ms. Chai Junxia, was released from a four-year term, also for her faith in Falun Gong.
The prison authorities only allowed Mr. Chuai and his son to visit her two or three times during her four-year prison term.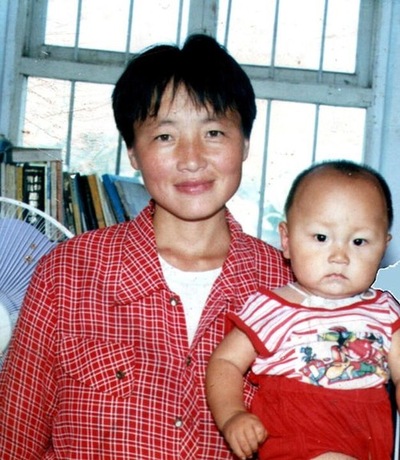 Ms. Chuai Junxia and her son
Mr. Chuai was home alone on December 12, 2019, when a group of officers broke in. The officers videotaped Mr. Chuai working on his laptop before attempting to take away the computer. When he resisted, the police accused him of "interfering with law enforcement." They arrested him and confiscated his Falun Gong books.
Mr. Chuai was sent to the Qianxi County Detention Center and given 14 days of detention. No family member has been allowed to visit him at the time of writing.
Chinese-Japanese Woman Suddenly Widowed While Held in China for Her Faith in Falun Gong
Ms. Tian Xiaohong, a Falun Gong practitioner living in Japan, returned to China for a family visit in February 2019. She was arrested on April 1 and is now facing trial. Her husband, a Japanese citizen, passed away while she was being held in China. She wasn't allowed to go back to Japan to take care of the funeral and related legal matters.
Ms. Tian, 49, is a native of Longshan County, Hunan Province. She had a successful hair salon while in China. She moved to Mie Prefecture of Japan more than ten years ago after marrying a Japanese citizen.
Before her trip back to China in February this year, Ms. Tian mailed a box of Falun Gong materials to her hometown, hoping to distribute them to local villagers when she got there. The shipment was intercepted by the Longshan County police, who began to monitor her after she returned to her hometown to prepare for and attend her daughter's wedding. Officers from the Tongche Police Station arrested Ms. Tian on April 1. The last communication she had with Japanese practitioners was on the evening of April 1.
Mother of UK Resident Arrested for Practicing Falun Gong
Ms. Han Fei, 49 and a Beijing resident, was arrested on December 4, 2019, for her faith in Falun Gong. Her daughter, Ms. Li Hui, a UK resident, is calling on the international community to help rescue her mother and she is also demanding that the police release her mother immediately.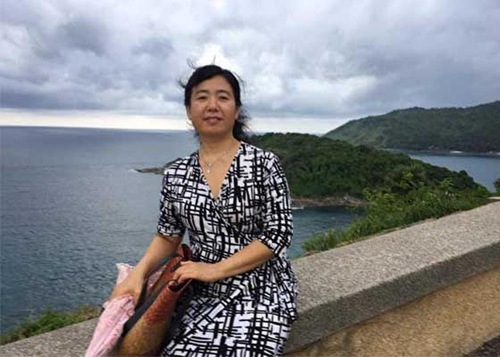 Ms. Han Fei
Ms. Li said she called her mother on December 4, 2019, but no one responded. When Ms. Li contacted her father around 6:00 a.m. on December 5, her father told her that Ms. Han had been arrested before he returned home from work on December 4.
Their home was a mess after the police raid. Ms. Han's Falun Gong books, informational materials, computer, and printer were missing. Ms. Han's husband learned from a neighbor that about ten police officers arrived in two cars around 5:00 p.m. on December 4 and arrested his wife. She was taken away in handcuffs.
Ms. Han's husband wasn't allowed to visit her and was told that only a lawyer could visit her. He talked to several law firms on December 10, but they all said they didn't dare to take Falun Gong cases.
Her husband learned from insiders that the living conditions in the detention center were extremely poor, with 47-49 people crammed into a small room measuring 50 square meters. Only a few people had the luxury to lie down and sleep, while most inmates had to stand or sit up at night.
Repeated Persecution
Once Imprisoned for Ten Years, Beijing Man Arrested for His Faith Again
After enduring a decade of abuse in prison, Mr. Shi Shaoping, 48, was arrested again on November 18, 2019, for his faith in Falun Gong.
Mr. Shi, who holds a master's degree from the Photochemical Institute in the Chinese Academy of Sciences, was taken away by the police from his home in Beijing. It's not clear where he is currently detained.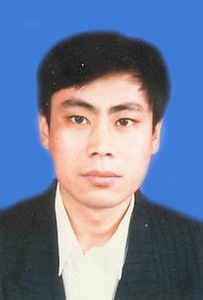 Mr. Shi Shaoping
Because he practices Falun Gong, Mr. Shi was arrested in 2001 and sentenced to ten years in prison.
The guards at Qianjin Prison in Beijing selected violent prisoners to monitor and torture Mr. Shi, in order to force him to give up Falun Gong.
The inmates often beat and verbally abused him. They also restricted his restroom use for an entire month, during which time he wasn't able to have any bowel movements.
They also tormented him by opening the window during the winter to expose him to the freezing wind.
The inmates often deprived Mr. Shi of sleep and forced him to sit on a small stool without moving for nearly 20 hours each day, for years.
The muscles in his legs atrophied as a result of the long-term forced sitting. The lack of sleep and enormous mental pressure also took a toll on Mr. Shi's health.
After 9.5 Years in Prison, 79-Year-Old Woman Arrested Twice in Six Months for Her Faith
Ms. Zhao Yulan, a 79-year-old resident of Fushun City, Liaoning Province, was arrested on April 18, 2019. Although she was released shortly afterward due to her physical condition, she was arrested again on October 26, 2019.
Prior to her latest arrest, Ms. Zhao served two prison sentences, for a total of 9.5 years, for her faith.
During the time she was imprisoned, her son suffered severe depression and developed kidney problems. He died in June 2016 at the age of 47, three months before Ms. Zhao was released.
A year later, in November 2017, Ms. Zhao's former employer, the Fushun Mining Group, suspended her pension and demanded that she return all retirement benefits she had received during her second 4.5-year prison term. They said that this was required before her pension could be re-instated.
Once Incarcerated for 15 Years, Yunnan Woman Arrested Again for Her Faith
Seven months after Ms. He Lianchun finished serving a ten-year term for her faith in Falun Gong, she was arrested again and is now facing further prosecution.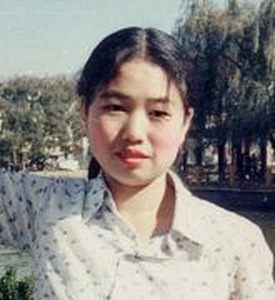 Ms. He Lianchun in an undated photo
Ms. He, a resident of Mengzi County, Yunnan Province, moved to Kunming City, the capital city of the province, after she was released from prison on February 2, 2019. She found a job there.
She was arrested on September 25, 2019 while visiting Ms. Wang Huizhen, who had been arrested the day before for reading Falun Gong books with several others. (Ms. Wang was later released due to a medical condition. An officer stayed at Ms. Wang's home to monitor her.)
The police later sent Ms. He back to Mengzi County and held her at the Honghezhou Detention Center.
The police also ransacked her father's home in Shiping County on September 27 and confiscated some of his personal belongings.
Ms. He's family was notified on November 2, 2019, that her arrest has been approved.
Prior to her latest arrest, Ms. He was sentenced to seven years in prison in October 2001 for talking to people about Falun Gong. She was released 1.5 years ahead of time.
She was arrested again in June 2009 and given ten years. The local 610 Office forced her husband to divorce her and marry another woman.
Ms. He was subjected to many types of torture while in custody, including being forced to sit on a small stool for extended periods of time, denied restroom use, and was subjected to solitary confinement. She also endured hundreds of forced-feeding sessions that caused severe damage to her mouth, nose, teeth, and stomach. Ms. He was in critical condition twice as a result of the forced-feedings.
Related reports:
Minghui Report: 325 Falun Gong Practitioners Arrested in November 2019
Minghui Report: 274 Falun Gong Practitioners Arrested in October 2019
Minghui Report: 636 Falun Gong Practitioners Arrested in September 2019
Minghui Report: 548 Falun Gong Practitioners Arrested in August 2019
Minghui Report: 922 Falun Gong Practitioners Arrested in July 2019
Minghui Report: 2,014 Falun Gong Practitioners Arrested for Their Faith in First Half of 2019
Minghui Report: 341 Falun Gong Practitioners Arrested in May 2019
Minghui Report: 688 Falun Gong Practitioners in China Arrested in April 2019
Minghui Report: 245 Falun Gong Practitioners Arrested in March 2019
Minghui Report: 101 Falun Gong Practitioners Arrested in February 2019
Minghui Report: 181 Falun Gong Practitioners Arrested in January 2019
Minghui Report: Nearly 9,000 Falun Gong Practitioners Arrested or Harassed in 2018 for Their Faith