India: Tens of Thousands Take Interest in Falun Dafa at Annual Koregaon Bhima Event
January 15, 2020 | By Dafa practitioners in India
(Minghui.org) Every year on January 1, hundreds of thousands of people converge at Koregaon Bhima near Pune to pay tribute to Mahar soldiers who sacrificed their lives in the major 1818 battle.
For New Year's Day 2020, Falun Dafa practitioners from Pune, Nagpur and Mumbai came together to set up an information booth at Koregaon Bhima.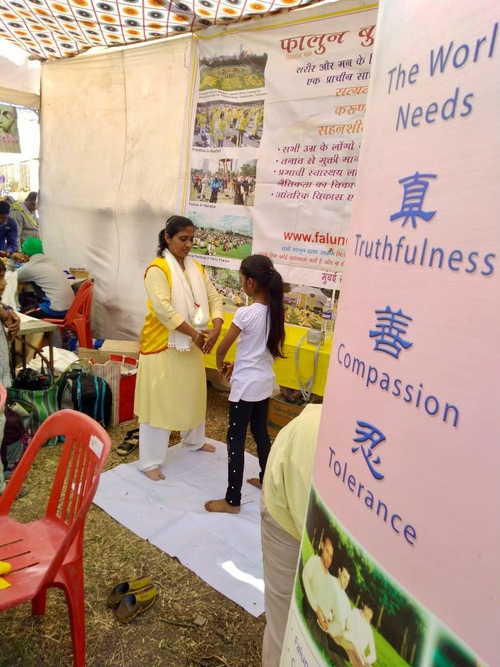 Teaching the exercises at the Falun Dafa booth at Koregaon Bhima, January 1, 2020
This year, nearly 800,000 people traveled to the area to pay tribute and mark the 202nd anniversary of the Koregaon Bhima battle.
Practitioners distributed more than 20,000 informational flyers, taught the exercises, and told people about the persecution of Falun Dafa in China–a brutal suppression that has persisted for over twenty years.
Their presence elicited a common reaction: "Why is a peaceful meditation practice that is good for the mind and body and benefitting so many millions of people all over the world not being allowed in China?" When people learned that Falun Dafa practitioners in China are even being killed for their organs, they were shocked and stunned.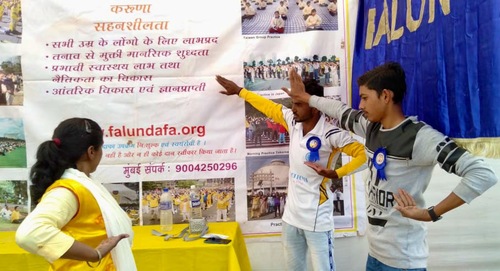 A practitioner teaches the first exercise.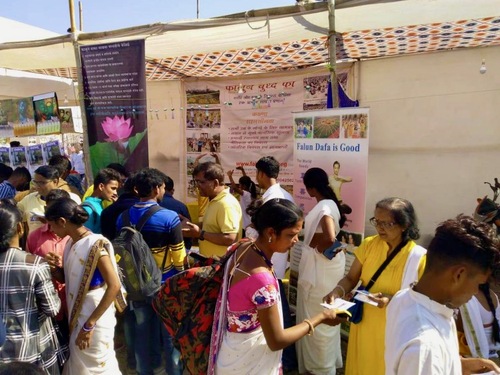 Many people stopped by the booth to learn about Falun Dafa.
Some who learned the exercises said that they experienced "very good energy." They wanted to learn more about the profound mind-body practice and signed up to be informed of upcoming Falun Dafa activities.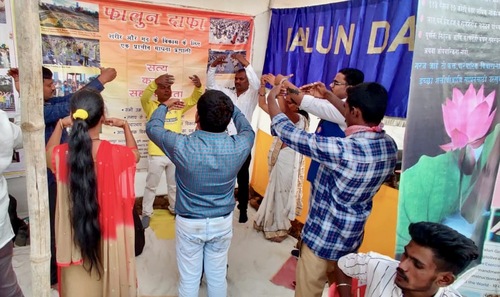 Visitors learned the Falun Dafa exercises throughout the event.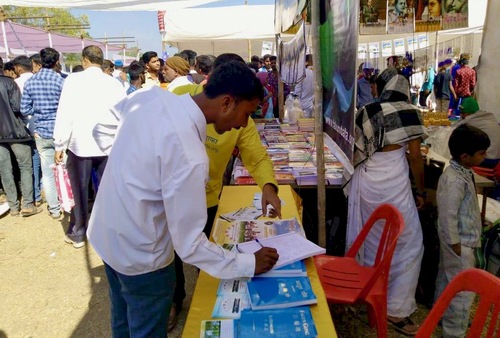 A man adds his contact information to be informed of upcoming Falun Dafa events.