Texas: Practitioners Invited to Introduce Falun Dafa to AARP Members
January 18, 2020 | By a Minghui correspondent in Houston, Texas
(Minghui.org) A representative of the American Association of Retired Persons (AARP) in Missouri City, Texas, invited practitioners to teach its members the Falun Dafa exercises. The workshop was held at the Missouri City Tennis and Recreation Center, which is in the Houston metropolitan area, on January 13, 2020.
Many of the AARP members at the workshop said they could sense strong energy while they were doing the exercises and felt very relaxed afterward. Before she did the exercises, one of the participants was unable to lift her arms due to pain. Afterward, she could rotate them.
Boddy, who is with AARP, had met the practitioners at a health expo and learned that Falun Dafa boosts one's physical and mental health. He arranged for the workshop and invited the practitioners to demonstrate the Falun Dafa exercises.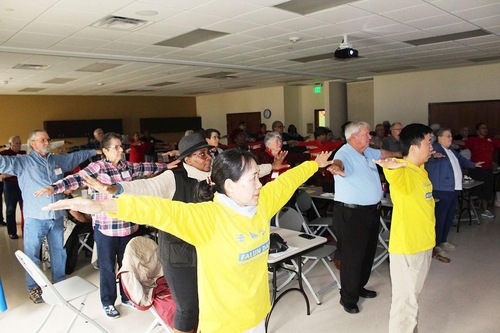 AARP members in Missouri City, Texas, learn the Falun Dafa exercises on January 13, 2020.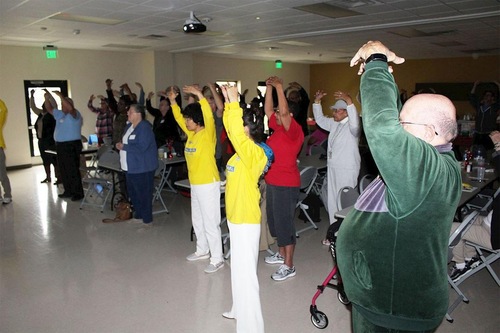 Boddy (first right) from AARP in Missouri City learns the exercises.
Mr. Song briefly introduced the ancient spiritual practice and then demonstrated the exercises. Some of the participants said they suffered from chronic pain. Many said that they sensed great energy while they were doing the exercises and asked to buy the book and exercise DVD.
Elaine agreed with Falun Dafa's principles of Truthfulness, Compassion, and Forbearance and thought that it was a good practice. She said she felt peaceful after doing the exercises and planned to tell her son about Falun Dafa.
Elise had chronic pain in her back and couldn't lift her arms. She had to take breaks while learning the exercises. Afterward, she said she'd felt a unique sensation, as if there was a healing energy that relieved the pain in her arms. As she talked about it, she was able to rotate her arms. She was determined to continue doing the exercises.
Vanessa said that learning the Falun Dafa exercises was wonderful. She said she felt filled with energy.
Mahesh from New York happened to be visiting his children in Texas. He was excited to learn the exercises and bought a book and exercise DVD.