Chinese New Year Greetings to Master Li from 55 Countries
Jan. 26, 2020 | By Minghui correspondents in Australia
(Minghui.org) Falun Dafa practitioners around the world have benefited from following Truthfulness-Compassion-Forbearance to guide their lives. To celebrate the 2020 Chinese New Year, many practitioners sent greetings to the Minghui website to wish Master Li Hongzhi, the founder of Falun Dafa, a Happy New Year.
Below are selected greetings from 55 countries, including the United States, Saudi Arabia, Canada, North Korea, South Korea, New Zealand, Finland, Austria, Scotland, Hungary, Sweden, Netherlands, Malaysia, New Zealand, the UK, Italy, Croatia, the Czech Republic, Slovakia, Germany, Thailand, the UAE, Japan, Vietnam, India, Bosnia and Herzegovina, Gabon, Australia, Switzerland, Denmark, Cyprus, Hong Kong, Turkey, Spain, Singapore, Belgium , Poland, Brazil, France, Romania, Indonesia, Taiwan, Puerto Rico, South Africa, Ukraine, Portugal, Greece, Israel, Iran, Philippines, Ireland, Macau, Norway, Latvia, and China.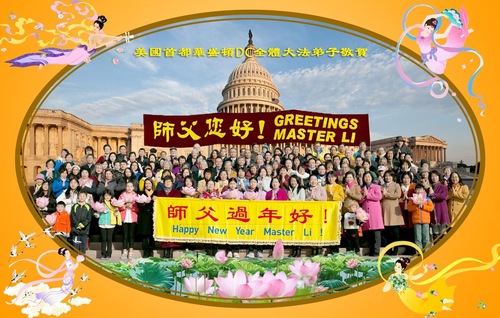 Falun Dafa practitioners in Washington DC wish Master a Happy New Year.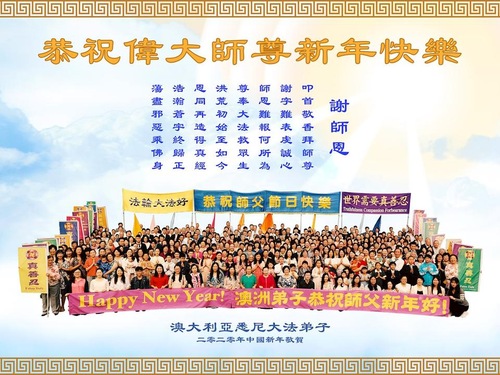 Greetings from Sydney, Australia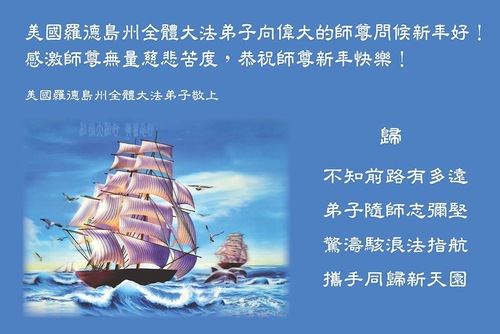 Greetings from Rhode Island, USA. We are thankful for Master's compassionate salvation. We wish Master a Happy New Year.
Return
How far the journey is we do not know,We disciples follow Master with a strong will,The Fa gives direction when we encounter tribulations,Hand in hand we return to the new cosmos together.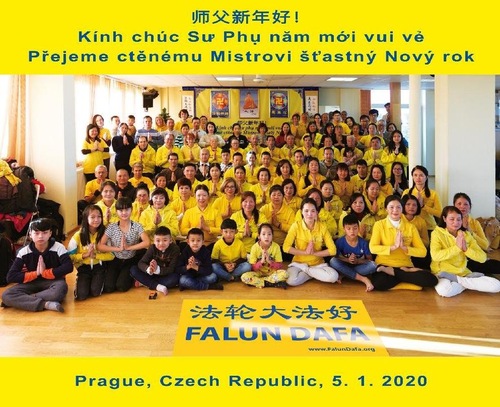 New Year greetings from the Czech Republic. "Master, Happy New Year" in Chinese, Vietnamese, and Czech.
Greetings, Master! We disciples miss you. In the new year, we will listen to Master's teaching and be diligent in cultivation. Time flies. We will study the Fa well, rid ourselves of attachments, and save sentient beings.
Greetings from Tainan, Taiwan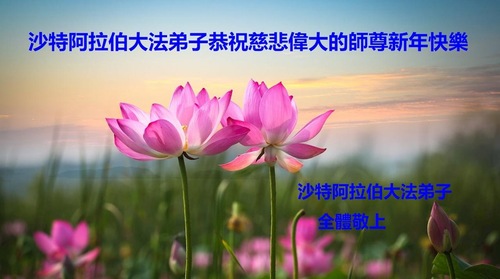 Greetings from Saudi Arabia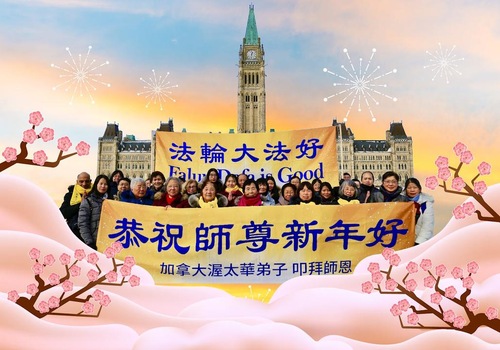 Greetings from Ottawa, Canada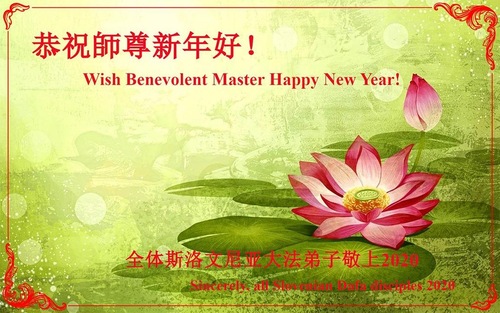 Greetings from Slovenia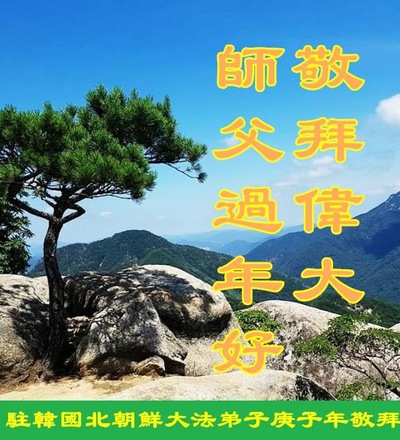 Greetings from North Korean practitioners living in South Korea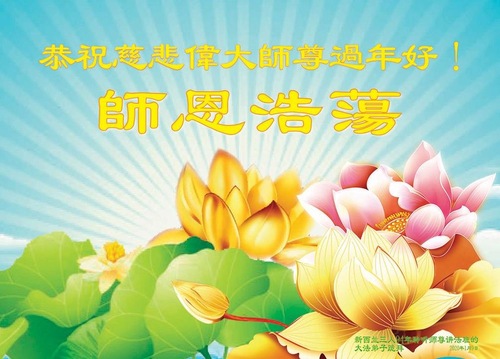 Greetings from three Dafa practitioners in New Zealand who listened to Master Li's teaching in 1994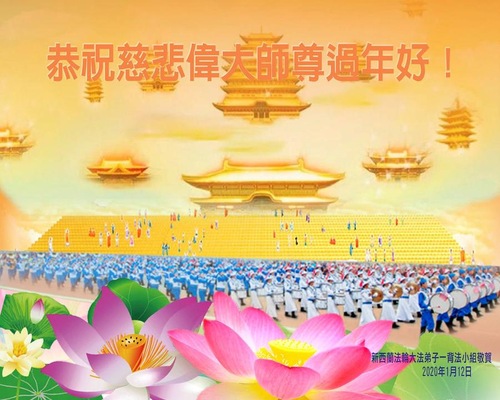 Greetings from a group of practitioners in New Zealand who recite the Fa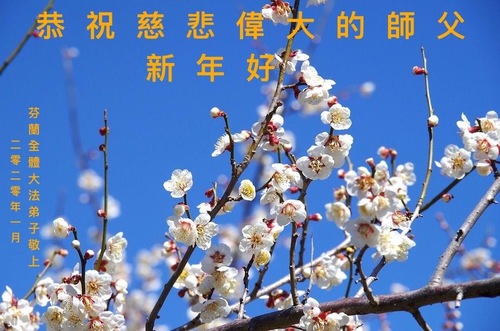 Greetings from all Dafa practitioners in Finland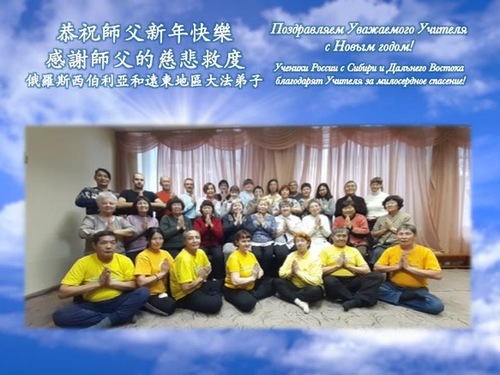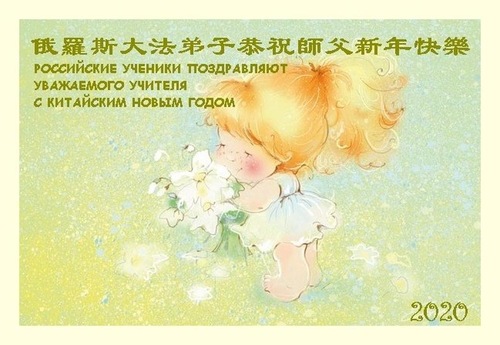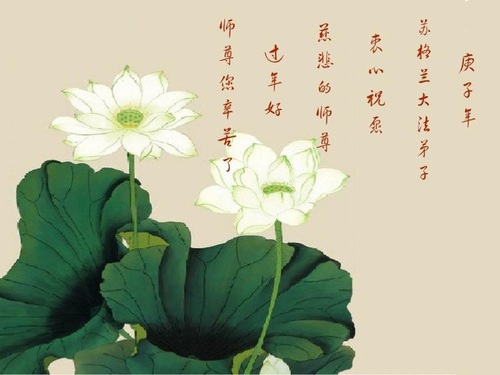 All Dafa practitioners in Singapore wish Master a Happy New Year.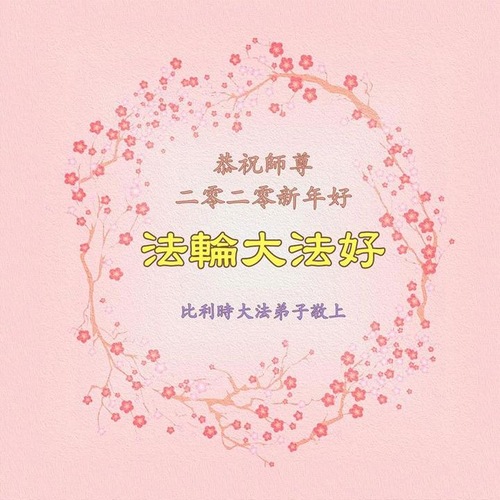 Dafa practitioners in the Greater Dallas Texas area wish Master a Happy New Year.