Hong Kong: Rally to Wish Master Li a Happy New Year
(Minghui.org) Practitioners in Hong Kong gathered at Edinburgh Place of the Central District on January 1, celebrating the New Year and wishing Mr. Li Hongzhi, founder of Falun Dafa, a Happy New Year.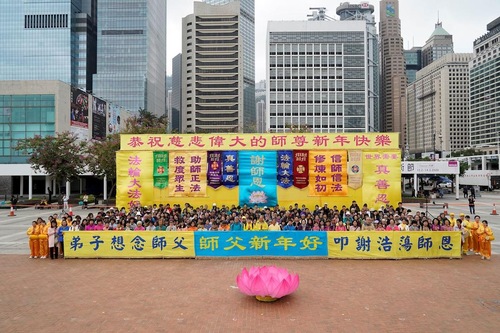 Falun Dafa practitioners in Hong Kong celebrate New Year at Edinburgh Place and send greetings to Master Li.
The rally started with group exercises. As the sky cleared, the waist drum team began the celebration activities, followed by choral performances.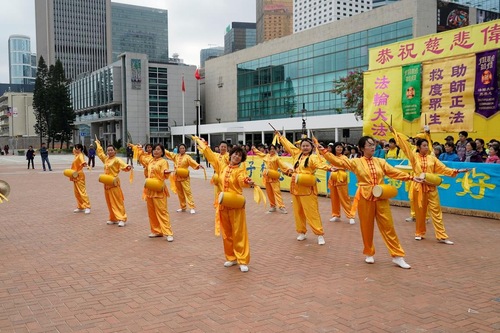 Waist drum performance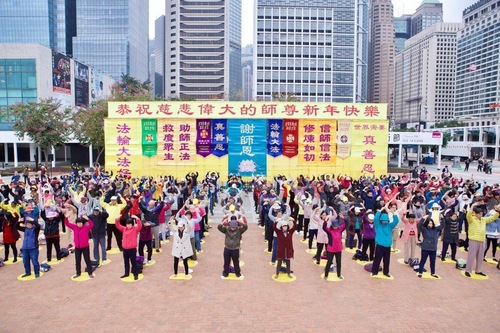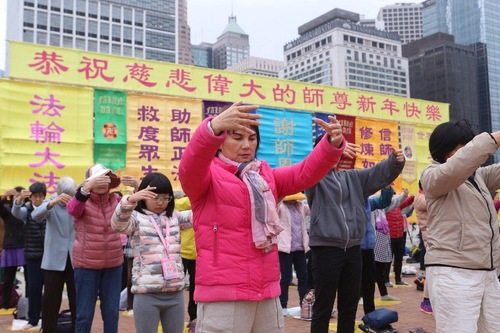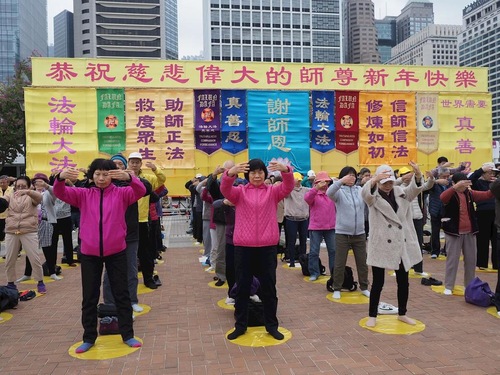 Group exercises on January 1, 2020
Artist: Newly Gained Health and Wisdom
Ms. Zhu, a local resident who has practiced Dafa for 22 years, was very excited to attend the event. She used to be of poor health, and was diagnosed with heart disease. Therefore, she could not stay under the sun or stand for a long time. "Thanks to Falun Dafa, I am now able to walk and run without any problem," she said. In addition, the practice teaches her to be more considerate of others, and as a result people around her were impressed because she no longer displayed her bad temper.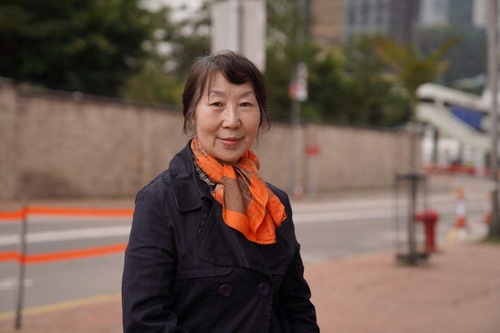 Ms. Zhu has practiced Falun Dafa for 22 years.
Trained as an artist, Ms. Zhu was busy trying to make more money after arriving in Hong Kong. She had not worked on a painting for years.
"It is Falun Dafa," she said, "that helps me be involved in the art field again, and I really enjoy it. The Dafa principles of Truthfulness-Compassion-Forbearance helps one to reach calmness and harmony, which is critical for an artist in terms of creativity and productivity."
Involved in the specialized traditional art form, Ms. Zhu thanks the wisdom newly gained from Falun Dafa, and plans to produce more artworks to serve the society. "With 2020 coming, I am particularly grateful for Master Li's compassion. I also hope more people could have a better understanding of Falun Dafa and be blessed."
More People Are Learning the Facts
Chunwei, another practitioner who participated in the event, said Falun Dafa teaches her to be a better citizen. She said, "I am so fortunate to be a practitioner since Master Li helps reduce karma for us, and purify our minds and bodies." In the upcoming new year, she plans to better cooperate with other practitioners and cultivate well.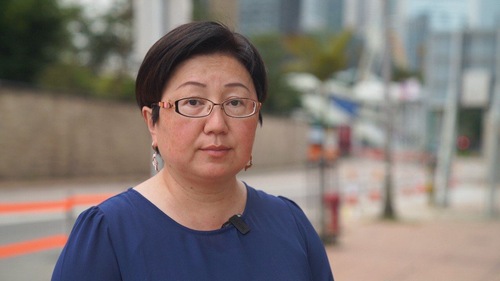 Chunwei said she hopes to do better in cultivation in the coming year.
Chunwei noticed many young people from Hong Kong and mainland China at the Dafa information booth, reading the informational posters about Dafa. Some of them talked with practitioners, and were thankful for receiving the information.
In the afternoon on January 1, practitioners held a march on Hong Kong Island, where many copies of Minghui Weekly and The Ultimate Mission of Communism were distributed.
Ms. Ciao said, "Many people from mainland China, and some Hong Kong residents, are still influenced by defamatory propaganda from the Chinese Communist Party (CCP). We have to clarify the truth about Falun Dafa."
She believes that recent incidents in Hong Kong also helped people understand the brutality committed by the CCP.
"One man told me," she said, "that he had read materials and really appreciated what we had done. He would also talk with other people about this."
In her understanding, many people, including young people, have learned the facts about Falun Dafa and became supportive.
She added, "A young lady asked for some materials, and helped distribute them. At another time when it was raining, two young men held an umbrella over my head for about half an hour, as I handed out materials to pedestrians."
Moved by such positive changes, she plans to do better in the new year.
"I will follow the Dafa principles [Truthfulness, Compassion, Forbearance]," she said, "to improve my morality, help people understand what's really going on, and make Master proud."