Teachers in Two Different Worlds
Oct. 12, 2020 | By Li Ming
(Minghui.org) Teaching has always been a respected profession. Teachers shoulder the responsibility of educating children, helping them learn to solve life's puzzles and cultivating their students' talents in all fields.
In 1994, UNESCO and the International Labor Organization designated October 5 "World Teachers' Day." People all over the world praise and appreciate teachers for their contributions to education and to humanity.
While most teachers around the world can celebrate "World Teachers' Day," in China there are many who cannot, simply because of their faith in Falun Gong.
Because these teachers have refused to give up their right to practice Falun Gong, they have been fired from their jobs, detained, and tortured—just like millions of other practitioners—ever since the Chinese regime launched the persecution of their faith in 1999. Some have even lost their lives.
Teachers Persecuted for Their Faith
When the persecution began, the Chinese communist regime ordered schools at every level, elementary to university, to publicly denounce Falun Gong. Teachers and students were forced to watch videos that slandered Falun Gong and to openly attack Falun Gong.
School officials, the 610 Office (an extralegal agency created to persecute Falun Gong), and the police worked hand in hand to persecute teachers who practiced Falun Gong. Those who refused to give up their faith were taken to brainwashing sessions, forced labor camps, or psychiatric hospitals. Some were sentenced to prison.
At Tsinghua University, for example, one of the most distinguished colleges in China, more than 300 professors, instructors, and students were targeted for their faith.
Ms. Yu Jia was an instructor at the School of Economics and Management at Tsinghua University. During the 2000 Chinese New Year, she went to Tiananmen Square to appeal on behalf of Falun Gong and was arrested. She was detained for a month and brutally tortured. She was later arrested several more times for doing the Falun Gong exercises in public. In November 27, 2000, she was arrested and secretly sentenced to three and a half years in prison.
At Beijing Technology and Business University, Ms. Zhao Xin, an instructor at the School of Economics, was arrested and detained for doing the Falun Gong exercises in a park in Beijing in June 2000. Three days later, she was beaten so severely that she sustained fractures in her fourth, fifth, and sixth cervical vertebrae and became blind in her left eye. She was paralyzed and passed away six months later, at the age of 32.
Ms. Liu Limei was an associate professor in the Department of Veterinary Medicine at Harbin Northeast Agricultural University. Because she refused to give up practicing Falun Gong, she was arrested in 2001 and detained in Harbin Wanjia Forced Labor Camp. She was released a few months later on the brink of death. She was arrested again in February 2003 and tortured to death on August 12, 2003, in a detention center at the age of 41. The police warned her family not to tell anyone about her death and did not allow them to inspect her body.
Ms. Zhang Yan, a middle school music teacher from Mianyang City, Sichuan Province, suffered from chronic health problems such as pharyngitis, rheumatism, sciatica, dizziness, and neurasthenia. But they went away shortly after she took up Falun Gong in June 1998. She followed the principles of Truthfulness-Compassion-Forbearance in her work and helped students outside of class at no charge. She refused to take any money under the table and gained her students' and parents' respect.
For practicing Falun Gong, Ms. Zhang was incarcerated for a total 2,208 days in detention centers, a brainwashing center, a forced labor camp, and prison. She was fired from her job and left her home with her parents to avoid persecution. She passed away in February 2020 at the age of 46.
The tragic stories of these three teachers are representative of the brutal persecution of millions of Falun Gong practitioners, including thousands of teachers among them. Outside of China, teachers who practice Falun Gong derive substantial benefits from the practice and present a completely different picture.
Teachers in the Free World
Laurel is a high school teacher in Queensland, Australia. She and her husband began to practice Falun Gong in 1999. "It was a coincidence," she said. "A Chinese friend gave me and my husband the book Zhuan Falun. We were attracted by the principles in the book and took up the practice together. I had health problems at the time and was unable to work. After practicing Falun Gong, I quickly recovered and returned to school to teach. While practicing Falun Gong, I've learned to consider others in everything I do. I strive to be a better person whether at work or at home."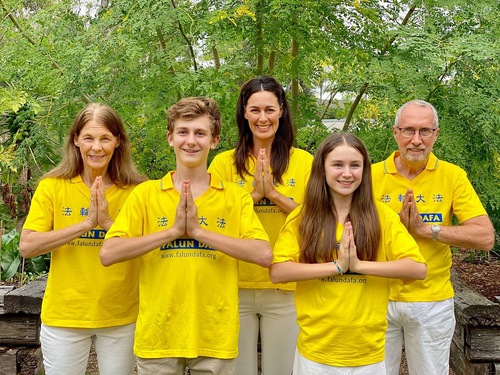 Laurel (on the left) and three generations of her family pose for a birthday greeting to Falun Gong's founder.
Mary Manthey is an elementary school teacher in Ann Arbor, Michigan. She said, "In the past, I often felt anxious and suffered from depression. I had a hard time coping with life. The care and support of family and friends could not save me. In April 2017, I started practicing Falun Gong. I read the Falun Gong books, and Teacher Li Hongzhi helped me through the darkest days of my life. He taught me how to be an honest, kind, strong, and diligent Falun Gong practitioner. I can't express my gratitude to Teacher Li in words. Falun Gong brought me eternal happiness."
Ms. Chang Meijuan, a Chinese language teacher at Taichung Municipal Chung Gang Senior High School in Taiwan, experienced significant improvements in her mind and body after she took up Falun Gong in 2002. The pain in her knees and the menstrual pain caused by endometriosis all went away. Her mother told everyone that her daughter was healed by practicing Falun Gong.
Ms. Chang began to serve as a homeroom teacher in 2006 and has guided her students with Falun Gong's principles of Truthfulness-Compassion-Forbearance ever since. She interacts with her students with sincerity, kindness, and perseverance. Her class was recognized as a "model class" in the school for three years, and she won the 2009 Excellent Educational Staff of Taichung City award.
Ms. Lee Min-yu is a teacher at Ming Yih Elementary School in Hualian County, Taiwan. She had questions about life since childhood and had been seeking answers until 2001, when she began to practice Falun Gong. From reading Zhuan Falun, she understood that the purpose of life is to return to one's original, true self. After she'd been practicing for a while, her husband and relatives told her she was getting younger and more beautiful.
Ms. Lee loves to recommend Falun Gong to her relatives, colleagues, and students. She teaches her students to be truly kind, both in what they say and what they do. At weekly club meetings, she taught them the five Falun Gong exercises and read poems from Hong Yin. She told stories to illustrate what sincerity, kindness, and tolerance are. Her guidance and influence led the way for her students to strive to be good. She won the Special Excellent Teacher of Hualien County award in September 2003.
At school sports day in April 2004, Ms. Lee and more than 300 children in the fourth grade demonstrated the five Falun Gong exercises together. They received praise from the audience of teachers, students, parents, and guests. Photos and videos introducing Falun Gong and exposing its ongoing persecution in China were also on display.
At the event, Ms. Lee said emotionally, "Children in Taiwan can learn and practice Falun Gong freely for its physical and mental benefits. But on the other side of the strait, students in China would be forced to drop out of school or detained for saying 'Falun Gong is good' or 'Truthfulness-Compassion-Forbearance is good.' They are totally different worlds."