Antwerp, Belgium: "Falun Dafa Can Help People Find Peace"
Oct. 16, 2020 | By a Minghui correspondent in Antwerp, Belgium
(Minghui.org) Falun Dafa practitioners held introductory activities on Meir, the main shopping street in Antwerp, Belgium on October 4, 2020. Many people stopped to learn about the benefits of the meditation practice and signed a petition to call for an end to the Chinese Communist Party's (CCP) persecution of Dafa.
A popular tourist destination, Antwerp, Belgium's largest and Europe's second-largest seaport, is also the second-largest metropolitan region after Brussels.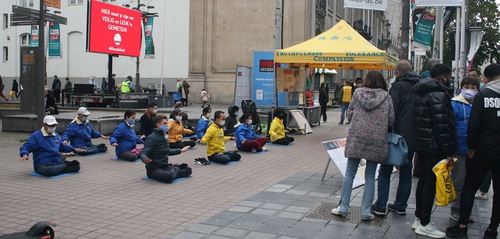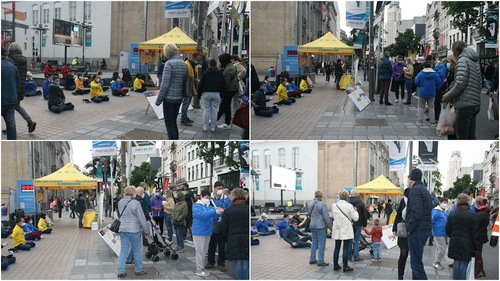 Practitioners held activities on Meir, the main shopping street in Antwerp, Belgium on October 4, 2020.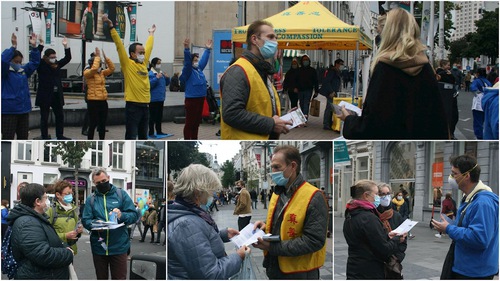 Practitioners talk to people about Falun Dafa.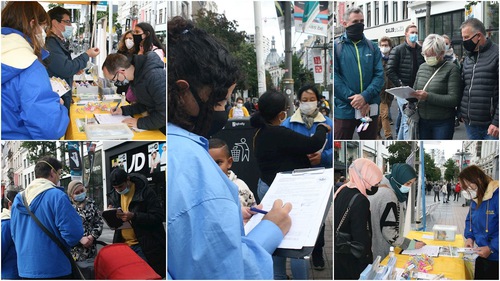 People sign the petition to end the persecution.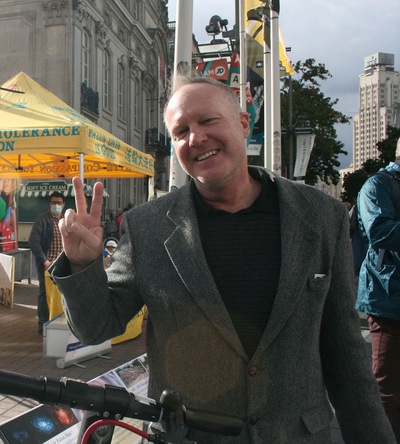 Brett from South Africa praises Falun Dafa's principles of Truthfulness-Compassion-Forbearance.
Mr. Brett Syndercombe from South Africa talked with practitioner Johan for a long while. As a Christian, Brett knew about the CCP's persecution and surveillance of Chinese Christians. He said, "Most people in Western countries are Christians, but our governments dare not condemn the Chinese government for the persecution [of Christians]. It's a betrayal.
"I understand that Falun Dafa is a spiritual practice. Truthfulness, Compassion, Forbearance are great traditional values," Brett said. 
He'd heard about the persecution of Falun Dafa. "I have some Chinese friends. I know how the CCP used money, loans, and projects to corrupt the government of South Africa. It has persecuted Falun Dafa for over 20 years. Many people disappeared suddenly. It has also thrown Uyghurs into concentration camps. It has never changed." Brett said he would like to help practitioners spread the word about the persecution, and he hopes the persecution ends soon.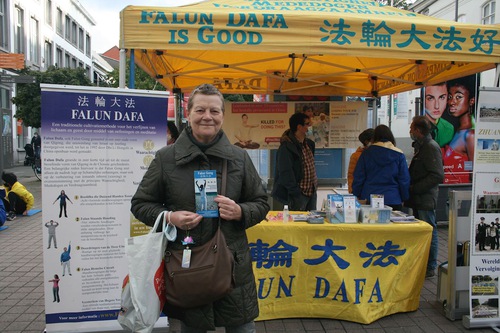 Jeanine recognizes the role of cultivation practice in awakening people.
Local resident Jeanine said that the principles of Truthfulness, Compassion and Forbearance are essential to awakening people in today's society. She feels that people need to search for the origin and meaning of life, and listen to their own hearts from a different perspective. "Energy exercises make people become calm, clear-minded and energetic," she said.
While watching practitioners meditate, Jeanine praised Falun Dafa for quietly inspiring people in peaceful and compassionate ways. "Most people try to vent their emotions. Falun Dafa can help us with our perception. Thank you!"
A young man named Peter told practitioners that he had heard about the CCP's crime of harvesting organs from living prisoners of conscience. It was his sincere wish that the persecution would soon end. He realized that the CCP regime was the root of the huge problems in China. 
The practitioners' activities received support from many people, who condemned the CCP's atrocities. One man told a practitioner that he'd learned the exercises by following online instructions years ago. He was excited to meet Falun Dafa practitioners for the first time. He said with a big smile, "I'll resume doing the exercises."