Taiwan: Practitioner Coordinators Hold Group Fa Study and Experience Sharing
Oct. 3, 2020 | By Minghui correspondents Lee Wei-an and Hsia Yun
(Minghui.org) Around 200 Falun Gong practitioner coordinators and truth clarification coordinators from central Taiwan gathered to study the Fa teachings and share their experiences on September 19 and September 20, 2020. They shared their experiences both as cultivators and as coordinators in hopes of inspiring each other and improving in their cultivation to provide a better environment.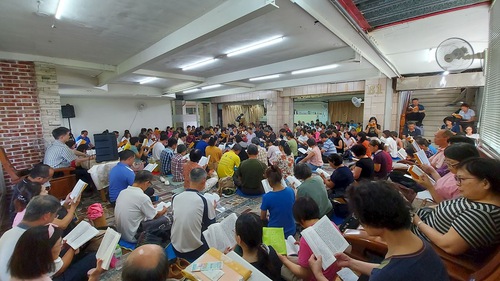 Coordinators from central Taiwan gather to study the teachings and share their experiences.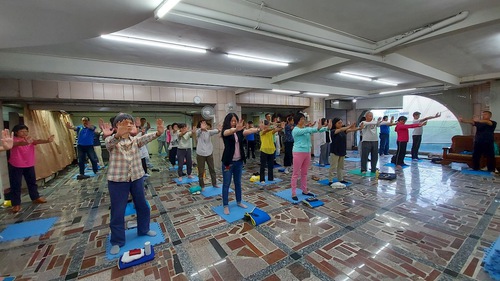 Doing the exercises on the morning of September 20, 2020
Practitioners separated into smaller groups to share their experiences on the first day. On the second day, they met to recollect what they shared. They talked about how they cultivated, did well during the Fa-rectification process, fulfilled the responsibilities of a coordinator, and maintained a cultivation environment.
Rectifying Oneself
Jia Sheng, a young practitioner, told how he found his attachments by helping fellow practitioners fix their computer issues. As he was working on one computer, he saw that the audio line was damaged, which was puzzling. He understood that he needed to solve the problem based on the Fa instead of looking at it on the surface and knew that he needed to look within. He then realized that he only liked to hear positive things about himself. It was just like the computer: Although the audio was turned on, nothing could be heard. Digging deeper, he realized that he had a very strong sense of ego and only liked listening to things on subjects he preferred. He realized that "he did not understand the Fa well enough."
Jia Sheng also benefited from fellow practitioners sharing about how they "considered themselves better than others and emphasized social classes." At first, he did not consider himself above other practitioners, but as time passed and he was often praised for his work, he realized that this thought got stronger. During group Fa study and experience sharing, he discovered he had an attachment to thinking he was better than others because of his outstanding computer skills. He was also exhausted because he did not make plans to train other technicians, and, as a result, all the work fell on him. Jia Sheng now hopes to be able to rectify himself and do better.
Returning to Group Fa Study and Overcoming Sickness Karma
Ms. Shu Yi, a coordinator from Yunlin, shared how she decided to return to group Fa study after encountering some tribulations. Ms. Shu's regular job took up a great deal of her time and energy. After a while, she started to experience sickness karma. When she asked another coordinator to help, she and the other coordinator got into some conflicts, so she decided not to contact anyone and refused to go to the local Fa study site. She described the conflict as "a trigger" and that the real reason was that she felt that "the experiences shared by other practitioners were not good enough, and I felt like I could also study the Fa at home by myself."
Then, her legs started to hurt when she was doing the fifth mediation exercise. She went from doing the full lotus position to only putting one leg up and then to only crossing her legs. She also had to rest for a long time before she could go back to what she was doing. At work, Shu Yi sensed that she wasn't sitting up straight.
She attempted to look inward and asked Master for help. One practitioner said to her, "You don't even come to the group Fa study," but she ignored the remark. Her legs were hurting even more, and once again she begged Master for help.
After sharing with another practitioner, however, she was deeply moved: "That practitioner told me that, regardless of our environment and the way other practitioners conduct themselves, we still had to cultivate. If you want to truly cultivate, you should treasure every opportunity for a chance to cultivate and to upgrade." She told herself that she wanted to cultivate and needed to overcome this tribulation.
She returned to the local group Fa study, and her physical body also changed for the better. She enlightened that she needed to change her way of thinking and not regard studying the Fa as a formality. She said, "I am a cultivator and I need to cultivate in this environment to rectify myself."
Establishing a Fa Study Site
Ms. Hui Ling, who is also from Yunlin, shared about how she improved and established a group Fa study site. Hui Ling has an agricultural business and is usually very busy. That meant she had very little time to study the teachings. Deep down inside, Ms. Hui always wanted to spend more time studying the Fa, so she decided to establish her own group Fa study site. She and another practitioner started on a quest to find a good venue. After many setbacks, she finally found a good place. They studied Master Li's other lectures every Friday, and on Sundays they read Zhuan Falun and sent righteous thoughts.
At first, Ms. Hui worried about how many practitioners came to the Fa study. She realized this was not a good thought and rectified herself immediately. Within a few months, she experienced the power of Dafa and made a breakthrough. She could study the Fa while sitting in an upright position. By sending righteous thoughts, she was able to clear all interference in her field and became more clear-headed. She was able to focus while studying the Fa, learned to look inward, and eliminated bad thoughts. She could truly feel the power of Dafa around her and was also able to conduct herself as a cultivator.
Sharing as a Group to Overcome Tribulations
Bao Cong, who works in the media to clarify the truth, talked about how she overcame her tribulations. Bao Cong is a retired principal who promotes the truth of Falun Dafa to mainstream society. She described how everything went well at first, and she received a lot of support from government officials. An elected representative even agreed to arrange for a generous donation. Bao Cong and fellow practitioners were really happy, but things did not go as planned, and they never received the donation.
Bao Cong and the others thought for a long time, wondering, "Are we ecstatic because of the money or should we be focused on awakening people's conscience?" Everyone got together to study the Fa and started to look inward, reflecting on their own cultivation, whether or not they were awakening people's consciences, and how closely their project was following the standards of Fa-rectification. They realized that they needed to work together as one body to do well in clarifying the truth to schools, families, and society. After sharing and enlightening to this, they started to do better financially.
Ms. Li said that hearing these practitioners' experiences really touched her. By listening to them, she found many of her own shortcomings and other trivial things that she had not recognized in the past. She said, "How we conduct ourselves as a practitioner is reflected in every aspect of our daily lives."
Ms. Li once overcame serious sickness karma and expressed her gratitude to Master for saving her. She said she would treasure this opportunity to study the Fa, improve diligently, and save people. She said, "These little things in everyday life are actually very precious. After studying the Fa and sharing experiences for two days, I feel that my body has been purified and that I am truly lucky."