Canada's Foreign Affairs Minister Calls Attention to Persecution of Falun Gong on International Religious Freedom Day
Oct. 31, 2020 | By Yi Zi, Minghui corespondent in Ottawa
(Minghui.org) François-Philippe Champagne, Canada's Minister of Foreign Affairs, issued a statement on October 27, International Religious Freedom Day, to emphasize the significance of the special day.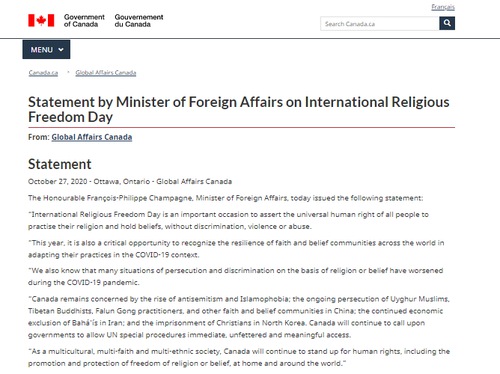 Statement by Canada's Minister of Foreign Affairs on International Religious Freedom Day
The day marks an important occasion to assert the universal human rights of all people to practice their religion and uphold their beliefs, without discrimination, violence, or abuse. Champagne wrote, "This year, it is also a critical opportunity to recognize the resilience of faith and belief communities across the world in adapting their practices in the COVID-19 context."
Unfortunately, the persecution and discrimination on the basis of religion or belief have worsened during the COVID-19 pandemic. In particular, the Canadian government is concerned about suppression of Uyghur Muslims, Tibetan Buddhists, Falun Gong practitioners, and other faith and belief communities in China as well as other parts of the world.
"Canada will continue to call upon governments to allow UN special procedures immediate, unfettered and meaningful access," the statement concluded. "As a multicultural, multi-faith and multi-ethnic society, Canada will continue to stand up for human rights, including the promotion and protection of freedom of religion or belief, at home and around the world."
Alongside their U.S. counterparts, Canadian officials have paid attention to human rights violations that the Chinese Communist Party (CCP) has committed against Falun Gong, a meditation system based on the principles of Truthfulness-Compassion-Forbearance.
In July 2019, Canada signed a joint statement at the U.S. Ministerial Meeting to Advance Religious Freedom in Washington. The statement highlighted religious persecution in China and called on the Chinese government to respect the human rights of all individuals. Falun Gong practitioners are among many members of religious minority groups in China who face severe repression and discrimination because of their beliefs.
On November 6, 2018, during China's Universal Periodic Review at the United Nations, Canada expressed deep concerns to the Office of the High Commissioner for Human Rights (OHCHR) over the mass detention and repression of people of faith in China. It also recommended that China "end prosecution and persecution on the basis of religion or belief, including for Muslims, Christians, Tibetan Buddhists and Falun Gong."
Before that, in the 2014 Universal Periodic Review of China, Canada also raised the issue of the Chinese regime's forced organ harvesting from detained Falun Gong practitioners.